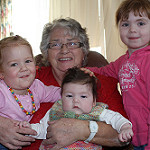 The following is a post by MPFJ staff writer, Kevin Mercadante, who is a freelance professional personal finance blogger for hire, and the owner of his own personal finance blog, OutOfYourRut.com. He has backgrounds in both accounting and the mortgage industry.
Nearly everyone it seems is holding out for early retirement. But what happens when you have kids? It's not impossible, but it is admittedly more difficult. You have to rearrange your finances and your timing to accommodate the raising of children. It can be done, but it requires more creativity.
Think of Your Kids (and Grandkids) as Motivation for Early Retirement
While most people focus on the financial costs of having children, the flipside is that you think of them as being one of your primary motivations for early retirement. If it will be possible for you to retire while your kids are still fairly young, that will give you more time to be with them, and to raise them the way you want.
It will also eliminate the career stress and the financial uncertainty that can go with the dual obligations of child rearing and having a career.
And even if you are unable to retire when your own children are young, your Plan B can be to retire early and spend more time with your grandchildren.
You May Have to Adjust Your Independence Date
It probably won't be possible to early retire on your own specific timetable. You'll have to work your independence date around your kids.
Much will depend upon how far along you are in the planning process, but you may have the need either to accelerate early retirement to be home with your children, or to delay it until they are emancipated.
Flexibility will be a critical part of your early retirement planning strategy when you have kids.
You Know Those Kids Who Seem to Have Everything? Yours Won't
In every neighborhood (or classroom or extended family) there's always that one kid, or family of kids, who seem to have everything. It might be the latest and the best bicycle, motorized Kiddy car, cell phone, laptop, sporting gear or clothing. Such a child or group of children have a way of "setting the standard" for just about every other kid in the group.
That's a game that you will not be able to play with your own children. It's an arms race for the best stuff, and it's a very expensive lifestyle. If you plan to retire early, you'll have to prepare your children to live more conservatively.
That's not being selfish on your part either. A conservative outlook when it comes to finances is a life strategy that will benefit your kids throughout their own lives.
Preparing for College on the Cheap
It can cost well over $100,000 to send a child to a state college, and more than $200,000 for a private college. Those are options you may have to scale back on.
You might want to start your kids at a community college for the first two years. From there, you might encourage attendance at a state school to finish their undergraduate degree.
You should also encourage any efforts to get scholarships or grants. And even though it's fairly unusual these days, there's nothing wrong with having your kids participate in providing at least some of the cost for their own education.
Your Time WILL be More Limited
This is a limitation that there is no skirting around. While a childless person may be able work two or three jobs, 100 hours per week, your life will require more balance.
Though you may have to work more than the average person does, such as a full-time job plus a side business, you will have to allocate plenty of time for your kids.
No matter how important the goal of early retirement is, this is a challenge that you will have to meet successfully. The time that you don't spend with your kids when they are young will be gone forever!
This will perhaps be the biggest challenge you will face as a parent preparing for early retirement. And there's no sugarcoating the fact that you will have to make trade-offs. Only you can decide what the specific balance between work and child rearing will be.
Think carefully, because there's no do-over when it comes to kids.
And So Will How Much Money You Have For Savings and Investing
There's also no debating that children will leave less money available for savings and investment. Children mean higher medical costs, disposable diapers, a succession of clothing and toys, afterschool programs, tutoring, day care and higher-than-you-think costs for participating in high school sports.
All of that will be less money available for savings and investing. But you must view the money that you will spend on your kids as an investment in their future. That's no less an investment than preparing for your own retirement.
Do As Much As You Can Before Becoming a Parent
If you don't already have children, but you want to, you will help your own cause considerably if you can do as much retirement preparation in advance as possible.
This will actually have to advantages:
The more that you can do before you have kids, the more likely it is that you will retire early in their lives and have more time with them, and
The more that you can do in advance will mean less pressure later on, enabling you to spend more stress-free time with your kids, while still being on track for early retirement
Advance preparation will include minimizing debt, and frontloading as much retirement and investment savings as possible before your kids are born.
This will not only give you a head start, but it will also set you up in the right life patterns. This will be extremely important once your first child arrives. Having children very much puts you in a position where you are dealing with the unexpected. If you already have your early retirement plans in a row before they are born, you can continue to make progress even as you deal with the uncertainties that children bring.
A Scaled Back Version of Early Retirement is OK
If in spite of your best efforts, you are unable to reach your early retirement age goal as a result of having children, you can simply regroup.
No major financial milestones are ever achieved without building a healthy dose of flexibility into the plan. If you have to delay your early retirement by five years, that will be a small price for properly raising your children.
And even if you are forced to accept an early semi-retirement – in which you mostly scale-back on your career in favor of more time off – you'll still be better off than you would have been if you never prepared for early retirement.
Early retirement is a worthwhile goal, but it should never be seen as more important than raising your children. It takes some real talent to balance the twin goals of child rearing and early retirement. But if you can, you'll be well prepared for whatever life throws at you.
How about you all?  Have you or anyone you know planned an early retirement successfully?  What roadblocks have you encountered along the way? Do you have other strategies for planning for an early retirement not listed above?
Share your experiences by commenting below!
***Photo courtesy https://www.flickr.com/photos/8058853@N06/2289540488/