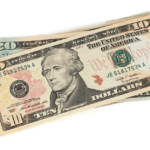 The following post is by MPFJ staff writer, Melissa Batai.  Melissa is a freelance writer who covers topics ranging from personal finance to business to organics to food.  She blogs at Mom's Plans where she shares her family's journey to healthier living and paying down debt.
Do your kids get an allowance?  If you're like most parents, they probably do.  According to a study by the American Institute of CPAs, "61 percent of parents pay an allowance" with the average allowance totaling "$65 a month, or $780 a year."  I was a bit surprised by how much kids receive on average every month.  Even more surprising, "only 1 percent of parents say their kids save any of their allowance."  That's a lot of dough to blow through every month.
One of my desires as a parent is to teach my kids to be smart money managers.  I do use a chore system to pay their allowance and have them save a portion.  Over the years we've experimented with different chore/allowance systems, but finally, I've found one that works perfectly for our family.
What We Used to Do and Why It Didn't Work
For years, we've had a chore chart for our ten year old son.  We decided on a mix of chores he does because he's part of the family (i.e., these are unpaid) like clearing the table when he's done eating to chores like cleaning the bathroom that are paid.
We used to have a chore chart where he earned money based on the difficulty of the chore–making his bed paid 25 cents, while cleaning the bathroom paid $3.00.  I never forced him to do chores.  If he didn't want to do his chores one week, he wasn't paid.
Let me tell you, there were quite a few weeks when he didn't do many chores and only earned a dollar or less.  When he wanted to buy something, he'd suddenly diligently do his chores.
While this system saved us money on paying out for chores, the fact is that he is a part of our family; he's one of five people in our family making a mess every day, and if I didn't want to live in a messy house or didn't want to do all the household chores myself, I needed him to share some of the household burden.
We needed a new system.
The New Chore/Allowance System We Love
This summer I reread America's Cheapest Family Gets You Right on the Money by Steve and Annette Economides.  I took particular interest in their chore system.  For their children, each child had the potential to earn 4 allowance points a day.
I modified their system a bit.  This is what I came up with for our kids:
Morning Point–The kids get this point if they make their beds, get dressed, brush their teeth, put the dirty clothes in the laundry, etc.
School Point–The Economides homeschool like we do, so their kids got this point for doing their schoolwork without having to be nagged and having a good attitude.  If a child isn't homeschooled, he could get this point for completing homework and working hard in school.
Chore Point–Depending on age, a child has to complete a set number of chores every day.  For instance, my 10 year-old has to complete 3 chores while my 4.5 and 6 year-olds only need to complete 2 chores a day.
Round Up Point–At the end of the day, everyone finds 3 things that have been left out to put away.
In addition to these basic points, the kids also have the opportunity to earn a bonus point each day.  I give these bonus points if the kids treat one another nicely, help out if they see someone needs help, or choose to do an extra chore or two.
If kids get at least two bonus points a week in addition to earning all of their regular points a day, their earnings are doubled.  The Economides compare it to an employee who goes above and beyond at her job and is rewarded with a bonus or a pay raise.  The lesson here is that hard work is noticed and rewarded.
For chore point, they can choose between age appropriate activities that I've written out for them.  For instance, my 10 year old can choose three chores for the day from a list that includes:
Clean, sweep and mop bathroom
Sweep the front sidewalk
Change the cat litter
Empty the dishwasher
Vacuum the living room, etc.
Why This System Is Working
I was initially surprised this system works because the pay is much less than I was paying with my other chore system.  My son gets 15 cents per point, so if he gets two bonus points in a week and can double his money, the maximum he can earn is $9.00.  Yet, he's much more motivated with this system.  I think it's because he knows he has to get all of his points each day if he wants the chance to double his money.  (He loves having the chance to double his money.)
Another key to his motivation is that he can choose his three daily chores from a list of 8 to 10 chores.  With the old chore system, I think he got bored doing the same chores over and over.  He can switch his chores up every day now.  (In fact, I encourage him to switch them up.  So Monday he might vacuum the bedrooms, but he won't do that again until later in the week.)
Motivating Him to Save For College
The possibility to double his money is working so well that I decided to experiment.  If I offered to double his money for college savings would it work?
My husband and I, for the last few years, have been in no position to save for college.  Our plan is that our kids will go to college at the university where my husband is employed so they will get greatly reduced tuition.  Yet, we still should be saving in case they don't want to go to the college where my husband works.
I told my son that whatever he saved for college each week, my husband and I would match.  I didn't know how much this would motivate him since for a 10 year old, 18 is a lifetime away.  However, it's worked better than we had planned.
Opening the Door to Financial Discussions
Now that he has the match in his mind, my son is frequently asking me financial questions.  Where will his money go when he's saving for college?  This allowed me to talk to him about investing and earning interest on investments.
We also discussed saving for retirement and that the younger you start saving the more you can have in your retirement fund thanks to compound interest.  He finds it fascinating that he can save for retirement at a young age with less money and have more in his retirement fund then someone who puts large amounts of money in a retirement fund starting in her forties.
I can see the wheels turning in his head.  Yesterday, he asked me if he put $50 in his college fund, would I still match that?  If he put in $250, would I match that?  Of course I will.  I'm delighted that he's thinking like this, and I hope we are putting him on a path to financial independence.
How about you all? What have been your best strategies to teach your kids about money and educating them on smart financial decisions?
Share your experiences by commenting below! 
***Photo courtesy of I'd Pin That