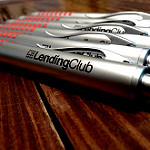 The following is a post by MPFJ staff writer, Kevin Mercadante, who is a freelance professional personal finance blogger for hire, and the owner of his own personal finance blog, OutOfYourRut.com. He has backgrounds in both accounting and the mortgage industry.
There's been growing interest in borrowing through peer-to-peer (P2P) lending platforms in recent years. Lending Club, as the largest P2P lender, gets most of the attention. The amount of coverage the platform gets may not be an exaggeration, either. A debt consolidation with Lending Club can make sense – and a lot of sense at that.
It's not always about getting a better interest rate. Lending Club claims that it's borrowers reduce their interest rates by an average of 35% when consolidating debt or paying off high interest credit cards. But it's not absolutely certain that this is true in all cases. After all, loan rate APRs on the platform range from 5.99% to 35.27%, so not everyone is necessarily getting a better rate on every loan.
Is it worth doing a debt consolidation with Lending Club, even if you aren't getting a significantly lower interest rate?
Very often, the answer is yes, and here are the reasons why.
High Loan Amounts
If you have a large amount of debt to consolidate, Lending Club may be a better loan source since they make loans that are larger than what are typically available from other sources. Lending Club's current maximum loan amount for personal loans is $40,000.
Unless you have a house that you can pledge as collateral for a home equity line of credit (HELOC), it is unlikely that you will be able to get a bank loan for nearly that much money.
And while credit card companies will periodically provide you with an opportunity to consolidate debt through a credit line – often with a 0% introductory rate – those credit lines rarely exceed $10,000.
If you have substantially more than $10,000 in credit card debt, neither a bank HELOC nor a credit card company credit line are likely to provide an opportunity to consolidate all of your debt.
But $40,000 borrowed through Lending Club will almost certainly enable you to consolidate several high interest rate credit cards, and maybe even a high interest rate car loan.
Loans Are Unsecured
Not only is $40,000 a very generous amount of money to borrow, but with Lending Club it's also a completely unsecured line of credit. That means you don't have to pledge important assets, like a house, a vehicle, business assets or a bank account in order to get the loan.
Try doing that with a bank loan that's half that size!
Converting Revolving Debt to an Installment Loan
All loans taken through Lending Club are installment loans, for terms ranging from 24 months to 60 months. Both your interest rate and your monthly payment are fixed for the life of the loan, and the balance will be paid in full at the end of the term. At that point, you'll be completely debt-free!
If you have a lot of revolving debt, converting it into an installment loan is the best way to make it finally go away. After all, revolving debt is set up that way precisely to keep you in debt forever. It's the very definition of the word "revolving" – you keep circling around, always coming back to the same place. The entire arrangement is an intentional Catch-22.
But an installment loan can get you out of that debt trap.
You Can Apply Anonymously
It can be uncomfortable to sit through a face-to-face loan application with a bank. Not only does the banker know your name (and your face), but also the intimate details of your financial situation.
But if you apply for a loan through Lending Club, the entire process is done online – from the comfort of your home – and no one who invests in your loan ever actually knows who you are.
That will be a much more satisfactory situation for people who are deep in debt, and see themselves as somehow "impaired" as a result. It's an embarrassment-free application process.
Near-Immediate Credit Score Improvement
Your credit utilization ratio represents 30% of your credit score calculation, and ranks second only to payment history (35%) as a factor in computing your score. Your credit utilization ratio can actually improve quickly after doing a debt consolidation loan.
Your credit utilization ratio is the amount of credit you have outstanding, divided by the total amount of credit you have available. For example, if you have $10,000 in outstanding debt, and credit lines totaling $20,000, your credit utilization ratio is 50% ($10,000 divided by $20,000).
Generally speaking, a ratio of 30% or less is considered to be a positive factor. As you exceed this level, the negative effect on your credit score increases. At 80% or more, the ratio indicates increased potential for loan default, and has a very negative effect. This is a situation where you can have a fair credit score even if you have an excellent payment history.
When you do a debt consolidation, you are moving debt from several credit lines onto a single loan. The amount of debt that you owe is the same, but the amount of your credit lines has increased by the amount of the debt consolidation loan.
If you have available credit $30,000, and you owe $20,000, your credit utilization ratio is 67%. That's probably having a negative effect on your credit score.
But if you secure a debt consolidation loan through Lending Club for $20,000 to consolidate your credit card debt, your total available credit expands the $50,000. Your credit utilization ratio then drops from 67% to 40% ($20,000 divided by $50,000).
In addition, if the $20,000 original debt was spread across five different credit lines, you will now have just a single credit line with a balance due. That means that you will have substantially reduced the number of credit lines with outstanding balances. That's another positive factor in your FICO score calculation.
All of this will have a positive effect on your credit score. Though there will be a negative affect as a result of having a brand-new loan (no payment history) it will soon be offset by the lower credit utilization ratio and by the smaller number of credit lines with outstanding balances.
In this way, the debt consolidation loan improves your credit score, in addition to making your debt more manageable.
If you are carrying an uncomfortable level of debt, check out Lending Club and see if a debt consolidation loan can help your situation.
How about you all? Have you tried any debt consolidation loans with Lending Club or elsewhere? What has been your experience?
Share your experiences by commenting below!
****Photo courtesy https://www.flickr.com/photos/lendingmemo/9526218147/sizes/q/