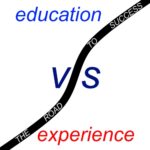 The following is a guest post by Ivan Serrano. Ivan is a personal finance, business, and social media journalist living in the Bay Area in California. Enjoy! 
It turns out the goal of your college career was just getting to the starting line.
Most college graduates agree; the real education starts when you graduate. That might be why it's called commencement.
Now that you are at the starting line, where do you start? It's a big crazy world out there, and it's nothing like college. In fact, it's more like high school in some ways. But, in other ways, it is like an alien world from a post-apocalyptic fantasy novel with dragons on every roof-top. Maybe that was a bit of an exaggeration…
The game has changed, and yet it hasn't changed at all. You've always had to prioritize, and that's still the name of the game. Focus on what matters most. If you're paying your own way now, budgeting is as good a place to start as any and is better than most.
So, let's begin with your first post-graduate course; A Survey of Budgeting Best Practices.
The big riddle you need to solve with your budget exercise is how to stretch those limited dollars and still be comfortable. Will there be compromises? Absolutely! Will it be easy? Well, it depends.
Here are some guidelines to help you develop a budget that works. The first two priorities may have to be juggled for your particular needs, but they are still the top two priorities that will have long-term impact on your quality of life. Let's look at the top two and then take a closer look at the adjustments in priority you may have to do for your situation.
Save
Top priority. Saving. This is like paying yourself, and it's something just about everyone, in business or employees, ignore to their detriment.
Do not think of saving as saving; think of it as paying yourself. Everyone else is going to get a piece of the pie you carve up every month, and unless you pay yourself first, you are going to wind up with none of it. Only you can make you a priority. No one else is going to do it. Who do you think their priority is? You got it. If you don't prioritize yourself, you've already started losing.
Make yourself a priority, put that money away in an investment vehicle of some kind, and forget about it. You may want to leave a portion of it accessible for emergencies, but the bottom line is make sure a portion of your wages every month is accessible by you alone and that it is not spent.
If your employer offers a 401K plan with some kind of matching incentive, contribute the maximum.
Finally, don't tinker with your savings. Put it away and do your best to forget about it unless you have an emergency.
That leads me to priority two.
Get out of debt
Stop digging the debt hole deeper. Because of the nature of compound interest, just having debt is digging the hole deeper. The minimum you should be paying every month should make sure that the total you see owed next month is less that it was in the current month.
One strategy for getting out of debt is to get it all into one place so you can work on it all at once. Another strategy is to pay off the largest debt first. Yet another strategy is to pay off the loan with the highest interest rate.
All these strategies have worked for people, and you will have to do some calculations to figure out which will be the best option for you.
However, one long-term approach you should adopt, regardless of which of the above strategies you select, is called the Snowball Strategy. This means to keep paying the same amount on your debt every month until it is all paid off. Pay one credit card off and then, use the amount you were paying on the retired debt to accelerate paying off other debts.
In general, pay off revolving debt first because it usually has higher interest rates and can negatively impact your credit score to a greater degree.
Juggling Debt and Savings
Here's where the analysis gets a little tricky. If your debt has really high interest rates; rates that make the cost of the borrowed money much higher than the rate of accrual on your savings or investments, it may make more sense in the long run to focus on retiring the debt first.
Another bit of juggling you may want to consider, too, is how much do you need for emergencies like a potential job loss. If you lose your job, for example, you still have to pay rent and pay your credit card bills. So, you may want to target contributions to a reasonable rainy day fund while still paying off as much debt as possible every month.
Living the good life
Those are the really tough decisions and the ones you want to get out of the way first. How much you can allocated to paying off debt is often dictated by how much you have to spend every month for essentials like rent, food, utilities, clothing, insurance and other required spending.
Balancing a serious approach to your future with a reasonably comfortable quality of life today is why budgeting is an art and not a science; a series of judgment calls and not a formula.
Obviously, keeping your required monthly spending as low as possible is going to give you the greatest flexibility in discretionary spending.
Here are some approaches to keeping those pesky monthly bills as low as possible.
Sharing rent and utilities-Roommates may be part of your life a little longer, so don't burn any bridges just yet. There are plenty of advantages and disadvantages to having a roommate, and you probably know them all by now. Just hang in there for a little longer.
Cooking at home-Sure you have to eat, but eating at home is definitely a lot cheaper than eating out, especially if you like to have a beer or a glass of wine with your dinner. Learn to cook.
Brown-bag lunches-Going out with the gang to grab a sandwich or soup at lunch may seem like the thing to do until you add up how much it is costing your every month. There are some great apps (check out mint.com for example) for smartphones that will help you keep track of expenses. How much you are spending for lunches is one you will want to keep close tabs on.
Movies at home-Entertainment should be part of your spending. Recharging, reenergizing and refreshing your perspective are essential to pacing yourself and maximizing your productivity at work. However, you can keep these costs down though by reading more and watching movies at home.
Mix-and-match clothing-Clothing is not a luxury item. You have to look your best. When you look better, you feel better, and this, too, affects your productivity and overall attitudes. One way to maximize your clothing budget is to make sure every purchase can be worn in more than one way or with more than one outfit.
While budgeting is an art, it is also a skill, and skills can be improved with practice. The more you think about and practice your budgeting skills, the better at it you will become… and the better you quality of life will be. Embrace budgeting and get good at it. It's a skill you can use for the rest of your life. Go ahead and get good at it now. It just takes practice.
How about you all? What sort of financial trouble do you run into the most? What financial tips do you find most useful?
Share your experiences by commenting below! 
***Photo courtesy of http://www.flickr.com/photos/gtalan/5304315230/in