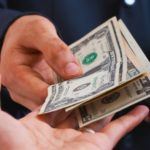 The following post is by MPFJ staff writer Travis.  Travis is a customer blogger for CareOne Debt Relief Services, and also appears weekly at Enemy of Debt.  Travis candidly shares his personal journey to pay off $109,000 of credit card debt and the tips he's learned along the way. As a father and husband he provides a unique perspective on balancing debt, finances, and family.
I walked into our bank last November to discuss the possibility of getting a loan to consolidate our remaining unsecured debt.
We were just a few payments away from eliminating $109,000 of credit card debt through a debt relief program but had two accounts that we were unable to include in program.  I hadn't ever applied for a consolidation loan before, and didn't know what to expect with regard to what the process would entail, or how long it would take.
I didn't know it at the time, but I was about to have a horrible experience.  When it was all said and done, we had been denied mainly because we still had accounts being managed by a debt relief plan.  We were told to try again after we had completed the program.
My wife and I agreed that when we made another run at it, we would go to a different branch of our same bank, and deal with someone new.  Last week we did exactly that, and had a completely different experience.
This is a tale of two loan applications; one fantastic, and one miserably sub-par. 
Tale #1: The Agonizingly Slow Path of Failure
My first meeting with the banker was setup at my request as an exploratory meeting.  I thought I should explain our situation with the debt relief program, what our goals were, and discuss our potential options.  The banker seemed optimistic that we would be approved and wanted to meet with both my wife and I to go over details.
We setup a meeting for a week later at his suggestion.
One week later, we both sat in the banker's office as he asked us for some basic information, then sent us home with a list of documentation including W2s and tax forms that we needed to gather for him.  Since that meeting was on a Saturday afternoon, I wasn't able to get him the paperwork until the following Monday.   He was to take the paperwork and submit a loan application.
The next few days were riddled with unreturned messages.  The banker was either not available, or out of the office.  Finally, on Thursday, I got the banker on the phone and found he was still working on the application.  He was to call us with an update by end of day on Friday.
Close of business came and went and no phone call was received.
We did, however, receive an email during the evening from him notifying us the loan application had been submitted, and we would likely hear back regarding the decision the next day.  The next day, of course, went by without any notification from the banker.
On Monday, I called several times leaving messages.  Towards the end of the day, I physically walked into the branch to find him in his office.  He quickly apologized for not returning my messages, and broke the news to me:  Our application had been denied.   But, he was going to attach a note to our application reminding the underwriters that we had been customers for a long time, that we were just a few months away from completing our debt management program, and ask for reconsideration.
A few more days went by.  Finally on Thursday, nearly three full weeks from our initial meeting, we were informed that our application had been denied again.  Tough luck, try back in a few months.
Tale #2:  The Fast Lane of Success
We met our new banker at 10am on a Saturday morning.  We quickly explained our situation, to which banker #2 nodded his head and tapped on his keyboard.
"I think we can help you now," he said.
He asked us for our personal information, typing it directly into a loan application as we gave it to him.  He asked for the account names and numbers we wanted to consolidate, which we were able to give him since we had our smart phones handy.  He then asked for estimated income information, stating that if they needed specifics they would ask for them.  A message popped up after hitting the "Submit" button telling him that it may take up to 24 hours to turn around the application.
"Let's see if we can do better than that," he said as he picked up the phone.
He dialed an internal number and asked if they could expedite the loan application as the customers were sitting right in front of him and really wanted to know.  The underwriter  calmly explained that they were swamped and it would take 24 hours.
Kudos to the guy for trying.
We were in the bank for a total of 23 minutes, and in that time we were further along than in the first two weeks of our previous attempt.  When we got home I found a pleasant surprise from the bank in our email inbox.
We were able to check the status of our loan online.
On Sunday evening we were notified through their automated system that our application had been conditionally approved.  We needed to provide additional documentation such as W2s and pay stubs.  I quickly gathered them all and put them in a manila envelope.
On Monday, banker #2 called and reiterated what we already knew.  When I delivered the documentation to him, he made copies and was told to expect a phone call from him the next day.  True to his word, he called Tuesday morning telling us we could come in at any time to close on the loan.
Three days after our initial meeting, we signed the paperwork for our approved loan.
Lessons Learned
These were obviously two very different experiences from the same bank no less, even if you disregard the decision on the loan. Having gone through these two experiences, I learned several lessons that could benefit anyone who may be looking to apply for an unsecured personal or consolidation loan:
Filling out a loan application takes minutes.  Banker #2 did it while we sat in his office and watched!
Gather the account number and balance of any accounts you want to pay off with the loan
Collect W2 forms from the last two tax years for all income streams and make copies of them
Collect the last pay stub from all income streams and make copies
Bring the information from 2,3 and 4 with you to your meeting with the banker
Ask your banker how long the decision will take, and if they have a way for you to check  he application status online.
Get a business card from your banker, and ask for his schedule so you know when he will and will not be in the office.
Knowing and executing these pieces of advice will help speed up the process of applying for an unsecured loan, not to mention reduce your own stress level while you go through the process.
How about you, readers? Have you ever applied for a personal or consolidation loan?  What was your experience like?
***Image courtesy of Stuart Miles / FreeDigitalPhotos.net