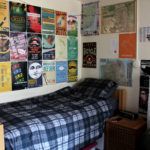 The following is a post by MPFJ staff writer, Kevin Mercadante, who is a professional personal finance blogger, and the owner of his own personal finance blog, OutOfYourRut.com. He has backgrounds in both accounting and the mortgage industry.
College is just a few weeks away, but you still have some time to get what you need to set your dorm room up with all the comforts of home, and to do so for not a lot of money.
Here is a list of 10 must-have items for the upcoming college school year. Have them in your dorm room, and the whole year will go better for you.
1. Earplugs – Or a Good Set of Headphones
"Ear protection" is at the top of the list, since silence is often at a premium in college dorm rooms – not to mention college dorms in general. This is especially true if one or more of your roommates is a party animal, or likes to listen to loud music. Earplugs will be the budget ear protection, and you can get these for just a few dollars at any pharmacy chain.
But a good set of headphones will be the better route, since it sometimes takes preferred noise to drown out the annoying variety. Shop for the best headphones you can find at Best Buy, then order the same set on Amazon.com for a lot less.
2. Mini-Fridge
Burning the midnight oil is hardly an uncommon occurrence in the college universe, especially during exams. But it's unlikely that the cafeteria will be open that late at night. And sometimes even during the day, you will want a cold drink, or have the need to preserve food for daytime snacks and meals when you just don't feel like leaving your room.
Target and Walmart are generally where you'll find the best prices on a decent mini fridge. But if you want to save even more money, check out a local thrift store, or even a garage sale. Since the fridge will be in a room with multiple occupants, you want to spend as little for this as possible, against the chance that it might be damaged.
3. A Supply of Common Over-the-Counter Medications
Headaches, upset stomachs and chest colds don't disappear when you leave home. In fact, they may be even more common in a college dorm. For that you will need to lay in a supply of common over-the-counter medications. This can include Tylenol (or some other preferred pain reliever), nasal decongestant, cough syrup, antacids, vitamins, and even Band-Aids and disinfectants.
It's best to buy the smallest packages of each, and to buy storebrand varieties that are available at local grocery stores. There are two reasons for doing this:
You want your medicine supply to be as inconspicuous as possible, so that you can avoid becoming your dorm floor's medicine man/woman, and
In case one of your roommates hits you up for some of your medications, you'll be providing them with the least expensive brand available.
4. A Clothes Hamper
This is especially important if your practice at home is to simply allow your laundry to accumulate in a corner of your bedroom. Not only will a clothes hamper help to organize your laundry routine (a full hamper will be the signal that it's time to do your wash), but it will also help you to avoid commingling your clothing with your roommates dirty laundry.
Once again, Target and Walmart are likely to be the least expensive sources for this item. And while you're at it, stock up on some inexpensive store brand laundry detergent.
5. A Desk Lamp and a Reading Light
Your dorm room will almost certainly come equipped with a desk, but you shouldn't assume that that will include a desk lamp. Since it's entirely possible that you will spend at least as much time at your desk as you do in your bed, you need proper lighting. You can find a good quality desk lamp for not a lot of money at Staples, during their back to school sales, typically held in August and early September.
Also look into a reading lamp so that you can read and study in bed after the lights are out.
6. A Coffee Maker and Related Items
Naturally this applies only if you are a coffee drinker, but it can also serve as a hot water source for tea, if that is your preference. There are usually entire shelves filled with coffee makers in thrift stores, typically selling for no more than $3 to $5.
While you're at it, don't skimp on coffee filters and a decent quantity of your favorite coffee or tea brands. You can save a bit more by buying these at a dollar store, particularly if you are not hung up on the brand.
7. A Comfy Mattress Pad
College dorm room beds are not known for being the most comfortable sleeping accommodations. But you can change that situation by adding a mattress pad on top of the bed, right underneath the fitted sheet. A couple of extra inches of foam could guarantee a better night's sleep throughout the school year.
You can try Bed, Bath & Beyond, but you'll almost certainly find a less expensive version at Walmart.
8. Microwave Oven
It's almost a certainty that you will want something quick and hot, and on more occasions than you might anticipate. Simply having a microwave oven to heat up soup or a packaged hot meal, could save you a trip to the cafeteria, and give you more time for studying, relaxing, or sleeping.
Thrift stores or garage sales will be your best sources, since they usually have plenty of them. And since the oven will likely be used by your roommate(s) (and their guests), it's better that it's not brand-new.
9. Bed Linens
These will be especially important if the dorm room bed is a non-standard size. A bed that is just a few inches longer than a standard twin size bed will not fit the sheets that you probably have.
Cost can be a factor here. Bed linens are not cheap to begin with, but non-standard sizes are even more expensive. WalMart and Target will likely be your best sources on the price side, but keep your eyes peeled for sales. Especially since you'll probably need two sets of bed linens, that way you can have one on the bed while the other one is in a hamper waiting to be washed.
10. A Fan (or Space Heater)
Room temperature can be an issue when you are sharing a room with a stranger for the first time. If your roommate likes to keep the room on the warm side, a fan will be a welcome tool. At the opposite end of the spectrum, if your roommate likes it cool, even in the dead of winter, you may need a space heater kept close to your bed in order to keep peace in the room.
Fans are inexpensive in late summer, since they are close to being mothballed for the winter. But space heaters may be at a premium, since it isn't quite cold enough for them yet, and there probably aren't many available. Search the web to see where you can get the best deals, and don't rule out a visit to a thrift store or two to see what you can find.
Anticipate your needs for your dorm room, and give yourself time to find the best deals that way you won't spend more money than you need to.
How about you all? What are some dorm-room essentials you can think of?
Share your experiences by commenting below! 
***Photo courtesy of https://www.flickr.com/photos/mattnazario/13971207088/in/