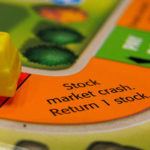 The following is a post by MPFJ staff writer, Kevin Mercadante, who is a freelance professional personal finance blogger for hire, and the owner of his own personal finance blog, OutOfYourRut.com. He has backgrounds in both accounting and the mortgage industry.
If the recent volatility in the stock market has you concerned, that's probably not a bad thing. After all, equity investments are not fixed investments, which means they can go down as well as up. Every now and again, we need to be reminded of exactly that. But the proper response is not to panic, but rather to prepare your portfolio for greater volatility.
There are various ways to do that, but it's important that you take steps while things are relatively calm. Should the market decline in a major way, there won't be time to react once it does.
Here are five ways that you can prepare your portfolio for greater volatility.
You Don't Need to Sell Everything
Unless you are concerned about a complete market collapse (something along the lines of 1929), you don't need to do a complete liquidation of your stock portfolio. A better approach may be to simply reduce your exposure to the market.
There are several ways to do this, short of selling off everything that you have:
Stop putting fresh investment capital into stocks, at least until the market settles down
Sell off positions that are making you especially nervous – if an investment has not reaped rewards in one of the biggest bull markets in history, you could be in for a rough ride in a bear market
Move some of the capital from your sales into stocks and funds that you believe will better weather a decline
Don't make a complete exit out of stocks – you never know exactly when a new bull market will begin
You don't need to exit stocks entirely, but you may need to lower the temperature a bit.
Accumulate Cash
Rather than selling off stocks, you could simply accumulate cash from any new investment proceeds that you put your portfolio. This will not only prevent you from increasing your exposure to stocks, but it will also allow you to build up a cash reserves so that you can begin buying stocks when the market bottoms out.
This will be a critical component of your overall investment strategy should a volatile market turn into a certified bear market. The best time to buy stocks is usually after a major sell off. That's when stocks "go on sale", and can be purchased for a fraction of what you would've paid at the top of the market.
Eventually, all bear markets turn into bull markets, and when that happens the stocks that you bought at the bottom are likely to be your best performers.
You can't know when the market will bottom out, but if you have sufficient cash reserves, you'll be prepared for when the moment does come. In a real way, accumulating cash is a way of preparing for the next bull market.
Invest for Income
This is a tough maneuver in an environment where it's difficult to get much more than 1% on your money, especially in short-term investments. But there are certain stocks, mutual funds, and exchange traded funds that do provide above average dividend income. Since dividend stocks tend to weather market volatility better than pure growth stocks, you could favor these among your new stock purchases, or shift some of your money out of growth and into income.
The safe play of course is fixed income securities. Even though the rate of return on money market funds, certificates of deposit, and US Treasury bills is pathetically low, the principal values are fixed. That's the best kind of protection in a volatile market environment.
When equity markets become volatile, the emphasis should shift from making money to preserving capital. Not only will that minimize the amount of losses you will sustain in a down market, but it will also provide you with the investment capital that you will need to invest in stocks later on.
Look Into Alternative Investments
You might also take a look at alternative investments. This can include real estate (particularly real estate investment trusts), commodities, and even precious metals.
The factors that cause stocks to fall could have the opposite effect on alternative investments. This is particularly true if market volatility is caused by or creates economic or financial disruption.
You don't necessarily want to load up on alternative investments, but a small position could offset declines elsewhere in your investment portfolio.
Stay On Top of Your Career!
I just touched on how stock market volatility could result in economic or financial instability. This often happens because market volatility makes it difficult for public companies to raise capital, which can either end expansion plans or cause them to scale back operations.
This will have a material effect on the job market. For that reason, market volatility is an excellent time to sharpen your career skills and get more involved in your job than you've ever been. The idea is to increase your value at a time of increased competition for fewer jobs.
Though few people think of it this way, your occupation is actually one of your biggest investment diversification's. It will provide you with income and capital at a time when your portfolio doesn't. Market volatility should be viewed as a wake up call to refocus on your career.
How about you all? In this suddenly more volatile market, are you making any changes to prepare yourself and your portfolio for a less predictable environment?
Share your experiences by commenting below! 
***PHOTO: https://www.flickr.com/photos/psycho-pics/2952050268/sizes/n/