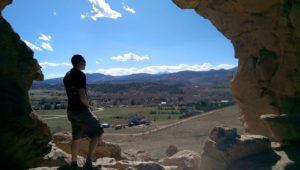 The 10% give back giveaway fun rolls on for the month of May 2015.
The past year has been one of major life changes for me. I finished my graduate school degree in August 2014, got married in September, moved to Colorado in November, started a new job in December, and bought a single family home in January 2015. With all of these changes, I have gotten a little behind with running give backs on MPFJ. In fact, my records showed that I haven't done one since April 2014.
As such, we need to do some catch up! 
In case you missed the first 31 editions of the 10% Blog Income Give Back, after doing some thinking at the beginning of October 2011 about what direction I want this blog to grow and evolve towards in the future, I decided that any income made from this blog would have more significance to me at a personal life values level if I knew that a portion were being given back to the following places:
1) The readers – Obviously, without you here to read my articles and interact with my ideas, there would be no blog in the first place (let alone blog income). As such, it is only fitting that you receive a portion of any blog income.
2) Charitable organizations – If you've read my blog before, you know that I'm a big believer in donating a portion of my money to charity. Each year, I donate between 5-10% of my income to the National Multiple Sclerosis Society as part of the Bike for MS fundraiser that I do. Beyond the good that is done by donating your money, getting used to contributing to charity is also a good practice to emulate the actions of affluent individuals (T. Harv Eker discusses this in his book, Secrets of the Millionaire Mind, which I would definitely recommend reading if you have a few hours).
Because of these considerations, I've decided that each month going forward, I'm going to give away 10% of my net (after-tax) blogging income/profit to My Personal Finance Journey readers (5%) and to charity (5%). Listed below is a summary of the results we've achieved together thus far through this give back effort:
After each calendar month passes, I'll tally up my net blog income and determine what Dollar value correlates to 10%.
So far, I've been very happy with the success of the October 2011 – April 2014 give backs. Listed below is a summary of what we've accomplished so far with the give back effort.

Current total given to charity = $2,570
Current total given to blog readers = $1,266
So, that's the overall flow of things and a brief recap of what's happened so far with the give back initiative. Now, let's get in to the specific details for this month's (May 2014-May 2015 catch up!) giveaway.
Details of May 2014-May 2015 10% Blog Income Giveaway
$779.13 total blog income to give away – $389.57 to 2 My Personal Finance Journey readers and $389.57 to the National Multiple Sclerosis Society of Colorado.

$389.57 in the form of 2 prizes available to 2 readers as follows –

1) Grand Prize = $250 USD Cash Via PayPal.
2) Runner-Up Prize = $139.57 USD Cash Via PayPal.
How to Enter the Giveaway – Deadline to Enter is 11:59 PM, June 15th, 2015
Like previous months, I've decided to use the RaffleCopter giveaway management tool to handle sign-up facilitation for this giveaway, so simply go through the steps listed in the widget below to enter the running for the prize and accumulate entry points.
There is no limit to the amount of points you can earn. If you refer 10 subscribers – your name will have accumulated 50 entry points! Or, if you link to the giveaway more than once, you can accumulate those 5 entry points multiple times. In the event of a tie, I will be using a random number generator to select the grand prize and runner-up (2nd place) prize winners.
Important instructions: After you complete an entry method, make sure to click and fill out the "I Did This" or "Enter" button in the widget so that I have a record of your points.
Remember, the deadline for entries will end at 11:59 PM, June 15th, 2015 (~4 weeks from today – the start of the give back). Good luck to you all! Please contact me if you have any questions. After the deadline for entries passes, the grand prize and runner-up prize winners (one with the most points and second most points accumulated, respectively) will be contacted via email to receive their prizes.