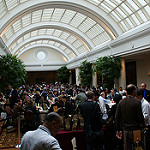 The following post is by MPFJ staff writer, Chonce. You can read more articles by Chonce over at her personal blog, My Debt Epiphany. Enjoy! 
Attending a conference is a great way to network and connect with others, learn new skills and strategies, and gain tons of inspiration. There are probably thousands of conferences dedicated to each specific industry that occur all over the country each year.
Whether you are an entrepreneur, retail manager, gamer, or finance enthusiast, odds are there's a conference out there for you.
Conferences are often referred to as in investment due to how expensive they can be. Most conferences are between 2-5 days and tickets can range anywhere from $250-$1000+. The average conference attendee who is paying out of pocket can expect to spend at least $1000 for the entire experience in most cases when you consider the cost of your ticket, travel, your hotel stay, food and extra non-including activities and so on.
Now you may be wondering, who can afford to spend that much money on a conference?
Americans spend that type of money on vacations, dining out annually, clothes, etc. very easily. Investing that money in an educational conference instead might be a better way to spend your money, only if you see the return on your investment.
Here are a few ways to determine whether or not a conference is really worth the price.
Determine How Valuable the Education Is
Will you be receiving an education worth $1000+ by attending a particular conference? I know this is hard to determine if you've never attended the conference. However, you can do some research by reading reviews from past attendees and checking out the main conference website to look at the agenda for each day.
If you are considering attending a conference in the first place, you must have a main goal in mind that you would like to achieve as a result of the experience. Look at the titles of the sessions along with the bio for each presenter to see if you are interested in the presentation topics and if you will take anything away from it. What skills and strategies do you hope to learn and will they help you save time and money? What issues are you having that could possibly be solved during one of the sessions?
It's best to organize your schedule before heading to a conference and map out which events and presentations you will attend. You should even write out a series of questions.
What Kind of Networking Opportunities Does the Conference Provide?
Networking opportunities are a given at conferences. When you put a ton of people who have similar interests in the same area together for a few days, there are bound to be active conversations in the hallway, during breakfast, and in between sessions to say the least.
You will definitely meet new people and receive tons of business cards for follow ups which are good things if you're looking to expand your network.
If the conference you are considering attending offers additional, more specific network opportunities, that is an added bonus. For example, last year I attended FinCon which is an annual financial bloggers' conference. It's not just for financial bloggers, though. Podcasters, financial advisors, fin-tech businesses and other companies also attend.
What I loved about FinCon last year was the private networking session they have for freelance writers who were actively looking for work. Before the conference, personal writers had a chance to reach out to blogs and websites that were hiring to set up a time to talk during the conference.
There were also opportunities for people who didn't set up formal meetings to walk around the room and introduce themselves to potential clients. This event was right up my alley since I was looking for additional clients and I gained a ton of leads that day as this event.
Priceless networking opportunities like these are so worth it.
What Types of Sponsors of Brands Will be There?
Conferences have several sponsors and a lot of them may try to sell you something or get you to sign up for something at the conference. However, some brands and sponsors may also be looking for partnerships as well.
If you own a blog, website, or business, attending a conference can put you face-to-face with popular national brands so you can connect with them on a personal level and secure some new opportunities for yourself.
During FinCon last year, I got the chance to sit down with the team at Credit Karma and share my money story on camera. Months later, they reached out to me with an interest in getting permission to use my story either on their site or for their training materials. When I agreed, they sent me a $500 gift card for compensation – more than the price of my conference ticket itself.
Will There Be Any Freebies or Additional Features and Perks Included?
If the owner or company that is hosting the conference has some additional freebies and offers in store for you, that is always a good thing. Some conferences offer a discount on your hotel room rate, free swag from sponsors, free or discounted entry to events that occur outside the normal conference schedule, a few meals throughout the day and so on.
If a conference doesn't offer any of these things, you don't have to write the opportunity off completely, but be cautious of conferences where you are expected to pay for every little thing out of pocket. Freebies and perks can go a long way in terms of lowering your costs and making a conference worth it in terms of your budget in ROI.
Additional Ways to Lower the Cost of a Conference
Speaking of lowering the costs of attending a conference, here are some additional things you can do to make sure you are getting the most out of the experience and not going too overboard on your budget.
Attend a conference in a nearby city first – This may be a good option if you are on the fence about paying for an entire conference experience. Back when I was trying to become a professional resume writer, the National Resume Writer's Association was hosting their annual conference in Chicago which was only about 45 minutes away from me. I practically couldn't resist attending because I didn't have to worry about booking a flight or staying in a pricey hotel since I could stay with my sister who lived in Chicago for the duration of the event.
Order Your Ticket Early – Most conferences have early-bird rates that are extremely discounted so if you know you want to attend a conference, you can probably purchase your ticket for cheap at least a year out in advance.
Consider a Roommate – Even if the conference organizer negotiates a lower hotel room rate for attendees, staying in a nice hotel can still be pretty expensive. For FinCon I got a roommate and it cut the price of the hotel room for 4 days from $650 to only about $325 plus tax. Ask the organizers of the conference if they have any groups for attendees to communicate before the event and secure a roommate.
Cash in Credit Card Rewards for Your Flight – If you have credit card rewards or cash back, attending a conference would be a great time to cash those rewards in to save money on your flight.
All in all, you must keep all these factors in mind and weigh the benefits in comparison to the costs of the entire experience to determine whether it will be worthwhile for you.
How about you all? Have you ever attended a conference? Do you think conferences are worth the price?
Share your experiences by commenting below!
****Photo courtesy https://www.flickr.com/photos/dionhinchcliffe/3020387867/