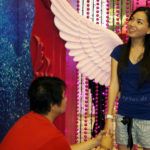 The following post is by MPFJ staff writer, Catherine Alford. Cat is a freelance personal finance writer who blogs at www.BudgetBlonde.com. 
People always told me that marriage gets really tough when you have kids. I never knew what they meant until now of course. At first I thought, shouldn't having children bring you closer together as you both soak in the amazing miracle of raising a little human (or two)? Well the answer is both yes and no, but at this point, mostly no!
With so many demands on both of us, the most time we spend together is when we're side by side in the kitchen at 11 p.m. washing bottles and trying to squeeze in as many chores as possible before we both collapse in bed out of exhaustion. It's a really hectic and crazy time for us, and sometimes we love it and sometimes we really miss sleeping in on Saturday mornings.
We know we're lucky beyond belief to have two healthy and beautiful children, but I think it's completely normal to go through a rollercoaster of emotions as a new parent. At least, that's what I always tell myself.
So, whether you're elbow deep in diapers like us, empty nesters, or blissful newlyweds, here are some ways you can show your spouse you love them for free and keep the love alive even when things get busy or downright crazy.
Let Them Sleep In
If there are tasks to do in the morning like taking the dog out, making breakfast, feeding tiny humans, or other chores in general, let your spouse sleep!
Whether you have kids or not, chances are as soon as you wake up, you probably have to at least make coffee right? Well, I can tell you from experience that it's pretty much the best surprise ever to wake up and have all of these things already finished.
If you do this for your spouse I can promise you that when 9:00 rolls around, they'll wake up so confused wondering how they were able to sleep so long. The bonus for you is that they'll likely be in a good mood for the rest of the day. I know I always am when I can sleep a little more.
Write a Love Note
It doesn't have to be sappy. It doesn't have to be long. Just jot a quick, "I love you" on a scrap piece of paper and put it on the kitchen counter. It only takes a minute. You can even be funny or silly or witty. Write a joke or put down a funny memory. Just do it because it's free and it will make them smile.
Make Them Their Favorite Meal
We tend to save favorite meals for birthdays or special occasions, but I think we should make our spouse's favorite meal randomly and surprise them. Frankly my husband would be so happy and impressed if I planned and made dinner at all because I absolutely hate to cook. So, he'd probably love me forever if he walked in to steaks or a Thanksgiving style dinner. Actually, he'd probably think an alien spaceship came and took me and replaced me with some evil-yet-awesome-cook twin. Still, as I write this, I realize I should probably do this more!
Print Out a Picture
We never print out pictures anymore. Gone are the days when grandparents would take out a whole roll of pictures from their wallets. Now we have smart phones that we let people flip through. However, one of the best gifts I ever got from my husband was tiny little magnets that he had made from my Instagram feed. He picked several different photos that were taken during my pregnancy and with friends. They are all up on my fridge now and are actually a nice, flat, clutter free way to hold up important things on the fridge.
Give Them Some Affection
I was walking through the mall with my husband and twins, and suddenly it felt like every single couple was holding hands. Didn't we used to hold hands all the time I thought. It took me about two seconds to grab his hand, but then we had to hold hands one on top of each other while we pushed the stroller. Ah, young married love when you have kids! Still, a little affection and attention goes a long way!
Ultimately, it doesn't matter how busy you are. The above tips prove that you can easily show your spouse you love them in small ways that don't cost a dime. There's no need to buy a dozen roses or even make reservations at expensive restaurants. Just a little attention, a few thoughtful notes, or even a simple hug can go a very long way in the midst of our busy and chaotic lives.
How about you all? How do you show your spouse you care?
Share your experiences by commenting below! 
***Photo courtesy of https://www.flickr.com/photos/epsos/6943704482/in/