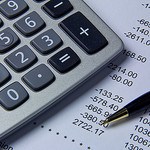 The following post is by MPFJ staff writer, Melissa Batai.  Melissa is a freelance writer who covers topics ranging from personal finance to business to organics to food.  She blogs at Mom's Plans where she shares her family's journey to healthier living and paying down debt.
Experts offer a rule of thumb for where we should be at certain ages. For instance, "Fidelity Investments recently put together an age-based savings guideline with a range of savings goals. At age 35, you should have saved an amount equal to your annual salary. At age 45, you should have saved three times your annual salary. At 55, you should have five times your salary.   When you retire at age 67, you should have eight times your annual pay" (TIME).
Are you discouraged reading this? Do you feel woefully behind?
Or, are you excited and see that you're right on track or even ahead of the experts' schedule?
Your answer is highly variable and depends on many factors that the "experts" cannot know or consider.
What Was Your Parents' Financial Background Like?
As Americans, we like to think that everyone can get ahead and make a name for themselves based on their own skills, ability, and drive. It's the old pull-yourself-up-by-your-bootstraps mentality.
While there are certainly success stories like that, the simple truth is that if your parents are able to help you as you leave the nest, you're much more likely to be a success.
I had several friends in college. Some were like me and came from backgrounds where our parents weren't able to help financially. We took out student loans and may have gone into credit card debt to pay for a college education. After college, we took many, many years to pay back student loans. (It took me 14 years to pay mine off.)
I had two friends in particular who came from wealthier families. One's dad was an ophthalmologist and the others was a pharmacist. Their parents paid for their college education and gave them a modest subsidy to live off of. When the one, Jake, went to California right after graduation, his dad urged him to buy a house and gave him the money for the down payment. Eight years later, Jake sold the house for double the price he bought it for and bought a larger house when he got married. Today, eleven years later, that house has also doubled in value and is now worth $1.5 million.
I don't want to discredit Jake's success because he's worked very hard and he chose a career in a field that is growing and pays handsomely. However, Jake's father's ability to pay for his college education and give him money for a down payment in the expensive California housing market certainly helped him get ahead financially.
What Are Your Priorities?
Another important factor in each of our personal finances is our priorities.
I taught at a community college for ten years before I quit to stay home with my kids. If I had stayed at the job, I expect that I could have made $100,000 a year after working twenty years or so. I left my job just when I was finally earning a nice wage. I gave up a comfortable life to instead stay home with my children. I don't regret my decision, but it did certainly impact our family financially.
Other people are dedicated to their careers and work long hours. They may find financial success while juggling family responsibilities, or they may forgo having a family. Because they stay in the work force while raising children (or opt not to have children), their salaries continue to grow throughout the years as do their retirement savings.
What Are Your Goals?
Some people retire and want to travel the world. They want to go on a safari and take a cruise. They want to see the world. Others spend time hopping planes to visit their kids and grandkids who are scattered throughout the U.S. Others are perfectly content staying home and volunteering, tending to their home, yard, and garden, and being with friends and family.
What your goal is in retirement will affect how much you save before you retire.
You Never Truly Know How Others Are Doing
What means do we have to calculate how others are doing financially? We make take stock of their cars, homes, and "toys" like boats, motorcycles, etc.   We may guess at how much they make, but very few people broadcast their specific salary. What we have are our guess and estimates, and these are often wildly off.
You don't know if the neighbor with the perfectly manicured lawn and expensive car is deep in credit card debt or if her home carries two mortgages. You also may not realize that your neighbor in the modest house who drives a 10 year old sedan is a millionaire who spends his money frugally. We never know these things. Instead, we compare against externals without knowing the full financial story. There is no point to this, but we do it over, and over, and over again.
Only Judge Your Finances Against Your Previous Finances
It does no good to compare yourself to others and be discouraged. Jake is a world ahead of me financially. Sure, it's partly because his dad could help him financially when he was young, but now Jake works long hours as does his wife. They chose to have one child while my husband and I have three.
I chose to give up an income and have more children. That choice is reflected in my finances. If I compare my finances to Jake's without looking at the choices made, I'll likely feel frustrated and depressed.
Instead, a much better option is to compare my finances to my finances in the last several years. When I look back from the time I had my third child and my husband and I were at our financial lowest (thanks to the loss of my income), I see that each year since then, our finances have improved. My husband is earning more at his job, and I have a freelance income. Each year, we earn a bit more and pay down more of my husband's student loan debt. Each year, we have a little more room to breathe.
If you have not yet started tracking your net worth each year, I highly recommend doing so as you can learn a lot about your financial situation, especially whether it's improving or declining, just based on calculating your net worth. For many of us, finances improve S-L-O-W-L-Y, and you can feel like you're making very little progress. Tracking your net worth will help you see that you are, indeed, moving forward, even if it's only baby step by baby step.
Besides comparing ourselves to our own finances, my husband and I also look loosely at what experts recommend. However, we remember that the experts' rule of thumb for retirement savings is just that—a target to aim for. We're doing the best to reach that goal, but we also know when the kids are older, I'll increase my workload and we'll have more money to funnel to retirement, especially since we're used to living on one income.
Each of us has unique, complicated financial situations created by our backgrounds and our choices. There is no point comparing to others; simply compare against yourself and your own financial progress year after year.
How about you all? Do you find yourself comparing yourself to others financially? Do you compute your net worth every year to see how you're progressing financially?
 Share your experiences by commenting below!
***Photo courtesy https://www.flickr.com/photos/teegardin/5912231439/