The following post is by MPFJ staff writer Travis, who blogs at Enemy of Debt where he candidly shares his family's financial struggles, failures and successes. As a father and husband, he provides a unique perspective on balancing debt, finances, and family.
I remember driving through a neighborhood with big houses when I was a teenager and admiring the immaculately manicured lawns, the perfectly shaped trees, and landscaping that looked so perfect I wondered if it was fake. My yard may not look quite as exquisite as the ones I remember from my childhood, but I take pride in the exterior of my home. It's really not that difficult, and it isn't even that expensive. To give myself the best chance of having a great looking yard this year, there's one thing that I absolutely must do.
If I want a great looking yard, I have to start early.
Here's my list of the top six things I will be doing in the next week or so to get my yard green and growing as quickly as possible, as well as how much it will cost me:
1. Get A Rake
This is especially essential for me because I live in a cold weather climate where my grass gets matted down by 6 months of snow. Raking the yard will remove the dead grass, making it easier for the blades that remain to get the needed sunlight to start growing again. A good lawn rake can be had for about $15 from Walmart and will last for years.
2. Fertilize The Lawn
The first application of fertilizer is the most essential. The recommended application will not only give the grass the needed nutrients to start growing quickly, but it also contains crabgrass killer.   Crabgrass cannot be killed during the growing season after it pops up in the lawn. When it comes to crabgrass, prevention is the only solution, and it must be done early in the spring.   I picked up a bag of Crabgrass Halts plus fertilizer on sale at Costco over the weekend for $47.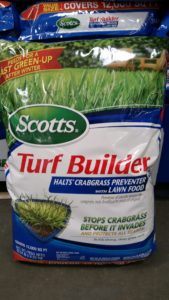 Note: To apply the fertilizer, I use my broadcast spreader. One of these costs $35, but it can be used for years. Mine is over 10 years old and still going strong.
3. Spike The Trees
One of my favorite things to do in Summer is to lay in the grass and listen to a warm breeze rustle the tree leaves. They give us shade, and they look majestic in our yard. Trees need food, so I give them some fertilizer spikes in the Spring and then again in the Fall. The spikes are put into the ground along the perimeter of the estimated root line. The bigger the tree, the more spikes you need. I can get by with one $10 package of tree spikes for my Spring application.
4. Trim The Bushes
When my wife and I bought our first house, I decided to trim the bushes in the front of my house in the middle of July. I cut off almost all the leaves, exposing the leafless, uninteresting branches of the infrastructure of the bushes. Guess what, friends? New leaves didn't grow back and I was left wondering if I had killed my bushes. The next Spring all was good, but I'll never forget staring at my dead looking bushes for months. Now I trim my bushes in the Spring before they start growing. There are more expensive electric trimmers, but I get by just fine with my $20 hedge shears I picked up at Home Depot.
5. Trim The Trees
As my trees grow, they sometimes extend towards the house, power lines, or just create a shape that isn't nice to look at. Spring is a great time to take off those unwanted branches. I have a 14 foot Bypass Pruner that allows me to easily remove almost any branch I on my trees. I purchased mine for $40 a few years ago, and it still looks brand new.
6. Replace Mulch
Some people have rock around their landscaping, and some have mulch. We have a combination of both solutions. The wood mulch discolors and disintegrates over the summer months so I like to refresh my mulch in the Spring. Mulch costs about $2 a bag, and I can get my job done for a total cost of $14.
Overall Costs
One Time Costs:
Fertilizer Spreader: $35
Hedge Shears: $20
Bypass Pruner: $40
Total: $95
Yearly Costs:
Rake: $15
Fertilizer: $47
Tree Spikes $10
Mulch: $14
Total: $86
I used the phrase, "One Time Costs," for items that can be used for years. Obviously they may break or eventually wear out, but they're not an expense that will be incurred every year. The point is, given an afternoon of being outside in the sunshine and a relatively small amount of money I will get my yard in tip top shape for the coming growing season.
Maybe you've admired someone's luscious looking yard wishing that someday yours could look like that. If you like working outside, with a little effort you can inexpensively make your lawn the envy of the neighborhood. The time to make it happen is now, so grab your tools and get to work!
How about you all?  Do you like to work on your yard? Is there anything else you would add to this list to help make your yard look the best is possibly can? How much do you spend each Spring getting your yard ready for the warm season?
Share your experiences by commenting below!