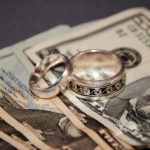 The following is a post by MPFJ staff writer, Derek Sall. Derek is the owner of the blog, LifeAndMyFinances.com, where he teaches people how to get out of debt, save money, and become wealthy.
It was about 6 years ago now that my fiancé and I attended a class and took a test to see if we were compatible. Basically, the test told us that we were not all that compatible and should reconsider our marriage to one another. I brushed off the test as a faulty result because we were most certainly in love and there was nothing that was going to break us apart.
After getting married, I soon realized that the test may have had more validity than I thought. We constantly had arguments about trust, respect, and of course, money. She was a spender and I was a saver, and the difference in our financial personalities was driving us apart. And, indeed, it did end up killing our relationship. We should have seen the signs and taken them more seriously.
How Do You Know If You Are Financially Compatible?
So how do you know if you and your girlfriend/boyfriend are financially compatible? What questions should you be asking yourself as you try to objectively study your relationship? Start out with the basics. Ask yourself these questions:
Would I rather have money in the bank or would I rather spend my money as I receive it?
Does my partner tend to buy things for short term happiness or do they like to stock money away for emergencies or investments?
When talking about money with your partner, are you typically talking about what you can buy today, or how you should handle the money for the long-term?
Do either of you typically have money in your bank accounts? Or do you tend to spend everything you make?
When I started college, I had $6,000 in the bank, owned my own vehicle, and already covered all of my own expenses like insurance, food, my cell phone bill, and gas for my car. My partner often had about $10 (or less) in her bank account, drove a car given to her by her mom and dad, and basically had no expenses because they were covered by her parents. She enjoyed eating out, buying clothes, and having fun at the bar. I enjoyed earning money through my side business, learning how to invest, and dreamt about how compound interest would grow my money in the future years. I don't think we could have been any different financially, and it hurt us dearly. I thought my way of handling money was right, she thought her way of handling money was right, and we often fought about it. Don't let this happen to you.
Are you a saver, but your partner is a spender? Before making that life-long commitment, talk with him/her about money and review how you both tend to save and spend. As awkward as it may be, look at each other's bank accounts together and go over different transactions. If you think your partner is wasting money, talk with them about it. It's better that you discuss these differences now than when it's too late.
My friend Kevin was engaged to a beautiful woman a few years ago and she was fed up with her old car. She wanted a new one and was willing to finance it. Kevin believed that vehicles should never be financed and told her that if she went through with this purchase, he would likely break up with her (since it basically meant that they were financially incompatible). She did not take him seriously and went ahead with her $25,000 purchase, even though she only had about $500 to her name. He was disappointed because he liked her very much, but still went through with the break-up. As difficult as that was, I was proud of Kevin and very impressed with his decision. Today, Kevin is married to a woman that shares many of his beliefs (including financial) and they are incredibly happy together.
If you are in a situation where your partner is your financial opposite, you have a difficult decision to make. Either you believe that they will change (which often doesn't happen – not for the long term anyway), or you should make a clean break because your future is destined to have a lifetime of financial arguments. Choose your mate carefully and be sure that many of your major beliefs align. If they do, you will likely have a very happy and rewarding life together.
How about you all? Are you and your partner financial opposites? Do you plan on continuing the relationship?
Share your experiences by commenting below.
***Photo courtesy of http://www.flickr.com/photos/26023255@N03/8612002388/