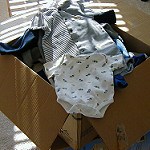 The following is a post by MPFJ staff writer, Jeff.  Jeff writes about reducing waste, saving money and building freedom at his website, Sustainable Life Blog.
Just over a year and a half ago, my wife and I welcomed our first addition – a daughter. Since then, we have really enjoyed having her around and have been looking for ways to cut costs. People say that kids are expensive, and I'm not sure that is true, but the can be very expensive.
Since birth, our daughter has grown about 18″ and added on about 18 lbs, which as you can guess has meant she's grown pretty fast. It's a bit cold in Wyoming, so she can't walk around with just a diaper on and we figured we'd need clothing. I didn't realize how much we'd need and how soon, so quickly my wife & I came up with some strategies to get clothing for cheaper.
Hand Me Downs
This is the most popular one, and worked well for us. My wife's sister had a child that's 14 months older than ours, and she just sent us all of her kids clothing over in boxes as her kid got too small for it. We (my wife) sorted it by size, and we stored it away until we needed it and then put it in the drawer and shipped the old stuff back to my sister in law.
Used Clothing Store
Near us, there's a store called Once Upon A Child (which I'm pretty sure is a franchise) and they have gently used children's clothing of all sizes as well. While we don't frequent this store because we get so much from our sister in law, we have not really needed much. Everything we have gotten from them has been top-notch though. Not only do they have clothing, they have all kinds of different baby and little kid stuff – toys, games, cribs, you name it and it's all there.
Goodwill/Thrift Store
We occasionally check goodwill when the other two options have been exhausted and we still don't have quite what we need (this has not happened often though). There's always something there, and typically if your goodwill is large and fairly active, there will be a good price on it. I typically do a bit of my shopping there when we are there looking for things for our daughter as well. There's nothing like saving a ton of money and killing two birds with one stone.
I think in about 2 years, we have probably spent less than $50 on new baby clothing, and many of those purchases were things that we didn't even need to buy – they were more of impulse buys that we thought were really cute. I have also not yet found a future parent that has not been totally inundated with other baby clothes from people whose kids are older and have decided not to have any more kids. They don't need the clothing, and new parents want it, so it's made for a perfect exchange for years.
There really is no need to pay – simply ask friends and family who have kids first, then branch out to friends or try Craigslist if you don't think you've got enough. Kids go through clothing typically faster than they can wear it out at this age, so you don't have to worry about something you get being totally beat up.
How about you all? Do you have kids? If so, how have you saved on baby gear?
Share your experiences by commenting below!
***Photo courtesy https://www.flickr.com/photos/f8dy/93843796/