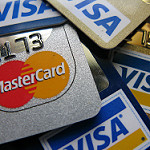 The following post is by MPFJ staff writer, Laurie Blank.  Laurie is a wife, mother to 4 and homesteader who blogs about personal finance, self-sufficiency and life in general over at The Frugal Farmer. Part witty, part introspective and part silly, her goal in blogging is to help others find their way to financial freedom and to a simpler, more peaceful life.
Many people who've gotten themselves into massive amounts of debt have a pivotal moment when they made a decision to take on a lot of debt. Maybe they went back to school for their Master's degree. Or maybe there were medical expenses from a surgery or other incident.
Our case was different: we literally nickel and dimed ourselves into huge amounts of debt to the tune of tens of thousands of dollars.
How it Happened
I can honestly say looking back that we'd never really been concerned with managing money properly during the first fifteen years or so of our marriage. We'd get into debt, get out of debt, not really ever having a plan for our money.
Instead, we spent as we wished and when things got too tight we'd panic and pay off the debt in one way or another, usually by cashing in an investment or a retirement account.
In 2010 my husband got laid off due to the recession and our one-income family of six officially became a no-income family. As usual, we didn't panic; after all there was a three-month severance package and unemployment to help us along after that.
Seven months later Rick got a job offer that left us with a tough decision: the job was with a major company that he'd always wanted to work for, however the pay they offered was 20 percent less than what he'd been making at his old job.
In our "wisdom", we decided that he should take the job and that we'd simply use credit cards to cover the salary difference until he worked up to the salary he'd been paid at his old job. Looking back, I'm amazed that we talked very little of cutting expenses or changing our lifestyle. In our uneducated opinion, we "really didn't spend that much money."
At the time we lived in an affluent suburb, and since we spent "much less than most people" we knew and lived by, we accepted our expenses as reasonable, even though we had very little idea what those expenses actually were.
Our Financial Wake-Up Call
Two years after Rick started his new job, we sold our home in the suburbs and moved to a small hobby farm, eager for a more quiet life with our children. The move to the country was a real eye-opener for us. We felt as if we were viewing "normal" life from the outside looking in. In the country, no one cared about what we drove, what we wore or what activities the kids were in.
They simply cared about the content of our character, to quote MLK Jr. As we pondered this new way of living where the Joneses didn't matter, we sat down to take a real look at our finances. When we added up all of our credit card debt, we were dumbfounded at the astronomically high numbers.
Searching for answers, we went back and looked at our bank statements for 2012, writing down all that we spent on groceries, entertainment, clothing and the like. The numbers were shocking. Even though we thought we "never" went out to eat, we were spending nearly $300 a month on drive-thru runs, occasional restaurant meals and trips to the snack bar at the local big box store.
The grocery numbers brought similar shock. In our vague attempt at budgeting, we'd set our grocery budget for our family of six at a reasonable $600 a month. In reality, we were spending $900 a month on groceries due to a lack of good menu planning and runs to pick up random "stuff" here and there at the grocery store.
Suddenly, it became all too clear why we were in so much debt. In a panic, I began googling terms like "how to get out of debt" and found the wonderful world of personal finance blogs. I'd never read a blog before, but I was soaking them up now as I read about dozens of others who had found themselves in massive debt but worked their way to debt freedom.
For the first time in our lives, we began living off of a real budget and tracking all of our spending starting in January of 2013. While budgeting had always seemed invasive and restrictive to us in the past, we decided to give a real go at it and fell in love with being in control of our money. For the first time in our marriage, we knew where our money was going and we had a plan for what we wanted to do with it.
There have been many ups and downs for us financially in the three years since we first began living with a plan for our money and working to pay off debt. Major home repair expenses and other unexpected costs, combined with a super high debt-to-income ratio (we started at 65%), have made our journey to debt freedom a "one step forward, two steps back" kind of a journey.
But we are winning our battle to dump debt. If all goes as planned, our tens of thousands in consumer debt will be paid off by the end of 2016.
If you're feeling overwhelmed by your debt, or wondering how you got in debt in the first place, don't give up hope. With a solid plan and a commitment to persevere, you too can become debt free.
How about you all? Have you ever struggled with debt? Have you ever had a financial "wake-up" call?
Share your experiences by commenting below!
***Photo courtesy https://www.flickr.com/photos/armydre2008/2969764323/