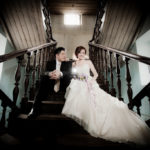 The following post is by MPFJ staff writer, Laurie Blank.  Laurie is a wife, mother to 4 and homesteader who blogs about personal finance, self-sufficiency, and life in general over at The Frugal Farmer. Part witty, part introspective and part silly, her goal in blogging is to help others find their way to financial freedom and to a simpler, more peaceful life.
It's wedding season, which means that wedding-goers everywhere are beginning the sometimes worrisome work of finding just the right gift at just the right price. Gift registry lists help, but we've all seen the wedding gift registry that contains crazy things you know the couple will probably never use. For some help in picking just the right wedding gift, consider these hard-to-fail ideas for wedding gifts the lovely couple will cherish forever.
A Year's Worth of Streaming
A year's subscription to Netflix, Hulu Plus, Sling TV or any of the other many streaming options out there would be a great way to help the newlyweds have access to snuggle time in front of the TV without having to worry about making sure the bill is paid on time.
You can present the gift in printed gift certificate form by finding a free online site, and add in print-outs of several options of streaming companies for the couple to choose from.
A Decent Set of Pots and Pans
My husband and I were married twenty-one years ago, and I still, in my mind, thank our friends Scott and Karen for the high-quality set of Farberware pans they gave us on our wedding day. We use them every single day and they're still in great shape.
A Quality Set of Bed Linens
There's a big difference between the feel of cheap bed linens and the feel of quality bed linens. We stopped buying the cheap bed linens years ago and opted instead to go for quality high thread count sheets that make going to bed extra comfy. If you don't know the couple's bedroom colors, stick with a neutral color such as white or ivory.
Money, Money, Money
It may seem uninventive, but you can bet your bottom dollar that money is a gift that every single couple – regardless of taste or style – will be able to use. If you're worried about the "boring" factor when giving money, consider using one of these creative ways to give money as a gift.
A High-End Camera
This gift idea is for those looking to spend a good chunk of change. Nearly everyone can fall in love with the ability to use a high-quality camera to capture fond family moments on film (I mean "on memory card"). A photographer friend of mine says you can expect to spend a minimum of a thousand on a high-quality camera, so this gift idea would probably work best for newlyweds who are close relatives or friends, or for those with a hefty bank account balance.
A Quality Blanket
This is another gift idea that we cherish from our own wedding. We got two quality blankets from two different people on our wedding day, and we still use them both on a regular basis after twenty-one years of marriage. Color and design is key in picking out a blanket that the newlyweds will love, so try and go with something that will match their home décor or something neutral like a navy blue or gray.
A Quality Set of Steak Knives
A good set of steak knives will find regular use in the kitchen of anyone who eats, even if they're a non-meat eater. Even salads and veggies often need to be cut before they're eaten, and a decent set of eight or so knives will ensure the couple has enough steak knives to cover the needs of guests too.  Personally, we prefer the Cutco brand.
A Tool Kit that has all of the Basics
A tool kit will come in handy for nearly every newlywed couple at some point. People I know who've gotten them as wedding gifts count them as one of their favorite gifts. We got my young son (he's 11) this Stanley Tool Kit for his birthday, and I think my husband uses it more than my son does.
Whatever gift you decide to give the newlywed couples you help celebrate their big day with, may it be a gift that they cherish for years to come.
How about you all? What is your favorite wedding gift to give newlyweds?