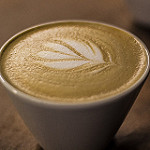 The following post is by MPFJ staff writer, Chonce. You can read more articles by Chonce over at her personal blog, My Debt Epiphany. Enjoy! 
What's your guilty pleasure expense? For many hardworking adults, it's their daily latte or cup of coffee.
Almost everyone has a guilty pleasure expense and it's often a smaller expense you may hardly even notice.
Maybe yours is the discount section near the checkout at Target, picking up a freshly baked bagel on your way into work in the morning, or grabbing a scratch-off lottery ticket at the gas station.
For the sake of this post, I'm going to be offering a new perspective on the latte factor since many people drink coffee and it's understandable how that small expense can add up quite a bit over time.
Breaking Down the Latte Factor
How much does a typical cup of coffee cost? In most areas, it can run you anywhere from $2-$5 on average depending on the size of the cup whether you're grabbing a cup at the gas station or at your local Starbucks.
If drinking coffee is a daily habit for you, that means you can spend anywhere from $10-$25 per week just on your lattes if you pick one up each week day.
While that may not seem like much, that could be gas to fill up your car or go toward a smaller monthly bill.
If you buy coffee on your way to work each morning, you could spend anywhere from $40-$100 per month and that's if you're not a repeat offender who picks up a second cup in the afternoon.
Needless to say, your daily latte habit which seems so small can really add up over the course of the year.
If you have financial goals to pay down debt, save more, or stop living paycheck to paycheck, it could seem like you're wasting your money on an unnecessary expense that you need to cut ASAP.
Before you think about giving up the latte completely so you can become a debt-free millionaire, here are a few reasons why you shouldn't.
How is the Latte Helping You?
Before you give up your guilty pleasure expense, first determine if and how it helps you. My example of purchasing items from the discount section was a bad example because it's not the best idea to keep buying things out of habit.
However, if you were looking to decorate your home for the season or pick out a birthday gift for your coworker or niece, you might find some good deals which could help you save money.
If your daily latte helps you wake up and focus, it could increase your productivity throughout the day so you get more done.
You May Not Have to Go Cold Turkey
If buying the latte is your thing, you might have a hard time trying to go cold turkey and cut it out completely.
If you try to cut out your habit too quick, you might pick up other bad habits that cost you even more money and provide no real benefit to you.
This is why I believe when smokers try to quit, they find better results if they work on weaning themselves off cigarettes first.
In the case of coffee, you don't always have to purchase it at your local cafe. You can brew your own coffee at home or wait until you get to work if your employer provides coffee for free.
I'm not much of a coffee drinker myself, but my husband is and we pick up cappuccino drink mix at the grocery store so we can make coffee at home each day for less.
It costs about $4 per small container and that container makes about 17 cups so we save a ton of money with this DIY hack.
See if you can find more affordable hacks for the expenses you'd like to keep so they don't deter you from reaching your goals.
Going After Big Wins
Finally, the most important reason why you may not want to give up your latte is because it's still a small element in the grand scheme of things.
Yes, it's important to cut unnecessary expenses especially when you're trying to manage your finances better or get out of debt. However, you may find it difficult to cut out everything.
And if you do, you'll realize that there's not much else you can do to lower your expenses once you've cut out several categories.
What you should do is focus on going after big wins instead of focusing so hard on the small wins.
Scoring a raise at work, establishing an additional stream of income, or selling your car for $7,000 are all big wins that can have a profound effect on your finances.
When I was working a traditional job and started freelancing on the side to generate more income to put toward my debt, I earned an average of $2,000 per month after taxes essentially giving myself a $24,000 annual raise which was huge.
I committed to bringing my lunch to work most of the time but at least once a week I'd eat at a restaurant or order takeout because I like dining out and it was a great way for me to relieve stress from work and get out of the office for a little time.
The $5-$10 I spent on lunch once a week didn't deter me from meeting my debt repayment goals for the year given that I was bringing in $2,000 from side hustling each month.
So Should You Give Up That Latte?
Only you can decide what's best for you since you know your situation best. You should take all these factors into consideration and try to find a balance between cutting back on the small stuff and going after big wins.
Making small adjustments to reduce your expenses can definitely add up and help, but big wins provide a faster, more satisfying result.
How about you all? What small adjustments in your spending have you made that have really helped (or not!) your budget?
Share your experiences by commenting below!
***Photo courtesy https://www.flickr.com/photos/akane2011/14330276248/