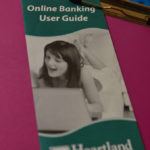 The following post is by MPFJ staff writer, Grayson Bell. Grayson, who runs the finance blog Debt Roundup, is a fan of personal finance, brewing beer, and working on cars.
More than two-thirds of the American public have basic banking privileges.
This means they have access to a bank or credit union to store their hard-earned cash. Yet with a majority of the population having bank accounts, why are many not utilizing online/mobile banking? According to the Pew Research Center, just 61 percent of internet users bank online, while only 35 percent of cell phone users bank using their phones. What is it about these services that scare us? This begs the question: Does mobile banking excite or scare you?
The Pros of Online/Mobile Banking
There are many advantages to online banking. Most are based around use and convenience for the account holder. There are also some advantages for banks to use such a service, mainly surrounding cost reduction. Here are some basic pros to using online banking.
Quick Access – You can easily check your balance or see recent transactions with a few clicks of your mouse or swipe of your finger. With our account information available when we need it, we can be more informed. You can even transfer money to other people or accounts with ease.
Better Rates – When you bank strictly online, you will most likely get a better rate on your checking or savings account. You can even get better loan rates. Online only banks can provide their customers with higher rates because they have less overhead.
Convenience – You can now deposit a check without even driving to the bank. If you have a smartphone with a camera, then you might have the ability to deposit your check right from your couch. Most banks have mobile apps for this feature.
These pros translate to both online and mobile banking. As long as you have an internet connection or mobile data, you can be connected with your money at any time.
The Cons of Online/Mobile Banking
I am the type of person who doesn't see too many issues with online banking. That said, I realize there is one big con for online/mobile banking and that is undoubtedly security. With massive data breaches from sites like Target and other retailers, we have to be very careful about our financial data.
When we get too careless, we tend to make mistakes. When people ask me about how I do my banking and I tell them I haven't stepped foot in a bank in a long time, they look at me funny. I don't have much need for my traditional bank. They hold my money for me and it is FDIC insured, so why worry about it? After they stopped looking at me in a funny manner, I tell them about how I try to keep my information secure. My main defense is keeping my passwords regularly updated and hard to crack. Sometimes they are so hard to crack that I forget them.
The other way I protect myself is by having money in different banks with different usernames and passwords. Yes, it requires more time for me to manage my money, but it is less likely I will be the victim of total loss because my money is spread out. When I use mobile banking, I make sure to never have the mobile app remember my username. I also have a security pin to unlock my phone. These are just small steps I can take to protect myself and make it harder to hackers or criminals to get access to my financial data.
Are You Excited or Scared by Online/Mobile Banking?
This question is more geared toward those who haven't jumped into online/mobile banking. What is stopping you? Is it the lack of knowledge on how to do basic bank transactions online or via your phone? Does the advancement of technology scare you or make you feel intimidated?
As more and more of our financial lives move into the online space, we have to be cognizant about our security. It is extremely hard to get back on your feet from fraud. Since fraud just continues to rise each and every year, we have to be prepared. That doesn't mean we should shy away from advancement or be slow to adopt new changes. Online and mobile banking are here to stay and taking the time to understand the security and how to protect your information is the key to enjoy the full benefits.
How about you all? Do you fully utilize online and/or mobile banking? Have you ever been a little scared of fully utilizing all of the tools due to security purposes?
Share your experiences by commenting below! 
***Photo courtesy of http://www.flickr.com/photos/84335369@N00/6791147275/