The following is a post by MPFJ staff writer, Derek Sall. Derek is the owner of the blog,  LifeAndMyFinances.com, where he teaches people how to get out of debt, save money, and become wealthy.
The price of oil has made a recent comeback from its historic lows, but oil is still far cheaper than what it used to be just a year ago. The stock analysts certainly think it's a big deal, as we hear about the rise and fall of oil on a daily basis, but what is the true effect on the price of oil? Should we be rooting for a continued low price or a high one? Which one is best for our long-term success?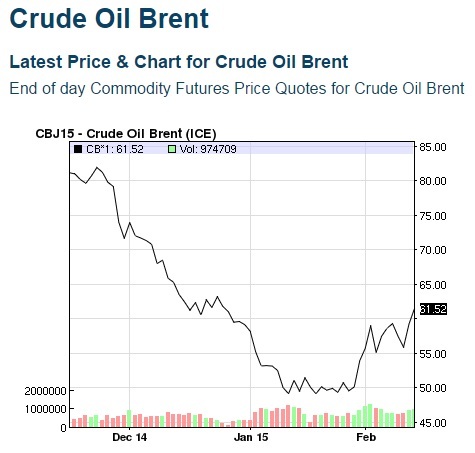 Source: Nasdaq.com
The Low Cost of Oil For the Consumer
To be completely honest, I have been loving the money savings at the pump each time I roll up. Gas was not really that big of an issue for me before, since I drive a gas-sipping Honda Civic and my drive to work is only about 8 miles, but filling my tank for less than $20 has made me exceptionally happy during these fall and winter months of 2014.
I dare say that you have had the same experience as well. According to the experts, the average American citizen has saved over $1,800 at the pump last year, which is like putting that cash money directly into your pocket. Now THAT's a nice chunk of change! It is pretty safe to say that this decrease in the price of oil has been an excellent benefit for the consumers.
The Low Cost of Oil for the United States
What is good for the consumer is not necessarily good for the United States as a whole. First of all, the United States is the largest producer of oil in the world (seems strange right? But totally true!), so the decrease in oil prices are hindering the domestic oil production companies. Beyond this though, stems an even larger problem for the United States that many are not yet seeing.
While I don't want to get too technical in this post, I want to help you understand the long-term impacts of this extreme drop in oil prices. We have already established that the falling oil prices has negatively impacted the United States' oil companies, and it has definitely hurt some, but this one shift is not really harming the overall Gross Domestic Product of the United States. However, it is impacting many other countries that depend heavily on the production of oil. This includes the mid-eastern countries and also our friendly neighbor, Canada.
So what does this have to do with the U.S.? Foreign exchange rates. Yeah, I know, nobody wants to talk about FX rates, so I'll make it quick. Because so many countries have depended on the price of oil to carry their economies, their currencies has fallen with the reducing oil prices, but the U.S. currency has not, making our dollar much stronger than almost every other country out there. This stronger dollar is great if you want to take a vacation to a foreign country because you can buy more stuff, but what will this do to our nation's exports? It's going to halt them completely, because who wants to buy expensive American goods? Nobody.
The future U.S. economy is going to be a struggle with a reduced demand for our exports. From this, many foreign companies selling into the U.S. will likely thrive, but sales from the U.S. to outer countries are likely to suffer.
How about you all? What are your investment plans in 2015 and 2016? Does this analysis impact your thoughts?
Share your experiences by commenting below!