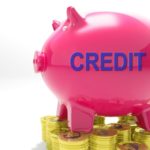 The following post is by MPFJ staff writer Travis, who blogs at Enemy of Debt where he candidly shares his family's financial struggles, failures and successes. As a father and husband, he provides a unique perspective on balancing debt, finances, and family.
The subject line on the email read, "Be prepared for the unexpected." The email from my bank was a solicitation for a line of credit. The email tried to convince me to click on the link to the online application by describing the line of credit as a way to be prepared for all those little unexpected things life throws your way.   What my bank was suggesting is that I use a line of credit as my emergency fund.
Having a line of credit for an emergency fund is a terrible idea for several reasons:
1. Used For More Than Unexpected Expenses
The marketing material claims that the bank is trying to help its customers be prepared for the unexpected with a line of credit.  I think it's fairly obvious that they have a different motivation behind the product for a couple of different reasons:
Credit Limit: The standard statement is that a $1000 emergency fund will handle 90% of all unexpected expenses.  The credit limit range for the offered line of credit is $3000 to $100,000.  Except for a medical crisis, I can't think of a single unexpected expense that would cost $100,000.  Even in that case, I certainly wouldn't be using a line of credit with a high interest rate to pay for it.
Profitability : Banks make their money from customers paying interest when they carry a balance from month to month.  Unexpected expenses are by definition infrequent.  If the line of credit was truly meant to be a simply for unexpected expenses, use of the account would be infrequent, and most of the time be for a relatively small amount of money that could hopefully be paid off quickly.  These scenarios would not be a big money maker for the bank.
My bank is trying to get me to apply for a line of credit hoping I'll use it for much more than the occasional unexpected expense.  With a potentially large line of credit, they're hoping I use it for everyday use or for things much more grand such as home renovations or vacations.
2. Promotes Financial Laziness
A person building up an emergency fund must exhibit two very important financial behaviors:
Regulate Spending : A emergency fund can only be built if a person spends less than the amount of money left over after paying all bills.  This is best accomplished through paying yourself first.  Or in other words, making savings a part of your required budget, ensuring that money is directed towards savings from each and every paycheck.
Emergency Funds Are Off limits : Once a significant amount of money has been built up in an emergency fund, there is a temptation to use it to buy something instead.  To be fully prepared for an unexpected expense, a person has to practice financial self control to not touch those funds.
Depending on a line of credit as an emergency fund when a financial crisis arises requires neither of these behaviors.  It allows a person to spend every penny they have with reckless abandon.  It allows a person to live without planning financially for the future, with the perspective of dealing with any unexpected expenses if and when they arise.
3. Extends The Crisis
If a fully funded emergency fund is in place, not only can the unexpected expense be paid in full,  but the structure is already in place in that person's financial behavior to begin to rebuild it.  The unexpected expense is taken care of, and a financial crisis is avoided.
A person with a line of credit for an emergency fund has not practiced the planning and self-control needed to build an emergency fund for unexpected expenses.  The expense is financed using the line of credit. They now have the difficult task of reducing their lifestyle to make line of credit payments for an indeterminate amount of time.  If only the minimum payment is made each month, it could take years to put the financial crisis fully behind them
4. Increases Cost Of The Crisis
Currently, most personal lines of credit have an interest rate of 10 to 12 percent.  Interest will start to accumulate immediately, increasing the overall cost of the financial crisis each month it takes to pay off the line of credit.  If at any time a payment is missed or late, the interest rate will likely be increased causing the cost of the unexpected expense to grow even more.
It really comes down to how a person wants to handle unexpected expenses.  A person can either be proactive, or reactive.  Using a line of credit as an emergency fund falls under the category of being reactive.  Such a methodology trades financial responsibility now, for budgetary and financial turmoil when an actual unexpected expense happens later.
How about you all? Do you have a line of credit as your emergency fund?
Share your experiences by commenting below! 
***Image courtesy of Stuart Miles at FreeDigitalPhotos.net