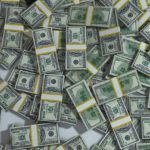 The following post is by MPFJ staff writer,Laurie Blank.  Laurie is a wife, mother to 4 and homesteader who blogs about personal finance, self-sufficiency and life in general over at The Frugal Farmer. Part witty, part introspective and part silly, her goal in blogging is to help others find their way to financial freedom and to a simpler, more peaceful life.
I grew up in a poor family. For a while, we were really poor. I remember one time – shortly after my parents' divorce – when we had zero food in the house. Aside from ketchup and mustard, the fridge and the cupboard were completely bare. My dad paid child support faithfully each month, but the monthly amount of support rendered by the judge was enough to pay the house payment and not much more.
The rest of our money came from government assistance until my mom taught herself to type and got a job as a secretary. It was during this transition period that we had the days of the bare cupboard. I vividly remember my mom sitting in the recliner, sobbing with fear over how she would feed her three young kids until the welfare check came in two days later.
You would think an experience so traumatic would make me keen on saving money and staying out of debt, but instead it had the opposite effect.
How could I go through the experience of living a life of poverty and still mess up my money as an adult? Here's how.
I Thought That People Who Had Money Had Stuff
Somehow in childhood I learned to equate poverty with a lack of stuff and wealth with an abundance of stuff. So my goal when I started working at age fifteen was to own a lot of stuff. I bought all of the clothes my mom couldn't afford to buy for me. When I got my own home and family, I made sure we had an abundance of food, clothing and whatever else I thought we needed.
I later learned that I had a subconscious fear of not being able to afford to buy stuff, but I didn't make the connection between the stuff and the money (or lack of it) in my bank account. What mattered to me was that I could buy whatever I wanted, regardless of the means it took to purchase it.
The Cure
The cure for this mindset mistake was to learn to think long-term. The book, The Millionaire Next Door, really helped. It was through that book that I learned that wealth isn't about having stuff, it's about having financial security.
I Had a Poverty Mindset
A poverty mindset consists of the belief that "I'll always be poor/struggling for money." For many years I believed that wealth or a lack of it was a "luck of the draw" thing. One was either a "have" or a "have not" and whatever group they were lumped in with was up to the gods; individual actions have no effect.
The Cure
Ironically, it was discovering the world of personal finance blogs that cured me of this incorrect belief. Through PF blogs, I found story after story of people who were deeply in debt, yet they managed to dig themselves out of the hole and begin building wealth. The people who shared their stories taught me that a person's financial situation boils largely down to daily, weekly, monthly and yearly financial choices.
I Used Spending as a Band-Aid
For years I dealt with emotional problems, relationship problems, work problems and any other problems by buying stuff. I "deserved" stuff was my reasoning. I spent money to heal, to celebrate and to confirm my worth as an individual.
The Cure
The cure for this problem came when I began to work to uncover long-held emotional problems and to work through them, one-by-one. Through this technique I began to establish unconditional acceptance of myself and to teach myself what I really deserved and what I truly desired where money was concerned: financial security.
I think the take-away here is that when a person is deep in debt, there are often misguided beliefs behind the problem.  If one can work to discover what those misguided beliefs are, and to exchange them with healthier mindsets, both financial and emotional healing for the long-term can truly begin.
Do you have any subconscious beliefs or life experiences that have impacted the way you handle money?