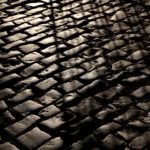 The following post is by MPFJ staff writer, Catherine Alford. Cat is a freelance personal finance writer who blogs at www.BudgetBlonde.com. 
Once upon a time, I was an historian for the National Park Service. I knew very, very tiny details about the American Civil War and spent 40 hours a week tromping through the battlefields in Richmond, Virginia telling the public about the American past. I got chiggers on my legs, got harassed by old guys who thought female rangers were "hot" and received a lot of professional satisfaction from making history interesting and fun to a wide variety of people.
Despite the fact that I loved my job and later moved on to teaching at the college level, today I'm doing something completely different. As many of you know, now I spend countless hours of my week writing about finance.
I have no formal background in finance. I never even took a business class in college (note from Jacob – I got a finance degree in college, but I didn't learn anything in it about personal finance, so you didn't miss much! haha). However, my life experiences and ability to learn things quickly has allowed me to embrace this new path and really enjoy it along the way.
If you would have told me a few years ago that I'd be self employed and spending my Saturday morning researching Apple's performance last quarter, I would have looked at you and laughed.
It's amazing the twists and turns our life can take, especially for someone who is such a planner like me (who had her whole life figured out complete with a life-long career in the history field!)
Here is my advice for anyone who wants to actively switch to a new job industry:
1. Seek New Connections
Your network in your current job might not be able to carry you over to your new field, but you can use it as a place to start. Maybe one of your co-workers' parents or spouses works in the field you want to be in, and you can ask for their contact information. You can also search on LinkedIn for people in your area who you might be able to take out to coffee or dinner to ask them questions about their work.
2. Self-Teach Important Advancements
If you want to make a move to marketing, for example, but you have no formal background, it's important that you take the steps to get there. It will be hard for a boss to hire someone with no background over someone who has a marketing degree, so you'll have to use all your resources and energy to really leverage yourself. Take some extra classes, work for free in order to learn more about the industry, and in general get as engrossed as possible in the new field so you can speak about it knowledgeably.
3. Gear Your Resume
Chances are, you can "gear" your resume to your new field, even though you've never worked in it before. By "gear" I mean you can take some of your current experiences, even volunteer experiences, and show how it makes you qualified for your next job. For example, if I was applying for a job at a finance company, I would point to all of my blog writing experience and not necessarily to my history degrees.
4. Exude Confidence In Your Interview
We're pretty fond of saying "Fake it 'till you make it" in my house. It's said in jest, of course, but much of what my husband and I do requires a lot of confidence. With his career in medicine, medical students are definitely on the bottom of the totem pole and are often grilled with questions. An air of confidence or being confident enough to admit when you don't know something is actually a good thing. Even if I don't know how to do something in the world of finance or I'm not sure what a word means, I'm confident at least that I'm resourceful enough to figure it out. When someone questions my qualifications, I always point to my ability to find the answers – that's one thing that my career as an historian taught me.
5. Work Harder than Everyone Else
When you switch to a new field without the background that other people likely have, it's up to you to work harder than everyone else. You should get to work earlier and leave later than them. Show your boss that he or she was right to hire you. When you don't know something, spend extra time looking it up or asking a trusted co-worker for advice. With enough hard work, you can definitely "catch up" or even speed past your co-workers who have years more experience than you do.
Ultimately, my own career switch was gradual and happened over a period of a few years, but if I were to make the switch all at once I would definitely utilize the tips above.
How about you all? Have you ever wanted to switch career fields or have you ever been able to do so successfully?
Share your experiences by commenting below! 
***Photo courtesy of https://www.flickr.com/photos/bionicteaching/10885834946/in/