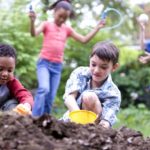 The following is a guest post by Hank. Hank is Stay-at-Home-Dad and Home Industry blogger. He loves to write about the home, living with animals, and earning supplemental income. Check him out on his blog, Home By Hank.
Purchasing a home is a great investment, but the value of new property doesn't grow just because you've moved in. Every time you paint a wall, renovate a room, or add an addition, you are potentially adding value to your home. Renovations to improve the home will make it easier to set a higher selling price when the time comes without having to make large alterations.
In addition to adding value to your home with repairs and upgrades, you can also add value to the family by getting your children involved. Children are not only great helpers during home projects, but you can also curate their 'chores' to teach responsibility, productivity, and self-worth.
Projects
There are a few ways you can use your existing home and property to make money and build home renovation projects. With these ideas you'll be saving and creating 'wealth' for your home.
Craigslist Treasure Hunting
Craigslist is an online swap meet and classifieds section. People in your area post items they have for sale or things they're looking for. Craigslist will work for you in two ways; it can help you find products for your renovation and it can be a great place to sell goods.
If you're looking to save money on your materials, Craigslist can be a great place to look for cheaper options in your home renovation, like used kitchen cabinets or left over flooring. Remember that these are used products and don't be afraid to ask questions or request more detailed photographs if you're interested in the listing.
There are often listings for project leftovers like cinderblocks, pavers, paint, or other remnant type supplies. While it may not always provide exactly what you're looking for, Craigslist is a great place to start because you'll never know what may be listed in your area.
You can also use Craigslist to sell unwanted items that are taking up space instead of donating them. When it comes to listing on Craigslist be sure to take quality, well-lit photographs of each item. If your photo is dark, crowded, or doesn't display the item well you won't get as many interested buyers.
In addition, when posting, make sure you use a descriptive title that will grab a reader's attention. Something like, "Fully functional electric suede tan recliner" is much better than, "Must get rid of my couch." Here is a Craigslist step-by-step guide to learn more about posting on their site.
If you're new to Craigslist, you can also read the ads for products similar to yours. This will give you an idea of what goes into a good ad, and what you can do to make yours stick out. Looking at existing ads will help with titles, pricing, and what the current market is for your item.
Kid Tip: When you're looking around the house to find things to list, get the kids involved. They can shop their room to find toys and other goods they don't want. This is a good way to teach them how to let go of things, pass on to others, and use their resources to make money.
Rent your House or Extra Room
A great way to have your existing home make money is to rent it out with sites like Airbnb or Home Away. These sites list your home as a vacation rental to people looking to visit your area. This can be tricky project so make sure you stay safe and vet your tenants.
Airbnb and other sites have insurance policies but be sure to visit other resources to check the background of your tenants. I like to use this resource as it has both criminal and previous eviction reports that the vacation rental sites leave out or do not know. There is not much worse than someone that won't pay rent!
If listing your house sounds like something you're interested in, be sure to think about whether you'll be away for the listing times. For example, will you be going on vacation yourself or will you be sharing your home during your guest's stay? Remember that homes are sometimes more expensive around holidays and during popular local events.
Furthermore, renting your home could be a great source of income if you're already leaving town during a national holiday, and will allow you to raise the price due to a higher demand on the area. Homes don't have to be available for weeks on end; even a weekend here and there can work in your favor.
When you're listing your home make sure you 'up-sell' the available amenities. Listing things like your pool, large yard, nearby walking trails or the beach will help inspire potential renters and prove why your location is such an appealing draw.
Be sure to have a PDF of local amenities including things like grocery stores, restaurants, and entertainment sources. This will come in handy and will help round out any visit, making your rating higher for future clients.
Remember to prep your home, including a thorough cleaning and have everything from linens and paper goods available during the stay. The more you prep your home like a hotel room, the greater your reviews will be, thus boosting your home for the next client.
Some great addition resources can be found here.
Kid Tip: Include your children in this process by having them help you make a list of things to do in the area, what your property and home has to offer, and why renting from you would be ideal. Children can also be included in the home preparation from cleaning to staging and even decorating to give a more personal feel.
Backyard Neighborhood Garden
If your property allows for it, you could start a community garden as an income source. Because of the psychological benefits, many people would love to try their hand at gardening but don't want to dig up their yard or simply don't have the space for it. By putting some money into creating raised beds on your property you could rent a plot to any aspiring gardener and pocket some extra cash.
Creating a garden space will not only increase your home's value, but will also create a larger sense of community and allow neighbors to come together. If you're interested in this project start at your community center with fliers and talk with your neighbors to see if anyone is interested in a community garden.
Once your beds are complete you can provide a space, soil, and water for a rental fee. It's important to keep the rent low so you can build a reputation. If your project gains in popularity you can always start a website to streamline you process, provide information, and even post photos of your space.
Kid Tip: Make sure your garden space includes a 'Kids' section. This will help children gain independence and learn about gardening basics, the science of tending to plants, and responsibility.
Pet Sitting and Dog Walking
Lastly, for some pretty easy funding, consider dog walking or pet sitting. People are always looking for someone to look after their pet for vacation or business trips. There are listings for this service on sites like Sitter City, Craigslist, and even bulletin boards at your local pet supply store.
A good first step when it comes to pet sitting is to research the industry. Remember, this project is basically starting a part-time business, so the more professional you approach it, the better results you'll get. There are great guides out there for those interested in the industry.
It is also important to know your neighborhood's 'pet friendly' amenities, including vet offices, supply stores, and dog parks. Providing photos of your home will help clients feel comfortable leaving their pet in your space. Creating a resume will also help you put your best foot forward and show why you'd be a good candidate for this position.
Kid Tip: Pet sitting or dog walking can be a great way to teach your child responsibility through punctuality and maintaining quality service. It is also a good opportunity to teach about professionalism and what it takes to run a small business.
Now you should have all the details needed to put together an amazing plan to renovate you home, make some extra money, and get the kids involved.
How about you all? What kinds of projects have you done or are considering that will help you make some extra money and get the kids involved at the same time?
Share your experiences by commenting below!
***Photo courtesy http://www.public-domain-image.com/free-images/people/children-kids/two-caucasian-and-two-african-american-children-playing-together-725×483.jpg