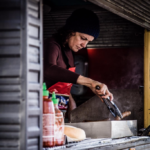 The following post is by MPFJ staff writer, Melissa Batai. Melissa is a freelance writer who covers topics ranging from personal finance to business to organics to food.  She blogs at Mom's Plans, where she shares her family's journey to healthier living and paying down debt.
When I was 16, I started working at McDonald's, which was my first job.  I routinely worked double shifts and 20+ hours a week.  While my school work didn't suffer too much from the job, I was exhausted.  I didn't have time for much more than school, homework, and work.
I left McDonald's after just a few months when I found a better job, but I worked part-time all through high school.  True, the jobs I held taught me responsibility, but I also increased my expenses because I was employed.  I bought a car, I paid my own car insurance, and I went out to eat and to the movies with my friends. . .a lot.  I saved very little of my money.
Looking back, I would have been better off saving the work for the summers and after I went to college.  Instead, I should have used my time in high school in more productive ways that would pay off over the next 10 or 20 years of my life.
Thanks to my experience working low-wage jobs, my husband and I are going to ask our 13-year-old to follow a different path than I did.  Rather than working at dead end jobs available to most teens, my husband and I want him to focus on other activities—volunteering, interning, and applying for scholarships.
Volunteering
Volunteering can be an excellent way to try out a future career your teen may be considering.   My son has considered being a librarian, so next year, when he turns 14, he'll be eligible to volunteer at the library.  He's looking forward to this so he can try out a profession that he's interested in and see if it might be something he wants to pursue further.
In addition to helping teens explore career opportunities, there are many other advantages to volunteering.
Volunteering helps make teens feel part of their community.  Because they're helping, being productive and seeing the benefits of the work they do, they're more connected with their community.  In addition, they'll make valuable connections throughout the community with other volunteers from all walks of life.  When they apply to college and need letters of recommendations, they can ask the members of the community that they met through volunteering to write letters of recommendation.
Finally, volunteering can provide health benefits for teens.  Philly.com  explains the emotions teens can feel when volunteering–"When people help others, they experience feelings of pleasure and well-being known as 'helper's high.'  Helper's high is associated with increased production of endorphins in the brain.  Endorphins are neurotransmitters that also reduce pain and are natural stress killers." I would have chosen these positive feelings any day over the constant stress I felt while working at McDonald's.
Interning
Internships aren't just for college students anymore.  If high school teens look, they, too, can find internships, and the benefits are plentiful.
An internship can help your child build her resume.  A company in your teen's chosen field is much more likely to offer a job to a student who has already spent time and energy working in that field.  The intern experience alone makes her a more valuable person to hire than someone who hasn't worked in the field before.
Like volunteering, holding an internship can help students with college applications.  Students who intern show that they are serious about the field that they are interested in.  The experience also shows that they are motivated, which is attractive to college admissions counselors.
Finally, an internship can open doors to future jobs in the industry.  An internship can result in valuable business connections.  One never knows how these connections can help your teen in his future career, especially in smaller industries where most people know one another.
In some cases, an internship can even count for high school credit.  Your teen should check with her guidance counselor to see if she'll have the opportunity to intern during the school day and receive high school credit.
While local businesses may offer internships for high school students, large companies like NASA and the Smithsonian Institute offer internships, too.  Your teen may also be happy to know that some, but not all, internships are paid opportunities.
Applying for Scholarships 
There are many, many college scholarships available, but most students don't have the time to search for them because the process can be overwhelming, and students are often busy working dead end jobs.  If, instead, a teen devoted five to ten hours a week to searching and applying for scholarships, he would likely earn more money over time than he would at his dead end, minimum wage paying job.
The key is to get the first scholarship.  Once a teen secures that one, other scholarship foundations see her as worthy and are more likely to offer her their scholarship.
While many people know about large scholarships, there are many smaller scholarships that students may want to start with first.  Your teen's guidance counselor is the best resource to help find scholarship leads.  Then, look for scholarships local to your community such as local organizations like the Rotary Club and your own place of employment.  Many companies offer scholarships to their employees' children.  If you work at a large company that doesn't currently offer a scholarship, consider asking them if they'd like to start offering one.
Your teen should also search the web for scholarships.  One new site, Raise.me, touts that it finds micro scholarships for students in 9th -12th grade.  Students sign up, enter the activities that they regularly participate in, and the site will find scholarships for them.  Activities can range from earning an 'A' in a course, to visiting the college campus they are interested in.  The key is, students must choose from a list of 76 colleges that use Raise.me.  Then, when the student decides to attend a particular college, they get the money they earned with that particular college on Raise.me.
While winning a $1,000 scholarship may not seem like it will make much of a difference in your child's total college cost, if she wins several of those smaller scholarships, the financial impact is significant.  One student, Yelena Bosovik, who applied for 100 scholarships over the course of her high school years and first year of college said, of treating applying for scholarships like a job, "I thought of it this way—if I spent an hour filling out an application and got the funding, it would mean I'd made $250, $1,000 or even $10,000 an hour of free money.  Not bad!" (Huffington Post).
Bosovik attended a small, private college in the Midwest.  The tab for four years of college was $80,000, but thanks to all the scholarships she found, Bosovik graduated with only $4,500 in student loans.
Before you assume your teenager should get a dead-end job, why not consider letting him volunteer or have an internship and spend time looking for scholarships.  Each of these activities can help him get into college, if that is his plan, or get started on his chosen career path.
How about you all? What do you encourage your teens to do?  Do you still find value in the traditional low-wage jobs available to high school students?
Share your experiences by commenting below! 
***Photo courtesy of http://www.idpinthat.com/edit/16450