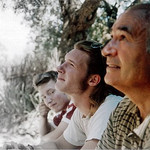 The following is a post by MPFJ staff writer, Derek Sall. Derek is the owner of the blog, LifeAndMyFinances.com, where he teaches people how to get out of debt, save money, and become wealthy.
Do you ever stop to think about how much you really have? I sure hope so, because if you're reading this post on your personal laptop or tablet right now, you have tons more than the average person in this world. On this day, I suggest that you stop, think, and be thankful.
We Are Wired to Want
Have you ever wanted something simply because someone else had it? I think we all have! It's in our nature. Let's take kids for instance. There might be a group of kids playing, each with their own toy, and then one kid decides to pull a different toy out of the closet, one that everyone knew about and didn't grab. But, now that this kid has it, the other kids want it. We have all seen this before haven't we? For whatever reason when someone else has something we are wired to want it.
Unfortunately, many of us do not grow out of this habit of wanting. When our friends and neighbors buy new cars, we suddenly get the itch to buy a new car as well. We know that it's not a wise purchase (due to our lack of cash and the quick depreciation on the vehicle), but we begin to justify it. We suddenly start noticing that our current car "breaks down all the time" and "gets terrible gas mileage", when in actuality the car is a perfectly fine automobile and might last another ten years if you just take care of it. The reason for buying the car is simple – we want it so we talk ourselves into buying it.
We Forget What We Have
As human beings, all we really need is a roof over our head, food in our bellies, and clothes on our back. If we shared a house with ten of our closest friends, what would all of that really cost us? Maybe $200 a month? But how much do we actually spend per month? For many of us, the monthly cost of keeping all of our stuff is well over $3,000 a month. Isn't that just insane?!
And, with all of this spending, we are still left wanting more. Instead of a 2,000 square foot house, we think we need a 3,000 square foot house! Instead of a six-year-old domestic car, we would really like a brand new luxury car. And for what reason? Just because it looks cooler? Or maybe because we want others to envy us?
I don't think I have ever quoted Oprah Winfrey before, but this saying is absolutely spot on:
"Be thankful for what you have; you'll end up having more. If you concentrate on what you don't have, you'll never, ever have enough." – Oprah Winfrey
Thankfulness and happiness really go hand in hand. If you are thankful for what you have and are happy with what you own, then you will likely be blessed with even more. But, if you constantly want what other people have, then you will just be wanting for your whole life, because there is no way that you can afford to buy everything. It is best to be thankful.
We Don't Know What Others Don't Have
While we are out wanting all day, many of us forget to consider the needs of others. Do you ever stop to think about how good you actually have it? There are millions of people out there that do not have access to clean water, and you can access it from your home by taking about 5 steps to your left and turning the faucet.
There are millions without the luxury of owning a car, but still walk 10 miles or more each day purely for their survival. You have a car that can drive you hundreds of miles, but you just want a shinier model.
The next time you want something, consider the life of the needy. How would they view your desires? Again, be thankful for what you have and you will only grow in your happiness in this life.
How about you all? What have you desired lately that is totally unnecessary? Will you be thankful instead?
Share your experiences by commenting below!
**Photo courtesy http://www.flickr.com/photos/hgaronfolo84/116858703