About a month or so ago, I went along with my girlfriend to help her purchase a car at our local CarMax.
While I could probably spend an entire post talking about the reasons for and against choosing CarMax to purchase a used car, overall, I have to say that the buying experience at CarMax was a rather positive one.
In particular, my girlfriend liked the 'no-haggle' pricing structure they have going on there and the fact that their cars are high-quality/not going to be 'lemons.' Perhaps the only drawback to buying a car from CarMax is that it is very difficult to find cars below $10,000 there. This is due in part to the fact that their cars are high quality, but in my opinion, also to the fact that because of their dependable reputation, CarMax knows people are going to be willing to pay a slight premium for cars purchased there.
Apart from the CarMax buying experience being overall very positive, there were two things that were midly "pushed" on us to buy that I thought would be interesting to share with you all (described below):
A 9.0% APR interest rate car loan.
CarMax's MaxCare Extended Service Plan for only $1,000.
CarMax's Attempt to Push Car Loan Financing On Us
Because of some prior research I had done on the subject of car buying, I knew that while NEW car dealers were offering very low interest rate loans in order to sell NEW cars, USED car dealers made a significant amount of money off of selling loans/financing options for used cars.
And, it turned out that the situation with CarMax was no different. My girlfriend was able to secure a loan from Bank of America for a pretty good rate of ~3.8% APR, while CarMax was willing to give her the same loan but at a 9% APR interest rate. Talk about some good mark up here! As you can imagine (since my girlfriend and I are still going out and have not broken up – haha), she ultimately chose the lower interest rate loan from Bank of America.
However, the strategy that the car salesman tried to entice us in to going with the CarMax in-house financing was rather interesting. What had happened was that the letter guaranteeing the loan from Bank of America needed to be confirmed over the phone by CarMax, but they were unable to make the call since the bank was closed for the weekend (and we needed to wait until Monday). When CarMax heard about this, they gave us an OFFER. They wanted us to walk out of the dealership with the car that night by simply using CarMax's financing. Since CarMax is apparently nothing but our friend, they even were going to give us the option of coming back within 1 week and canceling the loan (if we decided to go with the Bank of America loan) with no fees or interest involved.
To us, this sounded like a whole lot of complication in exchange for simply getting the car 1.5 days earlier. So, we ultimately decided to simply stick with the Bank of America financing and wait until the bank opened on Monday to go back to finish the car purchase.
However, I was quite fascinated with CarMax's willingness to swap us in and out of their financing with no fees or interest. It made me wonder if 1) are they just being nice? or 2) do they know from experience that X% of people that walk out with their financing won't take the trouble to come back and change back to financing that they had secured from the bank?
CarMax's Attempt to Push the MaxCare Extended Service Plan On Us
So, even though it took me a couple hundred words to explain what transpired with our refusal to take the CarMax in-house financing option for my girlfriend's used car purchase, it really wasn't too big of an issue at all. We simply said, "no," to the nice salesman, and moved on with the paper(/electronic)work.
However, the CarMax MaxCare Extended Service Plan was pressured on us slightly more aggressively.
As a general rule of thumb, I operate on the belief that insurance and extended service add-ons to purchases (large or small) are generally NOT worth the money and are a better deal for the people selling the plan to you than for you the buyer. So, my girlfriend and I had done our homework on this MaxCare Extended Service Plan pumped by CarMax, and we were convinced that it was unnecessary.
Because we had done our homework about the extended service plan, we figured that when we sat down with the salesman at CarMax, it would be fairly simple to 'just say no.' Alas, this was not the case. During my girlfriend's various initial talks with the salesman and subsequent discussions while we were finalizing the paperwork, I would say that the CarMax Extended Service Plan was mentioned no less than 5 times. By the end of it, I felt like we were almost made to seem like we would be IDIOTS for not taking the plan and that ALMOST EVERYONE who buys a car from CarMax gets the service plan. The salesman even threw in a story about one of his friends that is happily using the extended service plan when his car broke down! It was a nice touch! Was it true? Maybe.
When we finally got to the last screen where he could sign us up for the extended service plan and we still said 'no,' he actually asked us WHY we didn't want to take advantage of such a great deal. In reply, I simply said, "NAME OF SALESMAN, let's just proceed with the sale of the car," because I didn't want to give him the chance to bring up some doubts, regardless of how good his intentions were. And, he respectfully followed our wishes. So, overall, despite knowing that the MaxCare Extended Service Plan was not necessary for us, my girlfriend and I still felt very pressured in to buying it, and she felt rather guilty for not doing so at the end of the episode.
Now, this is not to say that CarMax is evil by any means. As I mentioned above, the overall result was quite positive, and I know it's just part of the game of buying a car. But, it was interesting since I had never gone through the used car-buying process before.
Details of the MaxCare Extended Service Plan from CarMax
During the car buying process at CarMax, the Extended Service plan emerges as a very appealing option. On one hand, the initial cost of the plan is tacked on to the amount you are financing, making it so that you don't necessarily consider the full cost since you will be paying it off over time. Second, many people coming to CarMax are looking for relief from an unreliable car that they had to make a lot of costly repairs on, so the Extended Service Plan very much catches their eye.
Especially in these slightly elevated pressure buying situations, it's particularly good to know the facts about what you're buying in to. So, I wanted to spend a little bit of time in this post discussing what exactly the CarMax MaxCare Extended Service Plan entails, and what it does not!
How Much Does the MaxCare Extended Service Plan Cost? 
At a high level, the CarMax Extended Service Plan is a smaller, specialized insurance policy in a car service plan wrapper. The costs of the service plan are summarized below:
You pay $1,000 at the time of purchase of the plan/your new car.
Then, each time you need to bring in your car for a repair, you pay a pre-selected deductible, ranging from $100-$500 per visit.
However, the thing that surprised me was that the specific details about the price of the plan and what is and is not covered is somewhat difficult to discern, especially during the car buying process where decisions are being made very quickly.
How the MaxCare Extended Service Plan is Presented and What is and is Not Covered by the Plan
Essentially, what happens is that you are handed over this wonderfully crafted brochure "describing" all of the details of the plan. But, instead of this brochure listing the specific details that I expected such as price of the plan and different deductible levels, etc, it basically seems to be designed to overwhelm the car buyer in to thinking that it covers EVERY POSSIBLE REPAIR THAT COULD EVER HAPPEN WITH THE CAR. This is done by listing out about a thousand or more parts of a car that are covered by the plan, as shown in the picture below: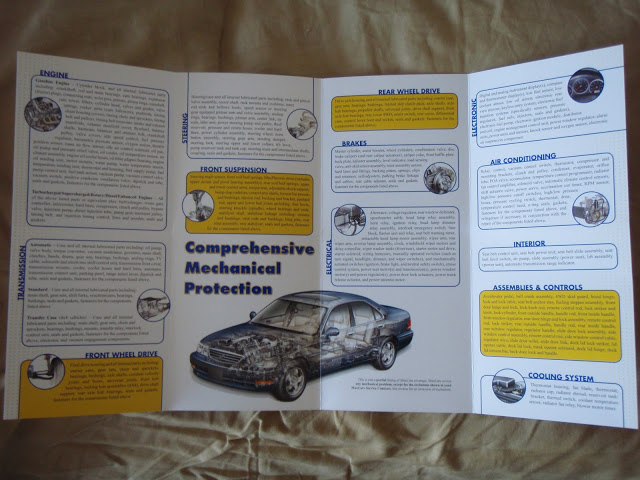 The catch is that if you read through the listing of parts covered by the plan and then compare it to the back side of the brochure where the plan exclusions are shown, it quickly becomes clear that 90% of the repairs that you will most likely incur on a reliable used car are NOT covered by the service plan (i.e. – they are all listed in the exclusions section).
I've highlighted several things not covered by the service plan below:
Regular maintenance services described in your car's manufacturer manual. This includes major 30k and 60k mile services and other major component replacements described in your owner's manual.
Engine spark plugs and ignition wires.
Batteries, air conditioner refrigerant, engine coolant, drive belts.
Brake pads and shoes.
Suspension work, tires, wheels, catalytic converter, manual transmission work.
Painting, bumpers, alignment of body parts.
Repairs made to meet government emission standards.
I don't know about you all, but looking at the list above on what is EXCLUDED from the plan pretty much encompasses every single costly repair I've ever had on my 2004 Honda Accord in the 8 years I have driven the vehicle.
You can view complete details about what is covered by the plan by clicking here and what is NOT covered in the plan by clicking here.
Conclusions
Because of the large amount of exclusions from the MaxCare Extended Warranty Plan, we ultimately decided that it was not the best move for us. And, by sticking to our guns, we were able to resist the pressure from CarMax to buy the service plan and their higher-interest rate in-house financing. And in the end, my girlfriend walked out of CarMax an altogether satisfied customer and is happy in her new, dependable car.
How about you all? Have you ever purchased a used car? If so, did you ever consider CarMax? 

Did CarMax or the other used car dealer try to pressure you in to obtaining their financing options or their extended warranty/service plans? Do you think these extended service plans are a good deal?

Share your experiences by commenting below!