Back in 2008-2009, one of the first few mutual funds that I purchased after starting to significantly fund my individual, taxable Vanguard mutual fund account was the Vanguard Small Cap Value Index Fund. This was done in an effort to continue developing my portfolio to my target investment strategy and asset allocation that has been discussed previously on this site.
Since I could only afford an initial investment of $3,000 (minimum required to purchase the fund), I just purchased the normal Investor Shares class of the fund. However, after several years of adding contributions to this individual account and through subsequent rebalancing, my account value held in this specific fund finally ticked over the $10,000 mark in the January 2011 time period. I was pretty pumped!
Vanguard's Admiral Share Mutual Funds – Features and Qualifications
At this time that I achieved the $10,000 account value mark, since I had always tried to remain abreast of various features offered by Vanguard, I did know that there was indeed another class of mutual fund shares Vanguard had for offer, called Admiral Shares. However, the only things that I really knew about these shares were:
1) They offered a lower expense ratio than their Investor Class Share counterparts, and 
2) Required a $10,000 fund value minimum in order to purchase.  
Once I had done a little more research on Admiral Shares, I found out the following additional requirements needed to buy this type of mutual fund:
You must have invested $10,000 or more in a Vanguard index fund that offers Admiral Shares (the minimum for certain sector index funds and tax-managed funds is $100,000), or
Invest $50,000 or more in a Vanguard actively managed fund that offers Admiral Shares.
Looking at the above qualifications, it's rather interesting to note that you have to have more money invested to qualify for a expense ratio reduction with an actively managed fund vs. a passively managed index fund. I suppose this makes sense, if you think about the added cost to run an active fund.
Advantages and Disadvantages of Converting to Vanguard Admiral Shares (If You Qualify)
When I found out that Admiral Shares featured a lower expense ratio than the Investor Shares I was currently holding, I was VERY interested in making the change once I had accumulated the $10,000 minimum.
However, at the same time, I was hesitant to make the switch because I worried that changing from the normal Investor Shares to the lower-cost Admiral Shares would represent a traditional mutual fund exchange, initiating a taxable event in the taxable account my Small Cap Value Index Fund is held within.
Because of this, I delayed for 1.5 years while I waited to have enough time to do the full-length, gory analysis to determine if the capital gains taxes I would pay from this taxable event/exchange would be less than the money I would save on the lower expense ratio with the Admiral Shares.
And, would you guess what?! When I sat down two days ago with my Excel spreadsheets ready to do some numerical analysis, I read the webpage below from Vanguard, which said that making the switch from Investor Shares to Admiral Shares in the same mutual fund is tax free, because it is viewed by tax law as the same fund. So, this whole time, I had been worried about something that simply wasn't the case, due to my ignorance!

Vanguard.com – Changing from Investor Shares to Admiral Shares
To summarize, the advantages and disadvantages of converting to Vanguard Admiral Shares are listed below:
Advantages
Lower expense ratios, which means you keep more of your returns.
Disadvantages
No disadvantages. Switching does not represent a taxable event.
The moral of the story is that if you qualify for Admiral Shares, you should switch NOW! 
How Much Did My Ignorance Cost Me? – Implications of Delaying the Conversion
Luckily for me, it appears that delaying the conversion from Investor Shares to Admiral Shares did not cost me a whole lot of money.
From January 2011 until now, my taxable Small Cap Value Index Fund has maintained an average value of $10,500. According to Google Finance, the expense ratio for the Investor Shares version of this fund is 0.35%, while the Admiral Shares version is 0.21%. In other words, the Investor Shares version takes 0.14% more of your money on a per annual basis than the Admiral Shares.
This translates to a loss of only $22 over the 1.5 year time period. So, we're obviously not "breaking the bank" here, but just think about how much money you could save if you translated this over the 50 years or so I will invest with Vanguard (or whatever it turns in to and my account is handed off to) before and during retirement and that also I would hope that my balances in the accounts would only increase (hopefully).
As an example, let's consider that the average value of the fund over a 50 year holding period was $200,000. This equates to paying roughly $14,000 more in fees to Vanguard simply by holding the Investor Shares version of the fund (not even taking compound interest in to account, which would further tilt the values in favor of the Admiral Shares).
What Funds Does Vanguard Offer Admiral Class Shares For?
As I mentioned above, all Vanguard funds, unfortunately, do not offer an Admiral Shares class option.
However I figured it would be useful to list out the OPEN (not closed) funds that have Admiral Shares and then compare their expense ratios to their Investor Shares counterparts in a tabular form for easy viewing.
This information is shown in the Table below. The 3rd and 4th columns display the raw % of the expense ratio fee and the % reduction in fee you realize by using Admiral Shares instead of Investor Shares.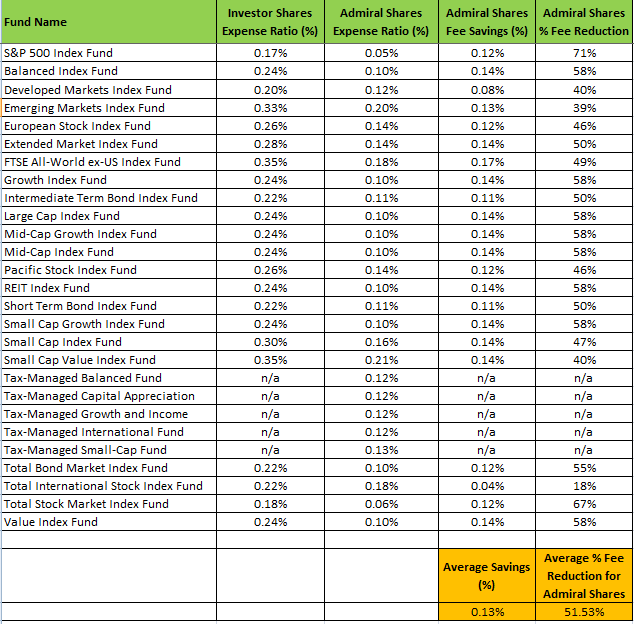 Note: To see the source information for this data, click here. Also, if you're having trouble viewing the picture above OR would like to download a copy of this table for later viewing, click the link below:
Google Docs Spreadsheet – Comparison of Expense Ratios of Admiral and Investor Shares Vanguard Mutual Funds 
As can be seen in the table, Vanguard offers Admiral shares for the majority of their index mutual funds.
In fact, there are a total of 27 Vanguard mutual funds which have Admiral Shares available. 
Among these funds, you save an average of 0.13% by switching to Admiral Shares. 
This equates to an ~52% reduction in fees compared to regular Investor Shares. This is quite an amazing savings!
However, most of Vanguard's actively managed mutual funds do not have this option. For example, the only actively managed Admiral Shares options are the Tax-Managed mutual funds in the bottom third of the table, which did not actually have a regular Investor Shares option available.
Conclusion
To wrap things up with this post, the moral of the story is that if you qualify for Admiral Shares by meeting the $10,000 account balance minimum, you should switch!…………………..NOW!
There really are no drawbacks to watch out for by making the switch, as switching from Investor Shares to Admiral Shares is tax free. Vanguard has a total of 27 mutual funds that feature Admiral Shares, so take a look today at your account and see if you qualify to make the change and save 51% on management fees.
How about you all? If you use Vanguard for your investing, have you made the switch from Investor to Admiral Shares? 

If not, what is holding you back from doing so?

Share your experiences by commenting below!