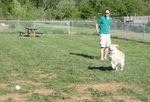 Happy first few official days of Summer 2013 everyone! I hope you've been enjoying the warmer weather and have been able to get outside every once in a while!
I've really been enjoying getting out on the weekends and doing some nice long bike rides in the hills, mountains, and valleys here around Central Virginia! The picture to the right is me and our golden retriever, Crystal, chasing after a ball in a local dog park recently.
Back in January of this year, I set my financial goals for 2013. Since the year is now almost officially half finished, I figured it would be a good time to sit down and take a few minutes to review how I've been doing thus far in reaching or NOT reaching (in some cases) the various targets I set for myself. 

Overall, I would rate the 1st half of the 2013 year as being all-around top-notch, from a personal, financial, and professional perspective. The financial markets are doing well, the real estate market seems to be coming back (good for me since I may be looking to sell my condo in the next 1-2 years), I got engaged in mid-March, and have started exploring a whole new realm of in-vivo (mouse studies) in developing our Alzheimer's disease drugs in my graduate school studies.
So, here goes, a progress update (in bold below) on how I've been doing so far in 2013 reaching my financial goals. Enjoy, and I look forward to reading any comments you all have!
Short Term (Less Than 1 Year) Goals
Contribute $5500 (or ~$458 per month) to my Roth IRA with Vanguard this year (maximum allowed, which increased $500 in 2013 compared to the $5000 maximum allowed in 2012!).

Done. I finished maxing out these contributions in around the May timeframe. Yahoo!

Reach short-term net worth target for this year (1.42X my current net worth).

I'm getting a lot closer, but not quite there yet.
I need an increase of about 23% more from where I am now, so that's definitely better than a 42% increase needed back in January! 

Maintain target 6-9 months of expenses in cash reserve emergency fund in Dollar Savings Direct account.
Rebalance mutual fund portfolio to meet asset allocation target %'s (70% equity, 30% fixed income overall).
Put together a will and have it reviewed by a lawyer.

Have put together a will,

but still have not gotten it reviewed by a lawyer. Need to though! 

Continue to save money for trip to Grand Canyon or to see Niagara Falls.
Invest $500 in Microloans with Microplace.com to support Latin American micro entrepreneurship. This equates to $41.67 to invest per month.
Donate $1,150 to Multiple Sclerosis Foundation in 2013 (5% of take-home pay in my graduate school research assistantship job).

Done. I actually donated $3,000 this year. Yah! 

Fund raise $7500 for MS 150 bike event in June 2013.

Done and surpassed. I ended up raising $11,000 total this year for the MS Society, which puts my total in the past 5 years at above $25,000. Nice! 
It looks like I'll end up being the 2nd or 3rd highest fundraiser in this year's MS event.

Save 3% of take home pay each month (after taxes) for Dream Account.
$30 per month save for doing running races / bike rides as part of health life values account.
$20 per month save for buying fresh vegetables as part of health life values account.
Save ~20% of (blogging income (if any) – amount of income deferred to Individual 401k with Vanguard + untaxed graduate fellowship income from my research job) in a high yield online savings account in preparation for 2013 taxes.

On target. Since I am investing so much in staff writers/content creation for my blog, my overall income is lower this year, meaning that I don't need to pay as much in taxes. 

Apply for new graduate research fellowships since the one I have from the NSF will run out in 2014 (and need to apply for new ones about a year ahead of time).

On target.
I have discussed this with my graduate school advisor, and we have selected 2-3 good-looking fellowships that I will apply for later this year. 

$30 per month save for trips to visit friends/family in other states.
$10 per month save for purchasing food for backpacking trips in the Blue Ridge Mountains once a month.
Contribute at least 20% of blogging income to Individual Roth 401(k) with Vanguard.

Have not done yet, but will start soon.

According to the account hierarchy priority order, I have first been maxing out my Roth IRA this year prior to funding my Individual 401k (which I recently found out has a Roth option, so I'll soon start taking advantage of that!).

Execute any business tax deductions I can for 2012 taxes.
Use 1% home value home maintenance fund to fix various small things that are broken around my condo after 2.5 years of use. These things include a closet door off the hinges, the light-switch in the bathroom not working all the time, the bathroom towel rack holder coming unscrewed, and some pipes under the sink that need to be re-caulked. Once I get these things repaired, I will then need to replenish the depleted funds in the home maintenance account.
Execute 4 estimated tax payments for blogging + graduate research fellowship income on the following dates – 1) April 15, 2013, 2) June 17, 2013, 3) Sept. 16, 2013, and 4) Jan. 15, 2014.
Save $111 per month until have a total of $1600 for health expenses for dogs we adopted (for annual health checkup, Frontline/Interceptor, and miscellaneous health emergencies/treatments needed. I will have the $1600 total after March 2013.
Help friends become debt-free.
Continue investing in long-term content growth of blog.

***New Goal Added During 1st Half 2013***

– Continue building, optimizing, and balancing a Three-Legged Stool for Retirement

Since I am in the 15% tax bracket, I first maxed out my Roth IRA for 2013.  
My next move has been to contribute an equivalent amount in an after-tax investment account in order to have money that is accessible for needs prior to retirement. 
Now that I have completed that, I am going to work towards contributing to a Roth Individual 401k with Vanguard. Should be good! 
Mid-Term (3-5 years out) Goals:
Continue contributing $5500 to Roth IRA and Individual Roth/Traditional 401k each year using dollar cost averaging.
Reach intermediate net worth target (2.8X my current net worth).
Own a rental property by 2018.
Long-Term (greater than 5 years out) Goals:
Obtain a net worth of $1,000,000.
Own a home free of mortgage payments.
Own a vacation home in the mountains or a ski resort.
Accumulate enough funds not have to work, but will probably anyways because I would get bored.
How about you all? How are you doing so far in reaching the goals you laid out for yourself in 2013? What techniques do you find are most effective in holding yourself accountable and on-track for your goals you set?  

Share your experiences by commenting below!