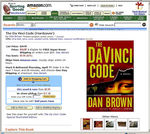 The following post is by MPFJ staff writer, Kelly Gurnett. Kelly runs the blog Cordelia Calls It Quits, where she documents her attempts to rid her life of the things that don't matter and focus more on the things that do. You can also follow her on Twitter and Facebook.
If you're a regular Amazon shopper, chances are you know the blessing and curse that is Amazon's "Free Super Saver Shipping."
At face value, it seems great: just purchase $25 worth of qualifying items, and your order ships for free. What's not to love?
But if you're like me, and you don't always buy $25 worth of merchandise, you can find yourself in a "should I or shouldn't I" quandary. All you really wanted was the latest book from your favorite author, which comes in at $23.99 for the first-edition hardcover. It would qualify for Free Super Saver Shipping—but you just need a measly $1.01 to be eligible.
Either you find yourself begrudgingly paying for shipping, or you find yourself gazing excitedly at your Wish List like a kid whose mom just told him he can get a candy bar in the checkout line. You were planning on waiting to buy that fun new iPhone case until you had more money for it, but now that buying it will help you save on shipping (both for it and for the book), it actually makes sense to buy it a little early…right?
Fear not, savvy shoppers. For I have discovered a fantastic site that takes away the temptation to over-purchase which, I'm sure, was Amazon's whole reason for offering the free shipping carrot to begin with. It's called Amazon Filler Item, and it's about to become your new best friend.
How It Works
Let's say you do have $1.01 left to qualify your cart for Free Super Saver Shipping. What this site will do is show you every qualifying item close to that price that will nudge your total over the top without nudging you to buy a pricier item out of the justification that it will "save you money."
Head on over to Amazon Filler Item and type "1.01" into the box that asks you how you much you need for free shipping. The site will generate a list of items from $1.01 on up to $1.27 that qualify for Free Super Saver Shipping.
Be forewarned that you will need to do a little digging (most of the items are random pieces of hardware like nuts and bolts), but the list is only a few pages long, and it's totally possible to find something within the $1.01 to $1.27 range that won't be a waste of your money. (And certainly not as much of a waste as that new iPhone case would!)
For instance, you could get a wire-wound notebook for $1.04 (and you can always find a use for a notebook). You could get a window sealing kit to stop drafts and save money on heating come winter. (Saving you on two fronts!) You could pick up a new scrub brush or roll of Scotch tape (also things you're bound to use.) Or, if you're a handyman and you actually could stand to stock up on random pipe fittings, bearings, and other odds and ends, you're in luck!
Since discovering this site, I've gotten note pads and bungee chords for tying our trunk down when transporting large items—both of which have been or will be put to use shortly. I've also avoided several impulse purchases I'm pretty sure I would have made if I hadn't found these handy filler items.
I've also gotten the lovely feeling of beating the system, which any true bargain-hunter always appreciates.
How about you all? Are you an Amazon shopper? Have you fallen prey to the Super Saver Shipping temptation before?
Share your experiences by commenting below! 
***Photo courtesy of http://www.flickr.com/photos/kokogiak/8626470/sizes/m/in/photostream/