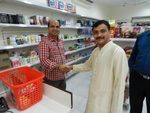 The following is a guest post. Enjoy! 
It cannot be denied in the current economic and regulatory climate that excellent customer service is crucial.
Where previously, a customer was at the mercy of bank policies and charges, the current focus (especially in the press) is certainly on treating customers fairly. It is difficult to go two days at the moment without the banks being in the news for mis-sold products, complaint volumes, public apologies and system failures.
Here lately, the large financial institutions have been blighted by continual payouts on high-profile issues. Primarily, this has been due to the sale of an insurance product provided with lending called Payment Protection Insurance (PPI). In the 1990's and 2000's, banks made significant levels of non interest income.  However, the High Courts ruled that customers had not been appropriately informed of the costs and most customers were deemed to not require the product in the first instance. This has lead to Banks having to provide high levels (c£10bn total in UK banks) of profits for potential refund and uphold cases.
This has lead to a wildfire in other banking products with continued regulator focus on the suitability of products and information provided to customers. Non retail small and medium enterprises are the latest group looking to the banks for refunds after the sale of loans incorporating interest rate hedging products. These are products that intended to cap the interest on a product if the interest rates rose further. Unfortunately, most of these products were provided when the UK base rate was 5% (compared to 0.5% at present) hence when the rates fell the associated costs on the hedging products rise in correlation to the interest base rate fall. Similarly, this has lead to the public ensuring products are sold appropriately to fully knowledgeable parties.
Naturally, this has led to many banks reevaluating their marketing strategies to protect their brand image and make their products simpler, more transparent with features that are beneficial and easy to understand. Account switching is also being made easier in the UK to allow customers to take advantage of greater competition in the marketplace. In any case customer service is in the forefront of both the industry and public mind.
***Photo courtesy of http://upload.wikimedia.org/wikipedia/commons/e/ea/First_Customer.JPG