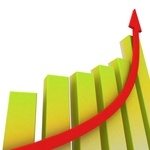 The following post is by MPFJ staff writer Travis.  Travis is a customer blogger for CareOne Debt Relief Services, and also appears weekly at Enemy of Debt.  Travis candidly shares his personal journey to pay off $109,000 of credit card debt and the tips he's learned along the way. As a father and husband he provides a unique perspective on balancing debt, finances, and family.
A person walks through the grocery store, and executes a pre-determined shopping plan, filling cart upon cart with products.  After going through the checkout counter and redeeming a pile of coupons, their truckload of goods costs them little more than pocket change.
You may have heard of this, it's called extreme couponing.
A comment was left recently on a post of mine that completely blew my mind and reminded me of extreme couponing.   The author lamented dropping $80 for a restaurant dining experience she didn't particularly enjoy.  She joked it would be wise for her to not do the calculation to determine how much that meal cost her in retirement funds as it may result in heartburn.
I'm sure the statement was simply light-hearted joking, but I couldn't help but have an image pop in my head of a person going through life analyzing every purchase to the point of knowing how much it would affect their retirement funds.
This isn't extreme couponing, this is extreme retirement saving.
Tracking your spending and knowing how each expenditure affects the budget can prevent a person's finances from going off the rails, but can you imagine going to such extreme analysis for each purchase?
Buy a $1 soda?  That's $4.50 less you'll have in your retirement coffers
How about a $6 value meal at a fast food restaurant?  Shave another $27 off that nest egg.
With the right perspective, it could have some benefits.  Having such numbers handy for some common items (especially those on which a person typically overspends) could help a person make a decision about whether a purchase is really worth it.  But taken to the extreme, it could be almost debilitating as a person agonizes over every purchase.
I wouldn't want go through my life simply trying to build as much wealth as possible for retirement.  With that kind of perspective, I may not know how to start enjoying what I'd saved by the time I get to retirement.  I do want to regularly analyze how much I will need to save to maintain the lifestyle I desire when (or if) I decide to retire.  As long as I'm meeting that goal each and every month, I will ENJOY any funds are left over.
Because Life is worth living.  All of it.
What do you think, readers?  Would you want to know the effect each purchase would have on your retirement account?  How extreme is your retirement saving?
***Photo courtesy of Stuart Miles / FreeDigitalPhotos.net