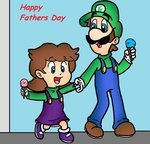 This is a post by MPFJ staff writer, Jeff. Jeff writes about Sustainable living and finances at his website, Sustainable Life Blog. Jeff really enjoys traveling with his wife as much as he can, to wherever he can.
With Dad's day just around the corner, it's still not to late to pick out the perfect gift for him this year.
If your dad is like mine and just goes out and buys what he needs (or wants) when he needs it, it makes him difficult to shop for because he has everything that he wants! Even though he's hard to shop for, I want to make sure my dad knows that I appreciate all he's done for me, so I try and find a great gift every year.
Here are a few I'm looking at this year:
Tools. My dad always said growing up that to do the job right you needed the proper tools. The catch was that he never really had the proper tools, so he always just improvised. This year, I'm considering getting him a tool that he's talked about needing/wanting for a while but for some reason hasn't gotten for himself.
Wash his car. Dads love to have their cars cleaned, and mine is no exception. Make sure to either take it to a nice place, or if you're tight on cash do it yourself in the front yard. Remember to vacuum the interior as well – dad will really appreciate it.
Movies. Send your dad (and mom) on a trip to the movies. Get them a gift card to your local theater for the cost of 2 movies and a popcorn and let them enjoy the afternoon. Nothing better than a relaxing fathers day at the movies.
BBQ. Invite your family over and some of dad's friends and host a BBQ. Let dad relax and catch up with everyone while you take care of the grilling and the rest of the food. If you don't think you can pull it off yourself, ask relatives to bring salads or side dishes.
Something to eat. Everyone enjoys goodies, and what better way to celebrate fathers day than with a box of your dads favorite candies?
A game of golf/box of personalized golf balls. If your dad is into golf at all, offer to take him out on fathers day and hit the links with him. If he's unavailable, why not get him a set of personalized golf balls to use next time that he hits the links?
Something tech-related. There are awesome new tech innovations out there, and if your dad is really into tech stuff, consider finding one of them for him. Maybe a belkin wemo or a pebble watch for dad on fathers day.
There are a few great ideas for fathers day gifts. I may just take my dad out for a nice steak lunch or dinner this year though.
How about you all? What do you typically do for your dad on Father's Day? What was his favorite thing that you've done in the past?
Share your experiences by commenting below! 
***Photo courtesy of http://fc03.deviantart.net/fs71/i/2010/173/4/3/Happy_Fathers_Day_by_Nin10dohfanatic.jpg