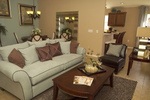 The following is a guest post. Enjoy! 
Since the UK budget announcement in March, there's been a lot of buzz surrounding the Help to Buy Scheme – which, for many, came as a surprise when announced by the Chancellor. With low lender confidence meaning that high deposit requirements have scuppered the chances of many getting on the property ladder, as well as leaving many unable to move up a rung, could this get the housing market moving again?
What is Help to Buy?
The scheme comes in two parts.
The first, which started on April 1, is equity loans to help people buy new build properties. The second comes into effect in January 2014, and will guarantee some of a borrower's debt when they take on a mortgage with a bank or building society. In both cases, borrowers will only need to find a 5% deposit, with the government scheme offering a loan for a further 20%, on an interest-free basis.
Who can apply?
Help to Buy is designed for those who find it hard to save the large deposits needed in order to get a mortgage. It's open to both first time buyers and those already on the ladder, and is available on properties worth up to £600,000. There is no upper earnings limit criteria to qualify.
Those interested in the first part of the scheme should contact a participating builder. It's unclear at the moment what products banks and building societies will offer when it comes to the second part of the scheme – and whether the rates for this products will be cheaper or more expensive.
Potential borrowers will still need to fulfill lending criteria – with those with a bad credit history or unstable employment are still likely to find it difficult to borrow without a large deposit. You can check your credit report online.
Will it work?
As the figures for mortgage lending for May are at their highest level since October 2008 (according to the Council of Mortgage Lenders), some may argue that the scheme is already having the desired effect of getting the property market moving. However, other factors, such as the 'spring bounce', increased confidence and slow and steady increase in-house prices are also likely to be playing their part, making it difficult to attribute any improvement to one factor.
It's clear though, that the Help to Buy Scheme will be of use to many who had thought themselves stuck in the rental trap for a long time to come – unable to save a deposit due to increasing rental prices. If that sounds like you, now may be a good time to think about looking into buying your own home.
How about you all? How is the housing market looking these days in your area? Do you think a program like this will be effective in jump-starting the market?
Share your experiences by commenting below! 
***Photo courtesy of http://farm8.staticflickr.com/7128/7846926570_28320bd2d9.jpg