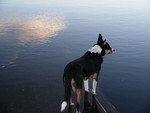 The following post is by MPFJ staff writer, Catherine Alford. Cat is a freelance personal finance writer who blogs at www.BudgetBlonde.com. 
One of the main reasons that people are hesitant to change careers or leave their job is the paycheck, and first let me say, that definitely makes sense.
We all work hard to get paid so that we can do the things we enjoy. That's the circle of life, or at least, that's the circle of a professional life. So, the more you earn, technically the more you can save, invest, and spend.
The problem comes in when you're in a high paying job that you actually don't like. Dare I say, some of us might hate your jobs, and your high paycheck is the reason you're paralyzed, stuck, and afraid to take a leap.
I'm not going to be the writer that encourages everyone to quit their careers and backpack around the world. I understand the pressure of having a family to take care of and the fear of the unknown. So, while not everyone will be able to leave a job they don't like, there are a few instances where I think it should be considered. Here they are below:
Working Too Many Hours
If you're in a job you don't like, and you are constantly working, this would definitely be grounds for changing to a different career. You're staying in your job because of your high paycheck, but you don't even get to enjoy it! What's the fun in that?
Remember, we only get one life. Even if you get paid less, imagine how amazing it will feel to have a few evenings off or a Saturday when you don't have to field endless e-mails. Sometimes, our happiness is worth a smaller paycheck. Plus, wouldn't it be nice to finally take your wife on that vacation you promised her or take your high school senior to tour colleges?
The Pros Don't Outweigh The Cons
There are pros and cons to every job. Everyone should be able to agree on that.
Some people have great benefits while others have incredible flexibility. Maybe you get a high paycheck, but you have to work 80 hours a week. Maybe you get endless airline miles from your business trips, but that means less time with your family.
Whenever you are deciding to stay or leave your job, make a list of pros and cons. Add to it over the period of a few days. Think about it, share it with those close to you, and let that help you in your decision.
Perhaps you'll find that you have way too many pros on your list to leave your job, but the other more exciting side of the coin is that you just might realize there are other possibilities to pursue.
There's No Room for Improvement
Another valid reason to leave a high paying job is if there is no room for improvement. Sure, you've been promised a raise or an even higher paying job, but do you think it's going to happen?
There are all sorts of reasons why you might not move up in a company. Politics is the biggest reason. Perhaps the CEO's child is set to take over the company and so it's highly unlikely you will run it one day. Or, maybe your boss loves you but their boss has disliked you ever since you accidentally took their parking spot on day one.
I know that some of these reasons might not seem substantial, but it's important to take a hard look at your current position and the people you work with and be honest with yourself about your chances for promotion.
Your Spouse is Over It
Many people wiser than I am have talked about the importance of family and how no job is worth their disappointment. If your spouse is putting pressure on your to quit your high paying job, it's important to listen to their concerns.
Your spouse knows you better than anyone else, and they can see changes and differences in attitude better than others.
While you may be unable to quit a job you don't like because you need your paycheck to pay your bills, having an honest conversation about your career path with your spouse is a good first step to exploring possibilities for the future.
It's Up to You
Ultimately, it's important to know that this decision is really up to you. You're the one that has to wake up every day, get dressed, and head to work. You're the one that has to pay your bills, and you're the one who has to interact with your coworkers every day.
Quitting a job is no easy feat, especially if you are several years into your career. However, as evidenced in this post, there are a few reasons why you should consider it even if you are pulling in a high paycheck.
How about you all? Have you ever quit a high paying job? What are some other reasons people should consider switching careers?
Share your experiences by commenting below!
***Photo courtesy of http://farm1.staticflickr.com/144/321697588_e6f0478fbf_z.jpg?zz=1