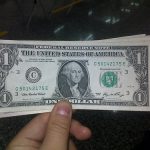 The following is a guest post. Enjoy!   
It's a couple of weeks since your wages got paid into your bank, but you're running dangerously low on cash and still have another week or two until your next payday. This might be a familiar scenario for many, as your options when faced with this dilemma may seem limited. Short-term cash loans can provide the answer, but just what can you do with a small loan loan?
Short-Term
People consider turning to short-term loans to keep them afloat until payday as their incomes are squeezed even further by financial cutbacks. Whether you've had a huge bill land on your doormat or you've just spent a bit too much this month, sometimes, a helping hand is desired now and again.
When you're short on cash, it can be a nightmare trying to juggle your bills but a small loan could help. Most of the time, short-term payday loans can be paid into your bank account within the hour which is great for people who are desperate for extra cash (however, they often have +1000% APR interest rates, so watch out!).
As with all financial matters, there are both pros and cons to a small loan. This makes it important that you weigh up both before going ahead.
Pros and Cons
These short-term and fast approval loans save you the embarrassment of asking your family or friends for cash and also mean that you'll be able to cover your expenses, but they can be an expensive way to borrow.
Although credit checks are still performed, they may be more relaxed than with applications for long-term credit. This means small loans are available to most people; even those with poor credit scores and repayment histories.
You're advised never to use these loans for superfluous purchases, but when emergency situations arise then can offer a real lifeline to those strapped for cash. The important thing is to borrow responsibly, only applying for the amount of money you need and not relying on these short-term loans as a long-term debt management plan.
Impartial Advice
If you're looking to boost your cash position this month, then it's important you research all of your options. Are you considering a £100 loan? Even though £100 may not seem like a lot of money to borrow, it's still worth taking the time to seek advice and there are plenty of great resources online who you can consult. Short term cash advances are an possible way to get a bit of extra money, but they aren't designed to solve long-term debt problems. A £100 loan could be a financial alleviator, but it's still recommended that you take the time to understand it fully before applying so that you're sure it is what you need.
***Photo courtesy of http://www.flickr.com/photos/bfishadow/4237025430/