The following post is by MPFJ staff writer Travis.  Travis is a customer blogger for Care One Debt Relief Services, and also appears weekly at Enemy of Debt.  Travis candidly shares his personal journey to pay off $109,000 of credit card debt and the tips he's learned along the way. As a father and husband he provides a unique perspective on balancing debt, finances, and family.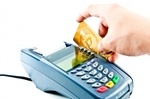 My wife and I racked up $109K of credit card debt by misusing credit cards.  I don't want my fourteen year old son and eleven year old daughter to follow in our footsteps, so this summer I'm going to do something a little unconventional.
I'm going to let them use credit.
I'm not suggesting I let them become credit card swiping junkies by going on a summer shopping spree. Please, allow me to explain.
For the second summer in a row, we purchased a summer membership at a full service gym. It has a ton of activities including an outdoor pool and a huge indoor play area called The Neighborhood where kids of all ages have access to basketball courts, mini-golf, batting cages and much more.  Kids my son's age can roam the club freely and use it as a social gathering place being dropped off by their parents and picked up after an afternoon of hanging out with their friends.
While at the club, the kids commonly ask to get something to eat or drink at one of the club's snack shops.  Customers can pay with cash, or they can choose to charge the bill to their account and have the purchase included in their next monthly bill.
We told the kids that we will purchase two things for them each week, but anything additional that they charge will come out of their own pocket.  I'm not going to force them to charge their items, however.  If they would rather bring their own cash along to the club, or just simply not exceed the two items per week maximum, more power to them.   Otherwise, when the monthly statement arrives in the mail, we'll go through it as a family adding up the purchases from their unique membership number that exceeds the limit.
The amount owed must be paid by the due date on the bill.
I'm using our summer membership at this gym as a financial teaching opportunity for the kids.  This gives them a relatively safe environment to see how credit is used in daily life, as well as allowing them to get a taste for the temptation of charging and not having to pay anything right away.  They can also feel the consequences of giving into that temptation.
Such as realizing buying nachos every afternoon at the pool sucked away most of their allowance for the month.
Our kids are generally aware of our situation.  They don't know the exact numbers, but they do know that we have credit card debt, and that we are digging our way out with the help of a debt management program.  They understand we got into this situation by spending too much through abusing credit cards.  But, I do not believe they have a full appreciation as to how credit cards work, or how easy it is to misuse them.
I hope that through this exercise they will gain that appreciation, and together with the experience of what our family has gone through to dig out of debt be more fully educated to prevent them from repeating our mistakes.
How about you all?  Would you let your kids charge things on credit?  Do you think it will better prepare them for handling their finances as an adult?
Share your experiences by commenting below!
***Photo courtesy of hin255 / FreeDigitalPhotos.net