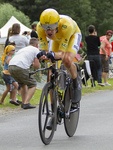 It's almost July!
Hallelujah, we've just about made it through half the year. For me, this means that it's just about time to do a detailed check-in on my financial, blogging, and professional goals as well as my net worth progress so far for 2013.
However, July also means that it's once again time to break out the spandex shorts, big time trial helmets, and 15.5 lb carbon fiber bikes for the Tour de France bike race, and on My Personal Finance Journey, for the Tour de Personal Finance! 
That's right! For the 3rd year in a row in July 2013, MyPersonalFinanceJourney.com will be hosting the Debt Free Direct Tour de Personal Finance. The Tour de Personal Finance is a month-long Tour de France-themed personal finance-blogging competition. For all of the details on how the competition works, click here.
We greatly appreciate Debt Free Direct for being the title partner of the 2013 event and for all their great support. If you're interested in learning more about the help and advice Debt Free Direct offers to people in debt or their money-saving tips on how to prevent building up debt, click here.
2013 Tour de Personal Finance Brackets Complete!
This year, we had a record number of post submissions with a total of 64! A very awesome turnout! A big thanks to everyone for participating.
You can view or download a copy of the competition brackets to see which posts will be going head-to-head in each Stage's Intermediate Sprints by clicking the link below:
2013 Debt Free Direct Tour de Personal Finance Bracket
The Stages will start going live tomorrow! 
This year, thanks to a GREAT suggestion from Lance @ Money Life and More after the 2012 Tour de PF, the posts are grouped together by categories instead of scattered using a random number generator. This year's 9 categories are shown below:
College Finances

Side Hustle
Debt
Frugal Living
Job/Career
Lifestyle
Psychology of Money
Retirement Planning
Saving/Investing
This Year's Prizes and Charity Give Back Announced
The 2013 edition of the Tour de PF will be doubly exciting because we have some very nice cash prizes to give away to the winner and also to charity to continue helping the community.
These will be as follows:
Yellow Jersey (1st Place) Winner of the 2013 Tour de Personal Finance will receive $100 cash via PayPal.

In addition, the Yellow Jersey Winner will also get to decide what charity they want me to donate $700 to in honor of their efforts/victory. 
I wish everyone the best of luck, and I'm excited to see how this year's event will unfold over the next month or so!
 ***Photo courtesy of http://upload.wikimedia.org/wikipedia/commons/e/ea/Bradley_Wiggins_19_etape_du_Tour_de_France_2012_Chartres_(cropped).jpg