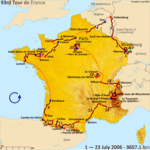 Without further ado, let's continue on with the 2nd Stage (featuring posts from the "Job/Career" category of articles submitted) of the 2013 Tour de Personal Finance (to follow all of the action, click on the Tour de Personal Finance category link and scroll down to read all the posts involved in this subject).
We greatly appreciate Debt Free Direct for being the title partner of the 2013 event and for all their great support. If you're interested in learning more about the help and advice Debt Free Direct offers to people in debt or their money-saving tips on how to prevent building up debt, click here.
A Quick Reminder On Prizes For The 2013 Competition
The 2013 edition of the Tour de PF will be doubly exciting because we have some very nice cash prizes to give away to the winner and also to charity to continue helping the community.
These will be as follows:
Yellow Jersey (1st Place) Winner of the 2013 Tour de Personal Finance will receive $100 cash via PayPal.
In addition, the Yellow Jersey Winner will also get to decide what charity they want me to donate $700 to in honor of their efforts/victory. 
To view the most up-to-date brackets of the competition, click the following link – 2013 Debt Free Direct Tour de PF Bracket
Going along with Tour de France cycling tradition, I've listed each competition within each stage as an "intermediate sprint" (one post versus another) along with the description provided by the blog author when the post was submitted.
Also, if applicable, I will give a brief description of the stage of the Tour de France that took place the same day as (or that has happened since the previous Stage of) the competition.
How to Vote
You can vote for the two articles (one from each intermediate sprint)  you'd like to see proceed in the Tour by commenting in the comments section below and telling which are your favorites. I've listed a keyword after each post title to make it easy to vote (as a made-up example, you can just comment: Sprint 1: Mutual; Sprint 2: 401k, etc.) 
Be sure to comment which one you like the best out of each set of two! Criteria for the best article is completely up to you, but you can use these factors as a guide: 1) post of your favorite blogger, 2) most interesting post, 3) most thought-provoking post, 4) most unique post, or 5) most actionable post.Here are today's competitions:
Voting will continue until June 30th for this Stage!
Intermediate Sprint #1
You Know What Really Sucks? Cubicles.  (Cubicles): I used to drive a $400 car, live in a cramped apartment and wear only thrift-store clothes. When people hear me tell stories from those days, they say: "Wow, your life must have sucked." You know what really sucks? Cubicles. Consumer debt. Getting shackled due to overspending. THAT sucks much more than an ugly car.
VERSUS
Swarming Pigeons, Dog Poop, Happiness, and $60,000 (Happiness): What does pigeons, dog poop, and $60,000 have to do with happiness? I gave up a six figures/year career to be a stay at home dad/blogger and I couldn't be happier. If you have money and are unhappy, you're not doing it right. Figure out what really makes you happy and focus on that. I did, and I am much happier.
Intermediate Sprint # 2
20 REAL Companies That Will Pay You To Work From Home  (Companies): With all the spammy work-from-home marketing we all see out there, we decided to find some LEGIT companies that actually offer jobs that allow you to work from home.  These are 20 of the best ones we found.
VERSUS
How Coming Health Insurance Exchanges Will Drastically Impact Career And Retirement Decisions (Insurance): In the coming months, the first Health Insurance Exchanges will open, and along with them will begin a new era of personal finance decisions. For the first time, having a job to get onto an employer's health insurance plan will no longer be a necessary requirement to have access to health insurance. Instead, anyone will be able to get health insurance from a state exchange, guaranteed, without any limitations for pre-existing conditions or the risk of cancellation due to health changes. While figuring out how to afford coverage will still be a challenge for many – though there are new premium assistance tax credits and cost-sharing subsidies to help – at the most basic level, the question simply becomes: "If you were assured of having access to health insurance and you (or your spouse) didn't have to work where you do in order to get access to it, would you still be working and doing what you are doing now?" If your answer is "no" – welcome to the new world of health insurance!
Tour de France Daily Recap
Unfortunately, the Tour de France doesn't start in real life until this Saturday, June 29th (we had to get started a little early this year due to the larger number of entries!).
This year's Tour features some really cool things for us to look forward to though.
First, it is the 100th edition of the event.
Second, the Tour will start from the island of Corsica, the only time in the race's history that it has visited that Department.
Third, it will be the first time since the 2003 that the event will take place entirely on French roads (no visits to neighboring countries).
Finally, the race features a Stage in which the famous climb of Alpe d' Huez (one that I've actually done myself, and can attest to how hard it is!) will be climbed not once, but twice. I'm not quite sure how the logistics will work out with that, but it should be very entertaining to watch!
***Photo courtesy of https://upload.wikimedia.org/wikipedia/commons/0/0a/Route_of_the_2006_Tour_de_France.png