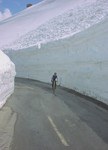 Without further ado, let's continue on with the 3rd Stage (featuring posts from the "Debt" category of articles submitted) of the 2013 Tour de Personal Finance (to follow all of the action, click on the Tour de Personal Finance category link and scroll down to read all the posts involved in this subject).
We greatly appreciate Debt Free Direct for being the title partner of the 2013 event and for all their great support. If you're interested in learning more about the help and advice Debt Free Direct offers to people in debt or their money-saving tips on how to prevent building up debt, click here.
A Quick Reminder On Prizes For The 2013 Competition
The 2013 edition of the Tour de PF will be doubly exciting because we have some very nice cash prizes to give away to the winner and also to charity to continue helping the community.
These will be as follows:
Yellow Jersey (1st Place) Winner of the 2013 Tour de Personal Finance will receive $100 cash via PayPal.
In addition, the Yellow Jersey Winner will also get to decide what charity they want me to donate $700 to in honor of their efforts/victory. 
To view the most up-to-date brackets of the competition, click the following link – 2013 Debt Free Direct Tour de PF Bracket
Going along with Tour de France cycling tradition, I've listed each competition within each stage as an "intermediate sprint" (one post versus another) along with the description provided by the blog author when the post was submitted.
Also, if applicable, I will give a brief description of the stage of the Tour de France that took place the same day as (or that has happened since the previous Stage of) the competition.
How to Vote
You can vote for the two articles (one from each intermediate sprint)  you'd like to see proceed in the Tour by commenting in the comments section below and telling which are your favorites. I've listed a keyword after each post title to make it easy to vote (as a made-up example, you can just comment: Sprint 1: Mutual; Sprint 2: 401k, etc.) 
Be sure to comment which one you like the best out of each set of two! Criteria for the best article is completely up to you, but you can use these factors as a guide: 1) post of your favorite blogger, 2) most interesting post, 3) most thought-provoking post, 4) most unique post, or 5) most actionable post.Here are today's competitions:
Voting will continue until July 1st for this Stage!
Intermediate Sprint #1
Is the College Debt Bubble about to Burst? (Bubble): Student loan debt has officially become a crisis. I explore one of our most important questions and greatest challenges as a nation. Is the College Debt about to Burst?
VERSUS
Should I Pay Off My Mortgage Early? (Mortgage): If you own a home, a significant portion of your income each month goes towards paying down your mortgage. Although most Americans would rather have no debt and interest payments, with interest rates at record lows, the traditional thinking and logic behind accelerating your mortgage payments may not apply anymore. From the benefits of liquidity and emergency funds to higher yield investments and retirement funding, there are much better ways to use your free cash flow. Stop seeing all debt as bad, and realize that a healthy amount can actually help further your financial goals.
Intermediate Sprint # 2
What Kind Of People Live Without Credit Cards? (Cards): Credit cards are increasingly being ingrained into our daily life.  Occasionally a story surfaces about people that still function without swiping the plastic.  Are these people real, or do they only exist in fairy tails and legends?  I hunted high and low and found a husband and wife that claim to be two of these mythical people.
VERSUS
Credit Card Debt and Drug Addiction: Are They Related? (Addiction): While Dave Ramsey advocates the Debt Snowball method for paying down credit card debt and brain scan studies confirm the notion because of the limbic system's joy at closing down accounts, nobody really tracks what happens after you close down an account. Specifically, nobody has studied the causes and incidences of relapse, where people who were on the road to becoming debt free suddenly veer off the path and rack up debt again. This article examines the neurological and behavioral similarities between credit card debt and drug addiction and suggests ways in which we can apply lessons learned from helping people with drug addiction to the process of getting out of credit card debt.
Tour de France Daily Recap
Unfortunately, the Tour de France doesn't start in real life until TOMORROW Saturday, June 29th (we had to get started a little early this year due to the larger number of entries!).
This year's Tour features some really cool things for us to look forward to though.
First, it is the 100th edition of the event.
Second, the Tour will start from the island of Corsica, the only time in the race's history that it has visited that Department.
Third, it will be the first time since the 2003 that the event will take place entirely on French roads (no visits to neighboring countries).
Finally, the race features a Stage in which the famous climb of Alpe d' Huez (one that I've actually done myself, and can attest to how hard it is!) will be climbed not once, but twice. I'm not quite sure how the logistics will work out with that, but it should be very entertaining to watch!
***Photo courtesy of  http://upload.wikimedia.org/wikipedia/commons/3/3c/Col_du_Galibier_in_Mei.jpg