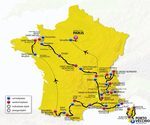 Without further ado, let's continue on with the 4th Stage (featuring posts from the "Retirement Planning" category of articles submitted) of the 2013 Tour de Personal Finance (to follow all of the action, click on the Tour de Personal Finance category link and scroll down to read all the posts involved in this subject).
We greatly appreciate Debt Free Direct for being the title partner of the 2013 event and for all their great support. If you're interested in learning more about the help and advice Debt Free Direct offers to people in debt or their money-saving tips on how to prevent building up debt, click here.
A Quick Reminder On Prizes For The 2013 Competition
The 2013 edition of the Tour de PF will be doubly exciting because we have some very nice cash prizes to give away to the winner and also to charity to continue helping the community.
These will be as follows:
Yellow Jersey (1st Place) Winner of the 2013 Tour de Personal Finance will receive $100 cash via PayPal.
In addition, the Yellow Jersey Winner will also get to decide what charity they want me to donate $700 to in honor of their efforts/victory. 
To view the most up-to-date brackets of the competition, click the following link – 2013 Debt Free Direct Tour de PF Bracket
Going along with Tour de France cycling tradition, I've listed each competition within each stage as an "intermediate sprint" (one post versus another) along with the description provided by the blog author when the post was submitted.
Also, if applicable, I will give a brief description of the stage of the Tour de France that took place the same day as (or that has happened since the previous Stage of) the competition.
How to Vote
You can vote for the two articles (one from each intermediate sprint)  you'd like to see proceed in the Tour by commenting in the comments section below and telling which are your favorites. I've listed a keyword after each post title to make it easy to vote (as a made-up example, you can just comment: Sprint 1: Mutual; Sprint 2: 401k, etc.) 
Be sure to comment which one you like the best out of each set of two! Criteria for the best article is completely up to you, but you can use these factors as a guide: 1) post of your favorite blogger, 2) most interesting post, 3) most thought-provoking post, 4) most unique post, or 5) most actionable post.Here are today's competitions:
Voting will continue until July 2nd for this Stage!
Intermediate Sprint #1
If You Plan to Work Until Old Age, Change Your Plan (Plan): To be successful financially, it can help to be realistic when assessing risks. Along those lines, it's important to keep in mind that we might not be able to work for as many years as we might believe. We should plan accordingly and save and invest as much as possible when younger!
VERSUS
How My Retirement Plans Got Derailed – Big Time! (Derailed): I left my secure job at a major bank to open a small retail store with my husband.  We struggled along for three years, using up almost all our savings and making the terrible mistake of financing the business with our many credit cards. Eventually we gave up and closed the store.  With no money and over $100,000 in credit card debt, we sank to our lowest point of despair.
Intermediate Sprint # 2
Extreme Retirement is Fools Gold! (Gold): Doing anything extreme is unsustainable for any length of time.  Saving 60-70% to retire early so you could live a minimalist life is crazy!  I do not want to lower my standard of living in retirement, do you?
VERSUS
When Can I Retire – It All Depends On How Badly You Want To! (Depends): The reason that I love this post is because it is the advice I wish someone would have given me when I started my personal finance journey.   The message is that financial freedom (retirement) doesn't have to be tied to age – it can happen anytime.  You just need to start making it happen!  Readers will not only find a lot of practical advice about how to accomplish this, but they will also find something else that lacks in a lot of other financial planning literature – encouragement!
Tour de France Daily Recap
The Tour de France in real life started today with Stage 1, taking the riders 213 km from Porto-Vecchio up to Bastia on the island of Corsica.  It was a flat stage for the most part, with a small breakaway staying off the front until about 30 km remaining.
It was a very exciting finish because a team bus got stuck under the finish line, and was only removed about 5 min before the riders got to the line! There was also a big crash that took out pretty much every big name sprinter and overall contender from contesting the stage. Marcel Kittel took the sprint victory, and also the yellow jersey for now in the Tour de France.
It's a more hilly stage tomorrow. Should be exciting!
***Photo courtesy of  http://upload.wikimedia.org/wikipedia/commons/b/b7/Tour2013.jpg