The following is a post by MPFJ staff writer, Toi Williams, who is a professional personal finance blogger of Fine Tuned Finances. She has backgrounds in personal finance, sales, and real estate.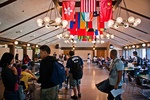 Leaving home to attend college is one of the most exciting times in a young person's life.
Families plan for years to be able to pay for tuition, books, food, and housing for the student, often utilizing federal and public loans along with money saved in 529 college saving plans to make sure all of the costs are covered.
Unfortunately, there are a number of unexpected expenses that may arise that can significantly increase the cost of a college education. Planning ahead for these expenses and including them in your budgeting can greatly increase your financial security while attending college.
Here are some of the unexpected college expenses you may encounter and tips on how to plan for them:
Expenses For Replacing Supplies
While you may believe that you have purchased an adequate amount of supplies prior to attending your first classes at college, you will quickly find that you need to purchase replacement supplies on a regular basis to ensure that you have everything that you need for each class. Pens run out of ink, pencils get broken, and paper is used up for assignments faster than you may think. It is important to plan ahead and have a budget in place that takes into account additional purchases of supplies on a regular basis.
Many students make the mistake of relying on the university supply store for all of their supply needs during the time they are attending college. Since they are already at the location to pick up their textbooks, they pick up all of the other supplies they need as well. It is important to note that the prices that are found at the campus supply store may be more expensive than what you may be able to find at local office supply stores, grocery stores, or mass merchandisers. This is especially true when shopping around the beginning of the school year in late summer or early fall. To get the best price on school supplies, take the time to shop around convenient locations and take advantage of back to school sales.
Additional Class Expenses
For many classes taken in college, the only real expense is the textbook that you need to purchase for the class. However, some classes that are necessary to complete your degree may require the purchase additional books and supplies to complete the class effectively. These additional expenses may include supplementary books, lab equipment, software programs, or special electronics. Depending on the amount of stuff you are required to purchase, these additional class expenses can take a big bite out of your budgeted funds.
When budgeting the amount of money you will need for each semester, be sure to include an additional amount to cover any unexpected expenses that may be associated with the classes. A good rule of thumb is to budget an extra $80 for each class you are taking. If there are no additional expenses for a particular class, the budgeted money can be used for another class where the additional expenses are more than $80 or saved to be used for the next semester.
Health Insurance Expenses
Dormitories are breeding grounds for germs and all of the human interaction occurring regularly on campus ensures that illnesses will spread quickly. Recent changes to the health care laws allow students attending college to remain on their parent's health insurance policies until the age of 26. However, there are many students whose parents have lost their health insurance coverage, have parents who are unwilling to continue paying for their adult children's health insurance premiums, or are over the age where they can remain on their parents' plans. These students will have to find an alternative to ensure that they are covered by health insurance and will be able to obtain medical care when they need it.
One option is seeing if the university you are attending offers a health plan for students. These health insurance plans give the student access to on-campus health services that can treat most minor illnesses and injuries without charge. If other treatments or services are needed, the campus health providers can refer the student to the services needed without the student incurring substantial costs. Student health plans administered by the college are typically the least expensive option for obtaining health insurance and the premiums are paid directly to the college.
If the college does not offer a student health plan, you will need to consider the different individual health insurance plans available on the open market. If you are in good health, you will be able to get a reasonably priced plan that covers preventative care and reduces the price of more comprehensive treatments. With an individual health insurance plan, you have more options for doctors and medical resources, but you need to make sure that the providers participate in the plan before receiving treatment or you may find yourself facing a hefty bill.
Expenses For Learning Experiences
Colleges provide many opportunities for learning experiences that can help prepare students for the world outside of college once they have graduated. These learning experiences may include clubs, organizations, special activities, and trips. Many of these experiences will have a nominal cost that the student must pay to participate. It is important to plan ahead so you can save the money you need for these experiences before the money is due. Otherwise, you may miss out on an activity that you would have really liked to experience with the new friends that you have made.
How about you all? What unexpected college expenses have you encountered? How do you budget for these items?
Share your experiences by commenting below!
***Photo courtesy of http://www.flickr.com/photos/vauvau/5799056895/