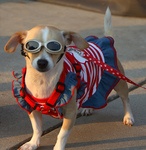 The following post is by MPFJ staff writer, Melissa Batai.  Melissa is a freelance writer who covers topics ranging from personal finance to business to organics to food.  She blogs at Mom's Plans where she shares her family's journey to healthier living and paying down debt.
My family had pets for as long as I can remember–cats, dogs, even rabbits for a while.  When I moved out on my own, I took my two cats with me.  After they both died within 2 years of one another, my  husband and I couldn't stand how empty the house felt without a pet.  Within 2 months, we adopted another cat, who we still have today.
Pets can certainly enrich your lives, but they can be expensive!  Some financial experts recommend that if you have debt, you shouldn't own a pet.  I wouldn't go that far, but I would suggest that you take steps to minimize the cost of owning a pet while still providing the pet with a good quality of life.
Luckily, there are many ways to save on pets and their care:
1.  Consider pet insurance.
Just like humans' medical care, animals' medical care has advanced.  It's now possible to treat an animal's condition that previously was untreatable.  The problem is that you may not be able to financially afford the treatment.  Pet insurance is one way to be able to afford more services, but consider this carefully.
Many people find that there are so many restrictions and upfront, out-of-pocket costs that pet insurance doesn't really save them money.
A better idea, if you're disciplined, may be to set aside money yourself to create your own "pet insurance" fund.  If you own a cat, for instance, set aside $25 a month for the animal's care.  At the end of the year, you have $300, but the cat's annual check-up and shots may only cost $150.  Now you have $150 to roll over for next year.  Do this for the first 7 years of the cat's life, when most indoor only cats have very few medical needs, and you have over $1,000 in an emergency fund strictly for the animal's care.  Continue to put this money aside and let it grow, and when the cat is older, you'll have the money to cover her care.
2.  Find alternatives to boarding.
Another large expense can be finding someone to care for the animal when you're gone.  Sure, you could board your animal at a kennel or the vet's, but that is not cheap.  Instead, consider hiring the neighbor child to come in and feed and water your pet as well as taking him out to play, if necessary.  If that's not an option, you could also use a site like dogvacay.com.  People who are vetted and insured are available to care for your animal for just $15 a day.
3.  Find reasonably priced food.
Unless your dog or cat has a health condition, there's no need to buy the most expensive food available at your veterinarians.  While you probably don't want to feed your animal the cheapest food available, keep in mind that there are several mid-priced brands that offer good quality food for a reasonable price.  Often, shopping at Amazon instead of the grocery store or a pet store can make the price even lower.
4.  Love your animal, but realize it's not your child.
Some people go overboard when they become pet owners.  They dress their animals in cute little outfits and buy them expensive, cozy beds.  These animals get many presents under the tree at Christmas.
If you want to have a pet on a budget, realize that Fido is your pet, one you love very much, but he doesn't have to be spoiled like that.  Your wallet will thank you.
Owning a pet can be expensive, but there are ways to lower that cost and make pet ownership much more affordable.  We still have debt that we're working on paying down, but we wouldn't miss being pet owners.  Instead, we just monitor our costs carefully.
How about you all? What other ways do you save on pet expenses?
Share your experiences by commenting below! 
***Photo courtesy of http://www.flickr.com/photos/randysonofrobert/2639402501/