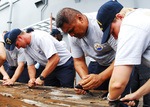 The following is a guest post. Enjoy!
Of course, a redevelopment project is always attractive for businesses who like to stay contemporary in an ever-changing market. But, there's a compelling argument for opting for refurbishment, when money is tight. Companies have to be cautious about spending cash on superfluous projects, as we head further into a double-dip recession. So how can a refurbishment help you when the chips are down in tough economic times?
Remember That You Have a Pre-Existing Asset
Instead of investing money in new projects, consider this: have you modernized and enhanced your existing asset? You'd be amazed at how effectively refurbishment can add value to your current property. It would seem a waste to pool all your money into a completely new project, when you can give your property a complete overhaul and make it more desirable. Get the most out of your properties.
Speed Is Of The Essence
Nobody wants to embark on a costly and lengthy redevelopment, if there are other viable options available. Refurbishment could have your property looking good as new, between 15% and 70% times quicker than a new build. When time is money, speed is your best friend.
Risk and Return
In this current economic climate, it's not wise to start taking giant risks. Instead, enhance what you already have. This will give you a greater balance between risk and return. There's no need to put your business in jeopardy at such a financially tumultuous time. Investing doesn't have to make you vulnerable. Already existing assets deserve your attention.
Reduce Carbon Footprint
If you go down the green route, this is a great opportunity to make your property more energy-efficient. Sustainability is a cost-saving and attractive path to take. It also makes your company look great.
A completely new build isn't exactly the most environmentally friendly option open to you. Reuse what you have by refurbishing. There's no need to widen your carbon footprint and it'll attract socially conscious tenants.
Affordability
At the end of the day, refurbishment will mean cheaper bills coming through your letterbox. At a time where your business is cutting costs, extravagant invoices aren't really what the financial doctor ordered.
Refurbishment is a more fiscally viable option. Wait until the market picks up to consider new builds. Refurbishment could save you between 10% and 75% the total price of a redevelopment. Don't over-extend your coffers.
Make Use Of Space
By refurbishing your current property, you can really open up rooms to make use of space that wasn't there before. Any tired, uneconomical buildings can be revamped into stylish, profitable, and efficient venues.
Before you begin, understand what tenants want. This will mean talking to people and getting your head around what they value the most. This could be anything from more natural light to fantastic storage options. Every property is different, so play-up its strengths. Use your time and money wisely during the recession!
Understanding the complexities of the current economic environment can help businesses advance their operations and systems, increasing workplace productivity at the same time.
***Photo courtesy of http://upload.wikimedia.org/wikipedia/commons/d/d8/