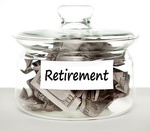 The following is a post by MPFJ staff writer, Kevin Mercadante, who is a professional personal finance blogger, and the owner of his own personal finance blog, OutOfYourRut.com. He has backgrounds in both accounting and the mortgage industry.
Millions of people hope to enjoy the benefits of early retirement.
It's opportunity to change the course of your life, from a career focus to one is based on taking on new challenges while kicking back a bit. But, early retirement is not a risk-free proposition. Below are some of the risks you could face in early retirement, plus some strategies to help you deal with them.
A major stock market decline
Since 2000, we've had two major stock market declines, so this is more than just a remote possibility. If you retire sometime in your 50's, the likelihood of a major decline or even a crash is even higher since your retirement portfolio will need to cover more years.
Diversify your investments. The best protection against a major decline in stock prices is to have at least some of your money invested outside the market. This will become even more important as you get older. If 50% of your money is in stocks, and the other 50% is in fixed income investments, and the market sustains a 50% drop, your portfolio will only lose 25% of its value (50% of the half is invested in stocks).
Keep some non-retirement investments. What can really hurt retirees in a major stock market decline are the twin siphons of falling equity values, and withdrawing money from your portfolio for living expenses. You should have some investments held outside of your primary retirement portfolio that you can tap during a major market decline. Not only will that keep you from drawing down on a declining portfolio, but it will also prevent you from having to sell off positions at the bottom of the market.
Have backup job or business skills to fall back on. At the extreme, you may need to spend some time earning a living in order to offset the losses you have taken in your portfolio, particularly if they have been severe. And you can also use employment income to help you avoid taking withdrawals from your retirement plan during the market decline.
Inflation
Inflation is a major threat to retirement, particularly for an early retiree. We all know what inflation has done over the past 30 years, now imagine that you retire at 55 and will need to provide for yourself for the next 30 years. It can get messy.
The "seek withdrawal rate". Loose theories have shown that if you withdraw no more than 4% per year of a portfolio that is invested largely in the stock market, then you'll never run out of money. This is because the average annual rate of return on stocks has been in the 8% range for the past 100 years.
Continue investing in stocks. Since inflation will always be a threat to your portfolio, you will not have the luxury of moving all or even most of your money into fixed income investments. Even as you move into your 60's and 70's, you'll need to have a substantial amount of your portfolio invested in stocks. Long-term, growth is the best remedy for inflation.
Look to inflation sensitive investments. There are certain investment classes that tend to thrive in periods of high inflation. Stocks related to energy and precious metals are the historic front-runners. These will merit consideration in the event inflation begins to heat up.
Health insurance before you're old enough for Medicare
If you retire prior to age 65, health insurance will be an issue. You'll become eligible for Medicare when you turn 65, but you'll need to provide for your own health insurance if you retire at an earlier age.
The Affordable Care Act is taking effect right now, and though the details are unclear, there is some evidence that the bill will go a long way toward helping people over 50 obtain more affordable health insurance. There is even an alleged breaking point at age 57 – that is the age at which you get the price benefit that will be paid by younger contributors to the system.
But, since we don't know yet how the Affordable Care Act will play out, you have to consider other options.
Take a catastrophic health plan. This will keep your monthly premiums to a minimum. You might take a deductible of say $10,000, which you can offset by having an equal amount of liquid assets. The important thing is that you will have coverage for medical disasters that might threaten your financial position.
Take a part-time job with health insurance coverage. There are companies (Starbucks and Target among them) that offer health insurance for part-time employees. But another benefit of the Affordable Care Act is that under the law, employers will have to provide health insurance coverage for any employee who works a minimum of 30 hours per week. This is not a perfect solution to the health insurance dilemma, but it can be an option if maintaining a private plan will be too expensive.
How about you all? If you are planning for early retirement, have you considered any of the above risks? If so, what are you doing to address them?
Share your experiences by commenting below! 
***Photo courtesy of http://www.flickr.com/photos/76657755@N04/7027606047/