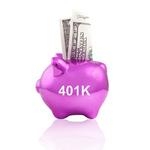 The following is a post by MPFJ staff writer, Toi Williams, who is a personal finance blogger over at Fine Tuned Finances. She has backgrounds in personal finance, sales, and real estate.
Over the past decades, the defined-benefit pension plan has been replaced with the 401k plan as the dominant retirement plan saving vehicle for most workers in the United States.
While 401k plans give the workers more control over their retirement income by allowing workers to save more for retirement and decide which investments to include in their plans, there are a number of issues that have arisen with these plans over the years that workers should be aware of. Some of these issues require additional actions to compensate for the issue while other issues should be avoided completely if possible.
Here are the issues that you should be aware of regarding 401k plans and how to compensate for them:
Long Time Horizons For Investments
One of the biggest issues found with 401k plans is that there are extremely long time horizons for your investments, making it very difficult to choose the best investments for your plan. Developing a long-term strategic asset allocation based on a time horizon that will typically exceed a decade in length is complicated enough, but adding in the fact that the portfolio managers and the funds available in the plan are likely to change during that time makes smart investing even harder. You will have to find the balance between the shorter-term tenure of the portfolio managers and the longer-term investment holding period.
Many investors use index funds to make that balance. However, if there are not many index funds offered in your 401(k) plan, you have a couple of other options that can be used to address this problem. One option is to develop a tactical asset allocation contingency plan that can be put into place in the event one of your portfolio managers relinquish responsibility. Another option is to open a traditional IRA or Roth IRA that has index fund strategies that are not available in your 401k plan and contribute up to the legal limit.
Flaws In The Structure Of The Plans
There are a number of structural flaws in 401k plans that can be devastating to the unwary investor. Many people invest in their 401k accounts using the dollar cost averaging methodology, meaning that they buy a fixed dollar amount of a particular investment on a regular schedule regardless of the share price, which they believe will allow them to prudently build their retirement nest egg over time. This is a good method to use when the market is trending up, but can cause you to lose a significant amount of money when the market is trending down.
Instead of using an automatic investment method like dollar cost averaging, take control of your investing by directing all of your retirement plan contributions into a conservative investment option. Then, you can make a strategic investment allocation of the cash that you have accumulated into a promising fund offered in your 401k plan when the time is right. The investments chosen for your 401k plan are your responsibility, so you should be active in choosing how to allocate your money into different investment choices.
Fees And Administrative Charges
Many employer-sponsored 401k plans are expensive. Because of the number of compliance issues that have to be monitored, it is important for the plans to be administered correctly and that can cost a lot of money. The plan administrator is required to conduct a number of ongoing service and administration functions and must provide plan participants with a variety of education and communication services. To pay for these services, many plan participants are charged participant fees, supplemental asset based charges, and other itemized costs for services.
Developing a tailored retirement plan strategy can help you mitigate some of the costs of your 401k plan. Instead of using your 401k as your primary retirement savings vehicle, only contribute to the plan up to the point where you receive 100% of your employer's matching contribution. Then, you can open a low-cost IRA with a brokerage firm or through a local bank in your area and contribute up to your legal limit. In nearly all cases, the various investment options available through an IRA will be much less expensive than the options available through an employer-sponsored 401k plan.
Recordkeeping Issues
Recordkeeping for the assets accumulated in your 401k plan is a labor-intensive endeavor, even in today's technological age. In most cases, the records have been generated for many years and may contain errors and omissions due to the mistakes of the people tasked with compiling these records. Typically, retirement plan providers will provide only what the law requires in your statements, and what is required by law may not necessarily be what you need to make an accurate financial assessment of your investment strategy.
If your retirement plan provider does not provide the information you need in an investor-friendly statement, you may want to take care of your recordkeeping yourself. The simplest way to do this is to build a spreadsheet that you can use to track your information. To create your spreadsheet, you can use the important information from your monthly or quarterly statements, such as your beginning account balance, the amount contributed to your retirement plan account by you and your employer, the amount of any transfers or withdrawals made during the period, the amount of any gains or losses experienced and the ending balance of the account. After inputting the information, you can manually calculate your annualized rate of return. This will help you see whether you are on track in terms of meeting your long-term financial goals.
How about you all? What issues have you run into with your 401k plan? What have you done to fix or compensate for them?
Share your experiences by commenting below! 
Picture: http://www.flickr.com/photos/76657755@N04/7067724529/