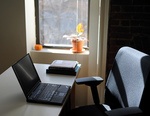 The following post is by MPFJ staff writer, Shondell of Call Me What You Want, Even Cheap. She blogs about her recent car loan and mortgage pay off and a whole bunch more. Check out her blog right here.
What does the future hold for the traditional 9 to 5 desk-bound job?
It's possible that things are not going to be same, according to a recent survey conducted jointly by Millennial Branding, a Gen Y consulting firm, and oDesk, a popular online work platform. The survey done on 3,200 freelancers worldwide revealed that 72% of them want to leave their regular job to hit the entrepreneurial road and 60% said they intend to do so within a year or two.
The number one reason given by the respondents for wanting to go out on their own is the desire to have the freedom to work whenever and wherever they want. To prove their point, a whopping 89% said that they find a corporate 9 to 5 job limiting and that they prefer to work on their own. This signals a major shift from a decade ago when a desk job in a corporate office was viewed as a matter of prestige and lifelong security.
The survey also revealed that the word "entrepreneur" has acquired an expanded definition. To the majority of those interviewed, the word no longer means "someone who has started a company". Rather, it's a mindset that sets one apart from those with a 9 to 5 mentality. According to this new definition, freelancing is a kind of entrepreneurship although all freelancers don't necessarily start a company. In fact, everyone who makes his/her living through legal means without becoming an "employee" can be called an entrepreneur.
Another big shift is in the way that entrepreneurship has come to be viewed, according to the survey. It was revealed that a full 57% of the respondents representing the Millennial Generation (comprising those who are between 19 and 30 years old) see entrepreneurship as "entirely good". This is a 10% more than the older generation. Not only that, 58% of freelancers classified themselves as entrepreneurs. The implication of this should not be ignored by companies.
It doesn't mean that everyone who said that they will quit their job will do so and become entrepreneurs. It also doesn't mean that the traditional 9 to 5 job is on the way out. What it means is that more young people are willing to make their living as freelancers than before. Freelancing is no longer seen as an option for the "jobless" but a profitable and respectable way to make a living.
The result of the survey has one big implication, which is more young people today are likely to begin their career as freelancers and then go on to start their own companies than ever before. If you are a young graduate or employed, then there is a high chance that one day you will opt to become an entrepreneur. It is never too early to start developing the mindset of one to prepare yourself for the day when it eventually comes.
Starting your business is no piece of cake. If you start without proper planning and adequate preparation, then the probability of failure far outweighs the probability of success. Therefore, you should not leave your current job until your part-time gig starts generating enough income to pay the bills and show clear signs of growth.
Here are some tips on how to prepare yourself for the life of an entrepreneur:
• Save every penny you can: Money is the key to success in any business. When you finally leave your job to devote fulltime to your business, you should have adequate savings to last at least six months. You should also have enough money to weather difficulties arising from non-payment by your clients, your business partner possibly ditching you and lawsuits by competitors or customers. So start saving every penny you can and stash the money in a bank account that is not easily accessible so that you will not be tempted to use it.
• Purchase benefits: When you are self-employed, purchase key benefits like life and disability insurance, and health insurance. In the event that a misfortune strikes you or your business, these benefits come in very handy.
• Pay all your debts: Running a business is hard enough; you don't want to be saddled down by previous debts. So clear all your debts before taking the plunge. To minimize the chance of acquiring new debts, you can stop using your credit cards and spending money on things that are not absolutely necessary.
Despite the apparent charm of freelancing and entrepreneurship, leaving the security of your job is not an easy thing to do, especially if it pays you well. When you are on your own, every step of the way is fraught with risks. If you are not fully prepared, you may end up losing everything you have. The only way that you can cushion yourself from possible disasters is by being financially sound.
How about you all? Are you planning on eventually quitting your 9-5? 
If you were to make the change in the future, what would you do financially to prepare for the switch?
Share your experiences by commenting below!
***Photo courtesy of Daniel Rashid.