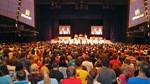 The following is a guest post. Enjoy! 
Organizing a business conference is a high-pressure task, and we're sure you're already expecting the pre-launch-day jitters/nightmares. Remember not to take all the tasks onto your shoulders – spread around the responsibility to ease the burden. And try to get some rest – you'll need it!
Your Venue
The venue should reflect what your company is all about. For example, if you're a very modern business, you might want to choose a posh hotel with state-of-the-art interior design. Whichever venue tickles your fancy, make sure that it has bags of space.
Transport
If your venue is out in the middle of nowhere, choose somewhere with suitable transport links and hand out detailed directions in advance, so no-one gets lost. There should also be ample parking for guests.
Internet
Getting together the best and the brightest in business is no mean feat, but you better make sure they have a reliable Wi-Fi connection, otherwise you may have a mutiny on your hands. Also, if any of your presentations rely on online sources, let's not embarrass ourselves with a poor internet signal.
Technology
To hold everyone's attention, you're going to need technology on your side. Your venue should either come with all the gadgets you need to hold a great conference or you need to be able to install them yourself. Either way, make sure presenters have microphones and projectors to work with.
Climate
The environment usually makes or breaks a conference. If everyone is boiling or freezing cold, they won't be paying much attention to the presentation and they will associate negative feelings with your company. Keep everyone comfy with climate control and fantastic seating.
Refreshments
Most businesses run on caffeine, so always have a platform full of tea and coffee for your guests. Also, keep everyone in good supply of water and snacks. We don't want cranky business people at the conference.
Man The Ship
Get as many employees as you can muster to help run the conference on the day. You'll be amazed at how many pairs of hands you'll need. If you don't have enough members of staff, try enlisting work experience students to help you out.
Stagger The Day
Don't hit the conference guests with a wall of presentations. Allow them regular toilet, tea, and leg-stretching breaks. Even if you're keeping to a tight schedule, the guests' comfort should come first.
Be Interesting
The last thing you want to do is bore everyone senseless. Keep things interesting by letting your company's personality shine through. When providing character for a business conference, you need to deliver an experience that will stick in everyone's minds. Be different to everyone else and stand out from the crowd.
Don't Make Assumptions
Don't assume that everyone will arrive fully prepared. Have a stash of notebooks, pens, refreshments, and cards ready to hand out to your guests. They'll be thankful if they run out of ink or they miss breakfast!
How about you all? Have you ever organized a conference for your personal hobbies or full time job? How did it go? What lessons did you learn?
Share your experiences by commenting below! 
***Photo courtesy of  http://upload.wikimedia.org/wikipedia/commons/7/73/Chicago_Campus_Conference.JPG