If you've been reading MPFJ for a while, you've probably heard me mention before that I am not a big advocate of people investing large amounts of their own money in active management, either through the buying and selling of individual stocks yourself, following the advice of a newsletter, with the help of a "professional" investment advisor, or through an actively managed mutual fund.
Why do I shy away from large investments in individual stocks? Simple. Because the track record of individuals (even professionals) selecting individual stocks does not show proof positive that it is worth the cost involved. In fact, 70% of the stock professionals fail to beat out the market, so why would I think I can do this consistently?
Having said that, I do, however, think that analyzing individual stocks for investing using smaller amounts of play money is a fascinating exercise, and it's something that I would like to believe in. I just haven't seen proof that it can be done consistently in an efficient manner, but maybe someone will prove me wrong one day and cause me to switch from my current approach of passive investing using index mutual funds and ETFs.
Anyhow, recently, I received an email from a blog reader asking about how I analyze an individual penny stock and also what my thoughts were on the specific stock, PLC Medical Systems, Inc. (OTCQB symbol: PLCSF). Since other readers may also be curious of what approach I take to analyze a penny stock for potential investment (or not – using only very small amounts of play money of course!), I figured this would be a good topic for a blog post and to also answer the reader's question at the same time.


Step 1 – 30,000 Foot Elevation View of the Company and Long-Term Price Performance
To get a very high level overview of the company, I first turn to Google, Reuters, and/or Yahoo Finance to simply look up the ticker symbol.
On these sites, I specifically am looking at 3 things – 1) the long-term price history, 2) the financials, and 3) the company overview/description. I also like to use Yahoo Finance for all of my historical pricing data when performing historical backtests.
Shown below are these three items for the stock that the reader wanted me to take a look at, PLCSF. From these screens, I can conclude the following things for this specific stock:
Because of the low stock price per share (around 9-10 cents per share), low institutional ownership, low market cap (only $3.39 million, and horrible looking financials (margins and ROA in the negative hundred to thousands of percent range), this stock is an extremely speculative play, with a very high level of risk involved. 
In reading the general description provided, it is easy enough for me to understand what PLC Medical Systems does and what product(s) they offer as a medical device company. 
The company has been around for a long time now. In reading the company history, it was started back in 1987. 

From what I could tell, the company went public quite a long time ago (~10-20 years). However, it is hard to find readily available historical pricing data for this stock going back prior to 2008. I'm not sure if this is simply due to the fact that it's a penny stock and isn't covered as closely by Yahoo Finance and Google Finance, or if something else happened internally with the company between 2000-2008 that took the company public to private and then back public more recently. This will be something I would want to check on also. 
In addition, if the company has in fact been around so long, it makes me wonder why is their stock still only worth less than 10 cents per share?
In looking at the price history graph below, the stock price has decreased 200-300% since 2008. During these 5 years or so, there have been 3 sharp downturns and 2 sharp upturns on the stock. The first downturn between 2008-2009 was likely associated with the overall market. However, I want to investigate why the company couldn't sustain the 2 upward runs that it had in 2009 and again in 2012.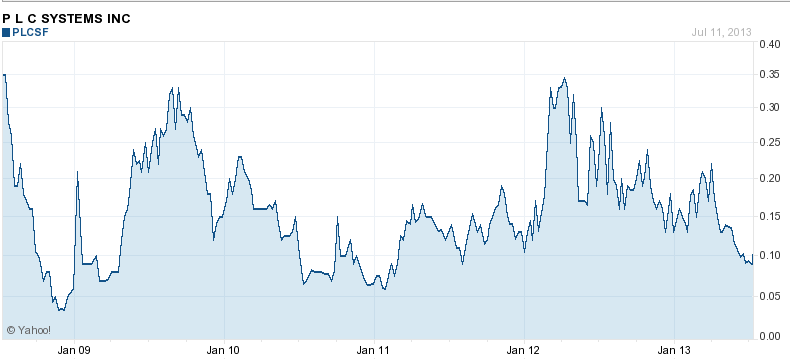 PLC Systems Long Term Stock Price History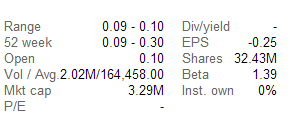 PLC Systems Financials

PLC Systems Company Overview/Description
Step 2 – See How the Stock Fits Within Phil Town's Rule # 1 Investing Analysis System
As I mentioned previously in my 6 month test run of Phil Town's Rule # 1 investing system (which showed that its usage did not deliver a market beating return due to the trading commissions involved), I do not believe that Phil's system is the "magic formula" for beating the market. However, Phil's approach does involve some very prudent technical and fundamental analysis which I feel can give me a deeper understanding of how the company would function as a potential investment.
Listed below is how the stock, PLC stacks up against Phil's investing criteria:
Phil Town Criteria # 1 – Only invest in companies that you would be proud to own, trade for > $1 per share, and have > 500,000 average daily trading volume. The type of companies you should invest in should be at the intersection of what you love to do, what you are good at doing, and what you can earn money doing.

PLC Systems is trading for much less than $1 per share (9-10 cents per share) and only has an average daily trading volume of 164,000 shares, which means that it is not very liquid and also can swing many percentage points each trading day. In  regards to these metrics, PLC would not qualify under Phil Town's standards. 
Since PLC Systems Inc is involved in the medical field, I would be interested in owning the stock.

Phil Town Criteria # 2 – Identify if the company has a "moat" – What he explains we are looking for here is >10% annual growth rate over 10 years for the following things: 1) Return on investment capital, 2) sales revenue, 3) EPS growth, 4) Equity per share, and 5) free cash flow growth. We also make sure that the company has enough current free cash flow to be able to pay back it's long-term debt in 3 years or less.

A great place to get all of this 10 year historical data in one place is Stock2Own.com. If you type in the ticker symbol of the stock you'd like to analyze in the box at the top, it will then automatically display the 10 year data for these ratios. These can be accessed by clicking the Annual Statements option on the left sidebar. This data for the PLCSF stock is shown in the figure below:
For PLCSF, unfortunately, the financial calculations above do not look very good because of all of the negative values it is carrying, and as such, are definitely NOT in line with Phil Town's criteria. Return on investment capital, sales revenue, EPS, Equity per share, and free cash flow growth rates are all either deeply negative or zero.

Furthermore, the company has negative free cash flow, but at the same time, they have no long-term debt.

Even though PLC does not meet the 10 % / 10 year average growth rate criteria set forth in the Phil Town method, this is not very surprising because as I mentioned above, it is expected to be a more speculative play (as a very cheap penny stock), not a rock solid, long term investment.
Because of this, we must also examine the actual financial figures shown in the bar graph above over the past ten years a little more in-depth.
As you can clearly see in the chart above, many of the numbers are negative, which is definitely a bad thing. Furthermore, if you examine the CHANGE TRENDS closely from left to right, it can be seen that the company does not really seem to be heading in the right direction since EPS, Book Value Per Share, and Free Cash Flow have all been steadily decreasing for the past 10 years or so. Although Sales and ROE have started to rebound only recently in the past 2-3 years, in my opinion, this does not take away the negative trends seen with EPS, FCF, and BVPS mentioned above.
Phil Town Criteria # 3 – Calculate the appropriate sticker price, or what the stock should be selling at given it's current EPS and EPS growth rate. We then calculate the Margin of Safety price (MOS) to make sure that we buy the stock at a significant enough (50%) discount to shield ourselves from mistakes and be able to achieve higher returns.

Fortunately, the tool listed above, Stock2Own.com also has a handy feature that automatically calculates the sticker price (Value Price) and Margin of Safety (MOS) price.
To view this in Stock2Own, simply click the Value Price option in the left sidebar.
Unfortunately, for PLC, since their EPS is negative, a MOS/Value Price cannot be calculated, so we don't have this gauging point to base our decisions off of.

Phil Town Criteria # 4 – Use technical analysis tools to make sure you are either buying or selling at the right time. Phil recommends using three technical tools to make sure of this – 1) 8-17-9 MACD indicator, 2) 14K, 5D Slow Stochastic Oscillator, and the 3) 10-day moving average. Phil recommends that you only buy when all 3 of the tech. indicators say "buy."

To generate these three graphs for a stock analysis, I again use Google Finance. To set it up, you simply click, "Technicals," at the bottom of any Google Finance stock price history window, and fill out the fields as shown in the below screenshot:
Once you've set up the indicators, view the 3 month history graphs for the stock you're analyzing. Three months seems to be a good time period in order to clearly see whether the technical indicators are saying "buy" or "sell."
For analyzing PLC, we'll go through the technical indicators one by one. First, the 10 day simple moving average, as shown below (red line), compared to the actual stock price (blue line). With the simple moving average, a "buy" signal is indicated by when the stock price line crosses above the moving average. In the case of PLC, the stock price is currently above the moving average, indicating that we would want to buy right now.

PLC's 14K, 5D Slow Stochastic Oscillator is shown below. With stochastic, the K line (blue) is the "buy" line, and the D line (red) is the "sell" line. With this technical indicator, a "buy" signal is indicated by when the buy/K line crosses above the sell/D. In the case of PLC, the K line is currently above the D line, indicating that we would want to buy right now.

PLC's 8-17-9 MACD indicator is shown below. With this technical indicator, a "buy" signal is indicated by when the MACD line crosses above the EMA line. In the case of PLC, the MACD appears to be above the EMA, indicating that we would want to buy right now.

Step 3 – Qualitative Research on the Company, the Management (CEO Especially), Current News, and That No Insider Selling is Happening
As the title above suggests, the next step I take to analyze a company is to perform some qualitative research about what they do and how they do it. This is also a good time to research any questions that have popped up from the more quantitative investigations discussed above.
Listed below is how I tackle this step, using the stock, PLC, as an example:
Management Analysis (done through Google Finance and Reuters.com) – The current CEO of PLC, Mark R. Tauscher, joined the company in 2000, bringing 20 years or sales/marketing (non-technical) experience in the medical device industry to the company. I performed an in-depth search around the Internet on Mark Tauscher and how he's been doing as CEO of PLC Systems. I also reviewed several interviews he has done.

Although he seems to be doing a "sufficient" job as CEO, I could not find anything mentioning that he has had a STELLAR impact on PLC or that he was a superb leader. Because of this, it makes me think that he isn't the magnificent officer that would ideally be running the company with big hairy audacious goals!

Insider Trading (done through company website or MSN Money)  – In looking at the recent transactions of company insiders at PLC, it appears that there has been no activity (buying or selling) since several of the officers purchased shares back in 2009. In my opinion, this is probably not the best sign, since it may mean that the officers aren't placing their own money in their personal efforts.

It was interesting to read that recently, 3 large institutional investors have parked a great deal of money in PLC Systems, signifying that they are betting on it for the future.

Additional Clarity About What the Company Does/Its Current Position (find the "news" columns on Reuters, Yahoo/Google Finance, etc after you bring up the chart for a specific stock) – On the PLC company website, I found a presentation from 2013 and a company fact-sheet that enabled me to learn a little more depth about what PLC does as well as what milestones and goals it is trying to accomplish.

The company has only 1 product – RenalGuard.
During heart procedures, a contrast dye is used to enable the doctor to see what he or she is doing. In 10-20% of the people having these procedures, they are at risk to developing toxicity to dyes.
RenalGuard works to flush out these dyes from the patient's system to prevent this toxicity from happening.
In my opinion, this sounds like a great product – fairly easy to understand, answers an unmet need, and doesn't really have any competition.
The future success of the stock depends on receiving FDA approval for RenalGuard use in the USA. However, it looks promising that this will be obtained.

Lastly, as I mentioned in my high level review, I had several questions about PLC's stock price performance history. 

On Reuters.com, I was lucky to find a more-lengthy stock price history for PLC Medical Systems (shown in the figure below).
As you can see, from 1995-1996, the stock price ran up to the $30 per share range, which is quite incredible!
And, ever since then, it has trickled along in the penny stock range.
Unfortunately, despite extensive searching, I couldn't find any articles or interviews explaining why PLC has been unable to increase it's stock price during this 20 year period or so. Essentially, I wanted to know, "What makes the company different now that it is worth investing in compared to before when nothing happened?"
To me, this is a fairly big red flag. It makes me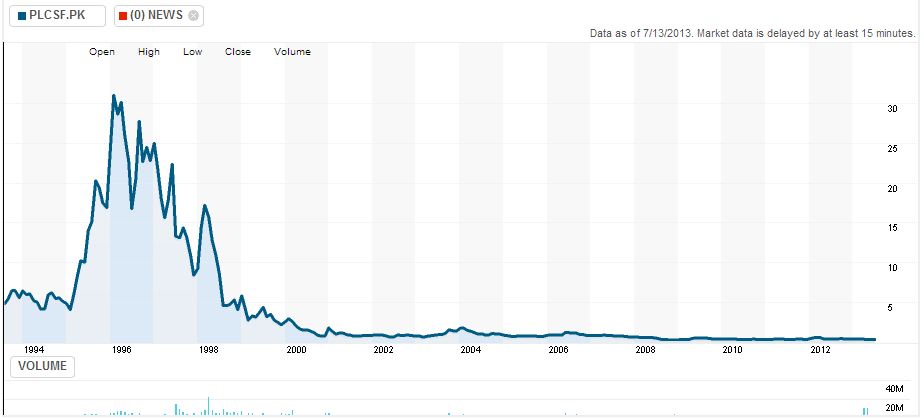 Step 4 – Review and Decision to Buy or Not
Having now completed all of the analysis, it's now time to bring it all together, summarize the findings, and make a decision for if I would buy a specific stock using a very small amount of play money or not.
Using our example of PLC Systems, here are my conclusions:
Seems like an understandable and good business model (now that I have performed a little more analysis).
Even though the company only has one product, it answers a good unmet need and would have fairly little competition. Furthermore, it seems promising that it will receive FDA approval on the trial being conducted eventually.
All 3 of the technical indicators dictate that NOW is a good time to buy shares of PLC.

Even though the company's product has potential, the CEO does not seem to be a "superstar." I also was not satisfied with finding a compelling reason to invest in PLC Systems now compared to their past history when their stock has not gone anywhere since the 1990's.

Since the long-term financials are not very good and/or negative, the investment involves a lot of risk. In addition, it is not promising to see that most of the recent trends are still pointing downwards for PLC.

Because of the items in red above, my final conclusion for this play is to NOT buy PLC Systems, symbol PLCSF right now.

It may become a good play in the future, but until the financials are firmed up and the company story is more logical/compelling, I would hold off.
How about you all? What is your approach to analyzing individual penny stocks for potential investment? How much of your money do you allocate to individual stocks vs. mutual funds?

Share your experiences by commenting below!