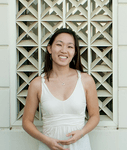 Today, in the ongoing Reader Profile Series, we're getting to know MPFJ.com reader and commenter, Christine, from the site, The Pursuit of Green. Let's all give Christine a big round of applause for sharing her life with us and listen to her story. Enjoy!

Also, if you're interested in sharing your own financial story/journey with us in a reader profile of your own, just shoot me a quick email, and we can get the ball rolling!  
1. Please Tell Everyone a Little Bit About Yourself (Background, Education, Family Situation, etc).
Hi, I'm Christine! I'm an Ohioan who was born and raised there, then transplanted to Los Angeles after college. My parents are considered middle class now, but that wasn't always the case. Growing up, I learned how to be frugal and make the best of what you have. It's helped me a lot after I moved out to Los Angeles where the cost of living and rent is so much higher than in Ohio.
I went to school for digital design, which encompasses basically anything you do on a computer. I've been building up my career and last year decided to become self-employed.
Along the way, I started learning about personal finance to figure out the best way to manage the income I was earning. I also focused my time on doing more to be earth-friendly, minimizing my impact on the earth with every step I take. These two things have melded in the last few years as I found that a lot of times they go hand in hand. Many times I'll do something to be earth-friendly and find that it saves money, and vice versa.
Earlier this year, I had a big party otherwise known as a wedding. It was a challenge for sure to keep from spending too much!
2. Describe Your Current Financial Situation (Who Works in Your Family, How Your Income Is, Your Expenses, etc).
My income has been fluctuating ever since I became self-employed. In my industry, the holidays are extremely slow times. I've had a few months where I haven't found any work and months where I'm extremely busy. It's definitely an eye opener to be your own boss. My hours are flexible, but there's always that unknown of whether or not I'll have work. I've also learned a lot in the last year about taxes. Paying your own taxes really does make you aware of how hard you work and how much goes toward the government.
Luckily, my husband has a steady full-time job. It helps to offset the unsteady aspect of self-employment and gives us assurance. We've worked out our finances so that we are able to live well under his income only. Any income I bring in every month is extra!
We've cut out a lot of expenses to reach our goals. That includes a lot of eating out. We both love food and that is one of the hardest expenses we've had to cut. Restaurants simply add up too much. We've also taken other measures such as canceling our cable, cutting his hair at home, and buying less clothing and unnecessary items. We've kept some of the cheaper items as indulgences; for example, my chocolate and the occasional dinner out at a reasonably priced place.
3. What Are the Current Financial Challenges You Are Facing (Saving, Paying Off Debt, Student Loans, Merging Finances After Being Married, etc)?
We're still figuring out the finer points of merging finances. We have the same goals overall, but the way we get there is a bit different for both of us. My husband is in favor of throwing everything towards one goal. I like a more balanced approach where we have one main goal but also work towards longer term goals. We're both learning to talk more about our financial goals together and compromise on how to get there.
Currently, we're really trying to focus on saving up for a down payment on a house. We live in Los Angeles and the house prices here are insane. Just saving up for a down payment itself is pretty daunting, and we've been plugging away at it for two years now. Of course, buying a house will be another challenge to come!
Another goal we are working towards is making ourselves as ready as possible to start a family. Buying our own home is one thing that helps us there. The other is living off one income.
4. What Are Your Plans for the Future (Retire Early, Build Your Career, etc)?
It would be wonderful to be able to retire early! It's something that I dream about but am not sure if it will happen. I'm steadily saving for retirement, but it's hard to say anything. Most likely I will "retire," but keep working in some form or another because I enjoy it.
Currently I am trying to build up my career so that I have a good portfolio where I can be self-employed with steady work. The traditional work place is definitely changing, so I am trying to be more flexible in the way I think about work. I mostly work on a computer and information is exchanged online, so it's entirely possible to be self-employed doing this kind of job.
Eventually if everything goes well, then we'll have fully funded retirement accounts, savings, a paid-off house, paid-off cars, and investments that create spending money.
5. What's Your Best Piece(s) of Financial Advice and/or Your General Philosophy on Personal Finances?
While there are many financial goals that you should be working towards, remember to sit back and enjoy the present. I want to be happy when I retire, but I also want to be able to live life when I am young enough to not have creaky bones. The things you do today don't have to be expensive or lavish, but it can still be fun and enjoyable. Live life in the present, but plan for the future. It's all a matter of keeping everything in balance.