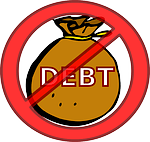 The following is a guest post. Enjoy! 
If you are trying to get your finances on the right track because you've struggled with some mistakes in the past, one of the first steps you want to take is to tackle your outstanding debt. Whether you racked up debt from using credit cards, buying a car, or borrowing from family members, there are a number of steps you can take to start reducing the amount you owe.
Get organized. The key first step to debt reduction is knowing how much you owe and to whom you owe it. Track down all of the paperwork or online access you need and neatly list out the outstanding balance, minimum payment and interest rate for each of your loans. Not only will this give you clarity about your financial situation, it will also help you develop a plan for which debt to attack first.
Reduce your interest rates. Whenever you are paying down debt, you want as much of your money as possible going towards reducing principle. Reducing the interest rates on your loans is one way to make sure that more of your payment is going towards principal rather than interest. Call up each of your lenders and see if you can negotiate a lower rate on your loans. This can be an especially useful tactic when you have credit card debt or high interest loans. If you can't negotiate with your lenders, using a loan with a lower interest rate to pay off your higher interest rate loans is another way to reduce your overall interest rate.
Decide which debt to attack first. The general rule of thumb is to start paying as much as you can towards one debt and then, once that is paid off, move onto the next loan. The first loan you attack should either be the one with the smallest balance or the one with the highest rate. By paying extra on the loan with the highest interest rate, you are getting the best return on your money as you are ridding yourself of high-interest debt. However, if you start with the loan with the smallest balance, you could be motivated by the accomplishment of reducing the number of loans you have which will help make your commitment to paying off all of your debts stick.
Cut expenses. Now you want to find the extra money to throw at these debts. Look everywhere you can to cut expenses – give up cable, start packing your lunch, cut back on eating out – and instead of letting your savings slip through to other spending, throw every cent at your debt repayment.
How about you all? What was the first step you took to start paying off your debt?
Share your experiences by commenting below! 
***Photo courtesy of http://pixabay.com/p-37557/?no_redirect