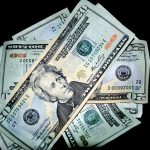 The following post is by MPFJ staff writer, Melissa Batai.  Melissa is a freelance writer who covers topics ranging from personal finance to business to organics to food.  She blogs at Mom's Plans where she shares her family's journey to healthier living and paying down debt.
Times have changed from when I was little.
When I was young, people in my family thought that the good jobs were factory jobs.  Those jobs paid a fair wage, had good benefits, and were secure.  Or so they thought. But then, my dad's factory union went on strike, and scab workers (or the more politically correct "strikeworkers") were brought in.  He was unemployed for over two years before he found another factory job. Those were tough times.
Now, thankfully, times are different.  One of the best differences is that the Internet makes it easy for many people to have a side gig or even create their own business.  If my parents would have had a side income stream when he was laid off, those two years might not have been so difficult.
As a parent, one of the things I want to teach my kids is how to create a side gig and make it successful.  My son is only 9, but I've already started training him about business.  When he's ready for a part-time job in his teens, I don't want him to go to McDonald's like I did when I was young.  Instead, I want to see him create his own business.
If you want the same for your child, here are some ways to get started:
1.  Let him sell something at a garage sale.
Do you have a garage sale every year or two?  Let your tween start selling something such as refreshments to learn about profits, pricing, and marketing.
We had a garage sale this year and bought two dozen donuts for $12 beforehand.  My son sold them for $1 apiece and sold quite a few of them.  We taught him that he would have to sell a dozen before he recouped his initial investment. He sold about 18 but was left with 6 as the morning wore on.  He cut the price to 75 cents and then 50 cents and managed to sell them all. He also learned that if he nicely asked people when they walked up, they were more likely to buy than if he just sat there quietly. In that one morning, he got to practice his math skills, learn about sales and marketing as well as how to turn a profit.
2.  Let her look for opportunities around the neighborhood. 
Chances are there are plenty of opportunities for your tween or young teen around the neighborhood.  Perhaps a neighbor needs a babysitter or a working couple needs someone to let out their dog during the day.
One of the best skills an entrepreneur can have is to recognize a need that has to be filled.  A savvy entrepreneur can step in and fill that need, creating a job for herself.  That's what you want to teach your child as she looks for jobs around the neighborhood.
3.  Let him cash in on what he's good at. 
Is your son a math whiz?  If so, maybe he could start tutoring younger students or even those in his class who are at a lower level.
If he's good at web site creation, why not spread the word among family and friends?  Chances are there are one or more people you know who need some help with a website.  This can give him experience and word of mouth referrals that can help his business grow.
As a parent, one of my jobs is to teach my child that often the most stable job out there is one that you create yourself when you recognize a need that has to be filled.  If you teach your child to think like an entrepreneur, hopefully she will be able to create her own job. . .and her own success.
How about you all? How else do you develop the entrepreneurial spirit in your child?
Share your experiences by commenting below!
***Photo courtesy of http://www.flickr.com/photos/allisonjohnstonn/