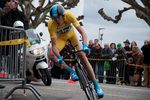 On June 25th, I announced the coming arrival of the 3rd annual Tour de Personal Finance with an introductory post laying out several goals I had for the event.
Over one month later, the 2013 Debt Free Direct Tour de Personal Finance has ended, a winner has been crowned, $1,400 in prizes has been dished out, and I can decisively say that the 2013 edition of the event has been a great success! The success could not have been possible without tremendous support from the participants and readers/voters. A big round of applause is in order for all of you! **Cheers fill the streets!**
We greatly appreciate Debt Free Direct for being the title partner of the 2013 event and for all their great support. If you're interested in learning more about the help and advice Debt Free Direct offers to people in debt or their money-saving tips on how to prevent building up debt, click here.
Awards Ceremony and Charity Selections
In the Tour de France, there are 4 main winners' jerseys that are fiercely contested. These include the Yellow Jersey (overall winner), Green Jersey (best sprinter), Polka-Dot Jersey (King of the Mountains), and White Jersey (best-placed young cyclist).
As such, along with crowning the overall winner with the Yellow Jersey and the 2nd and 3rd podium placements, the Tour de Personal Finance will recognize 3 additional winners, as described below:
Yellow Jersey – Winner of overall competition. Article voted "best" by readers. Way to go!

The Yellow Jersey winner for 2013 is John from Frugal Rules with his article entitled, "Is it Time to Get Out of the Stock Market?" (from the Savings / Investing group of articles). A brief description of the article is shown below:

"Whenever we see highs or lows in the stock market we see an increasing number of talking heads telling us what we should do with our portfolios. The problem with listening to them is they have no idea of your personal situation. That said, these are great times to analyze your portfolio while remembering the importance of maintaining a long-term view of your investing."

As the Yellow Jersey winner, John received $100 cash via Paypal. Thanks so much for all your hard-work, John, throughout the month of July.

Yellow Jersey Charity Selection – As the Yellow Jersey winner, John also decides which charity he wants to have receive the $700 charity give back amount.

John elected for the

$700 to be donated to the

Trisomy 18 Foundation in memory of his son, Isaac Joseph Schmoll, who they lost to the Trisomy 18 genetic disorder

. 
This disease is caused by the presence of an extra 18th chromosome (so 3 instead of the normal 2).
It is my honor to be able to donate to a charity/cause that is very near and dear to John and his family's hearts. Great stuff! 🙂
In addition to this, I donated an extra $200 to the National Multiple Sclerosis Society for this event.

Podium Placings – The 2nd and 3rd placed articles that are on the podium with John are shown below. Congrats for making it so far in to the competition!

2nd Place – Crystal from Budgeting in the Fun Stuff with her article entitled, "My Husband is Now WORKING FROM HOME WITH ME!!!" A short description of his article is shown below: 

"It's important to work out a plan before leaping into self-employment.  It's even more important when that entrepreneurial spirit hits both of the income earners of the household.  But after running the numbers, looking at worst case scenarios, and mulling the idea over…it was time for us to put on our big girl panties and jump in.     Here's the post about the excitement and fear when we officially put all of our financial eggs in one basket and happily skipped away into the unknown…"
At first, I wasn't planning on doing any prizes for the 2nd place podium finisher. However, Crystal did such an inspirational job in the event, that I felt something was due to honor that excellent performance.
As such, as the 2nd place podium finisher, I donated $200 to the charity chosen by Crystal (the Houston SPCA). In addition, she matched this contribution with another $200, so

$400 total went to the Houston SPCA

to help their mission to save pet lives. Great stuff! 

3rd Place – Boomer and Echo with their article entitled, "How My Retirement Plans Got Derailed – Big Time!"  A brief description is as follows:

"I left my secure job at a major bank to open a small retail store with my husband.  We struggled along for three years, using up almost all our savings and making the terrible mistake of financing the business with our many credit cards. Eventually we gave up and closed the store.  With no money and over $100,000 in credit card debt, we sank to our lowest point of despair."

A hearty applause to all our podium finishers!!! 🙂

White Jersey – Goes to highest placing, new blog (blog that was started less than one year ago).

The White Jersey winner for 2013 is Matt Becker from Mom and Dad Money. His article ("My Life Insurance Mistake") made it to the 4th Round of the competition, which is NO SMALL FEAT. Nice work Matt! I'm sure we'll see some great things from in the future!

Green Jersey – Goes to the blog whose article wins a single stage "the fastest." In other words, the Green Jersey goes to the blog who wins a single stage by the biggest margin against their competitor.

The Green Jersey winner for 2013 is David from Marotta on Money. His article entitled, "How Much Should I Save Toward Retirement If I'm Starting Late?," won one of the Stages in which it was competing by 12 votes over his competitor! Quite impressive! Nice work David! The sprinters of the Tour de France (such as Andre Greipel and Mark Cavendish) would be proud of you! Your next goal will have to be to win 6 stages like Cavendish did in the 2011 Tour de France! 

Polka-Dot Jersey – Goes to the best placing blog article entered which details information on "climbing" out of the debt "mountain".
Race Recap
The 2013 Debt Free Direct Tour de Personal Finance began on June 26th (a few days before the start of the first Stage of the 2013 Tour de France) with a full complement of 64 participants/blogs (up from 52 in 2012!).
In order to start and finish in the same approximate time period as the actual Tour de France, the competition proceeded quickly through the first round with 8 blogs (4 intermediate sprints) per day. Each sprint was given 3 days for voting to occur throughout the competition.
You can view the complete story of how each Stage played out by viewing the 2013 Debt Free Direct Tour de PF Bracket.
When all was said and done, the ~ 1 month-long event featured the following statistics:
22 total Stages
36 blog posts, up from 32 in 2012.
1,111 total comments/votes – Wow! That is an awesome amount of participation (greater than 2x  the 544 from 2012)! Thanks to everyone involved!
3,081 page views of Tour de Personal Finance Stages and posts, almost 2x the 1,798 from last year.
2,176 unique visitors to Tour de Personal Finance Stages and posts, up from 1,500 last year .
2013 Reflections and Goals for 2014 Tour de Personal Finance
I think that overall, the 2013 edition of this event was finally to the point of being "almost perfect." I had learned quite a bit in how to host this event by doing it twice before, which was good to draw on in this, the third edition. (Third time's a charm, right?!)
Listed below are the things that I very much enjoyed about this event the past month/went well:
It's enabled me to interact and get to know many new bloggers and readers.
I've learned a lot by reading some of the best articles from each blogger's site that have participated in this competition.
I liked how the start and end of the race stages more or less coincided with the start and finish of the 2013 Tour de France (even though we had to start a few days early due to the large number of articles competing).
Due to a great suggestion by Lance @ Money Life and More from last year, this year, I organized all of the posts by subject matter and grouped them together for the first round. That worked pretty nicely, and I'll keep that going forward for next year!
We did a great job this year at increasing awareness of the prizes and charity donations on offer to the winners of the competition.

To do this, we included the prize information on pretty much every stage post article and also on each and every notification email sent out the participants. Even though this probably seemed like a broken record after a while, I do think that the repetition helped, so I'll be looking to repeat that in coming years (which all hinges on needing to finalize the prizes early on).

We were able to get a larger number of blogs involved in the event this year (64 vs. 52 blogs/articles last year). This was really great since it enabled all of the brackets to be nice and rounded out! Super stuff!

I figured out that the key to getting the target number of 64 is to start early.
This year, I started opening up submissions the first week of June and just barely got in a couple by the deadline for the event to start because of summer vacations and all.
As such, I think that next year, I'll start opening up submissions in mid May for the July event start date.

We were able to get several sponsor partners on board this year.

Again, the key here was getting an early start.
I started sending out the details for this the first week of May for the July start to the event. I think that timing worked just about right, and will be looking to repeat that next year!
A big thanks to all our supporters this year!
Listed below are some things that I see as areas for improvement:

Spreading the competition's prizes out a little more among the podium finishers (and maybe even the other Jersey winners if feasible).

This year, as you might have noticed, it was sort of "all of nothing" when it came to the prizes in the competition since the Yellow Jersey was the only podium placing I planned on giving awards to.
However, due to the amount of work it can take to get to 2nd or 3rd place in the competition, it definitely makes things jive a little better to spread out the prizes a little more between the top winners. I'll be looking to incorporate in to the 2014 event from the very beginning instead of adding it in on the backside.
How about you all? What did you think of the 2013 Tour de PF? What would you like to see the different or the same for next year's event? 

Share your experiences by commenting below!
***Photo courtesy of http://upload.wikimedia.org/wikipedia/commons/5/59/Tour_de_Romandie_2013_2013_-_Stage_5_-_Christopher_Froome.jpg