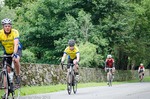 Without further ado, let's continue on with the 6th Stage (featuring posts from the "Saving/Investing" and "Psychology of Money" categories of articles submitted) of the 2013 Tour de Personal Finance (to follow all of the action, click on the Tour de Personal Finance category link and scroll down to read all the posts involved in this subject).
We greatly appreciate Debt Free Direct for being the title partner of the 2013 event and for all their great support. If you're interested in learning more about the help and advice Debt Free Direct offers to people in debt or their money-saving tips on how to prevent building up debt, click here.
A Quick Reminder On Prizes For The 2013 Competition
The 2013 edition of the Tour de PF will be doubly exciting because we have some very nice cash prizes to give away to the winner and also to charity to continue helping the community.
These will be as follows:
Yellow Jersey (1st Place) Winner of the 2013 Tour de Personal Finance will receive $100 cash via PayPal.
In addition, the Yellow Jersey Winner will also get to decide what charity they want me to donate $700 to in honor of their efforts/victory. 
To view the most up-to-date brackets of the competition, click the following link – 2013 Debt Free Direct Tour de PF Bracket
Going along with Tour de France cycling tradition, I've listed each competition within each stage as an "intermediate sprint" (one post versus another) along with the description provided by the blog author when the post was submitted.
Also, if applicable, I will give a brief description of the stage of the Tour de France that took place the same day as (or that has happened since the previous Stage of) the competition.
How to Vote
You can vote for the two articles (one from each intermediate sprint)  you'd like to see proceed in the Tour by commenting in the comments section below and telling which are your favorites. I've listed a keyword after each post title to make it easy to vote (as a made-up example, you can just comment: Sprint 3: Mutual; Sprint 4: 401k, etc.) 
Be sure to comment which one you like the best out of each set of two! Criteria for the best article is completely up to you, but you can use these factors as a guide: 1) post of your favorite blogger, 2) most interesting post, 3) most thought-provoking post, 4) most unique post, or 5) most actionable post. Here are today's competitions:
Voting will continue until July 4th for this Stage!
Intermediate Sprint #3
 Build Your Own Berkshire with Dividend Paying Stocks (Dividend): Warren Buffett is the greatest investor of all times. Few realize that he is a closet dividend investor, because he buys assets that produce excess cash flows. These excess cash flows provide him with the capital to invest in more income generating assets, thus snowballing his net worth exponentially. Dividend stocks deliver a rising stream of rising passive income, which makes them ideal for investors who need to live off their portfolios and for those who want to emulate Buffett's success in investing.
VERSUS
My Life Insurance Mistake (Mistake): Get an inside look at my encounter with the seedy underbelly of the life insurance sales world. Learn from my mistakes so that when the time comes you can avoid getting suckered into a bad deal.
Intermediate Sprint # 4
7 Habits of Wealthy People (Habits): Have you ever wondered what it takes to be wealthy? If you want to be rich then you need to imitate successful people. Here are 7 habits of wealthy people that will help you start building wealth today!
VERSUS
Why Your Mind Wants To Make Bad Financial Decisions (Decisions): There is actually a psychological trigger that motivates you to make bad financial decisions, and everyone is affected. In this post, we brought in psychological expert Sophia Dembling to get a better idea of the trigger that actually suppresses logic and reason, and pushes you in the wrong direction.
Tour de France Daily Recap
The Tour de France in real life continued today with Stage 3, taking the riders 146 km from Ajaccio to Calvi on the island of Corsica.  It was another medium-mountains stage, with a 60-rider peleton coming to the finish line together. Sprinter Simon Gerrans took the Stage's sprint only a half-wheel ahead of famous sprinter Peter Sagan to win the Stage. Since the whole peleton came in together, the winner of yesterday's Stage, Jan Bakelants, holds on the Yellow Jersey in to the team time trial tomorrow around Nice. Should be fun!
I've really been enjoying my "all access" subscription to viewing the Tour de France on NBC Sports. It was only $29.99, and has already provided me with HOURS of entertainment! haha You can watch the Stages live as they happen, or go back and view completed Stages if you missed something!