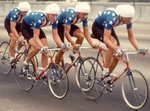 Without further ado, let's continue on with the 7th Stage (featuring posts from the "Frugal Living" category of articles submitted) of the 2013 Tour de Personal Finance (to follow all of the action, click on the Tour de Personal Finance category link and scroll down to read all the posts involved in this subject).
We greatly appreciate Debt Free Direct for being the title partner of the 2013 event and for all their great support. If you're interested in learning more about the help and advice Debt Free Direct offers to people in debt or their money-saving tips on how to prevent building up debt, click here.
A Quick Reminder On Prizes For The 2013 Competition
The 2013 edition of the Tour de PF will be doubly exciting because we have some very nice cash prizes to give away to the winner and also to charity to continue helping the community.
These will be as follows:
Yellow Jersey (1st Place) Winner of the 2013 Tour de Personal Finance will receive $100 cash via PayPal.
In addition, the Yellow Jersey Winner will also get to decide what charity they want me to donate $700 to in honor of their efforts/victory. 
To view the most up-to-date brackets of the competition, click the following link – 2013 Debt Free Direct Tour de PF Bracket
Going along with Tour de France cycling tradition, I've listed each competition within each stage as an "intermediate sprint" (one post versus another) along with the description provided by the blog author when the post was submitted.
Also, if applicable, I will give a brief description of the stage of the Tour de France that took place the same day as (or that has happened since the previous Stage of) the competition.
How to Vote
You can vote for the two articles (one from each intermediate sprint)  you'd like to see proceed in the Tour by commenting in the comments section below and telling which are your favorites. I've listed a keyword after each post title to make it easy to vote (as a made-up example, you can just comment: Sprint 1: Mutual; Sprint 2: 401k, etc.) 
Be sure to comment which one you like the best out of each set of two! Criteria for the best article is completely up to you, but you can use these factors as a guide: 1) post of your favorite blogger, 2) most interesting post, 3) most thought-provoking post, 4) most unique post, or 5) most actionable post. Here are today's competitions:
Voting will continue until July 5th for this Stage!
Intermediate Sprint #1
 It Pays to Have Your Small Claims Case on a Court Television Show (Television): Court reality television shows love to arbitrate stereotypical cases to get their paid audience members in an uproar (like the snot-nosed teenager who takes his friend's car for a joyride and crashes or the girlfriend who cheated on her boyfriend and his credit card). It turns out that these people we love to giggle at might just be smarter than the rest of us. If you are willing to have your case tried in front of a national audience (not to mention people like Judge Judy), then read on to find out the rewards that await you.
VERSUS
8 Ways to Save Money While Saving the Earth (Earth): There are few things more important to the future than saving money, except for saving the planet.  Luckily for all of us, it's not always a choice between spending more money or doing more damage to Earth.  Sometimes, it's possible to save money and the planet at the same time, without even adding any further stress to your life.  This blog entry provides several techniques to do just that, getting a start on living a frugal, eco-friendly lifestyle with just eight easy methods.
Intermediate Sprint # 2
Americans Think You Need How Much Money To Get By?!? (Think): Apparently, Americans think a family of four NEEDS $58,000 to get by in today's world, and I think that is outrageous. Why? Americans have lost sight of what is a need versus what is a want. Granted, everyone will strive for nicer versions of needs, but those nicer versions are wants. The base model is the need. People are out of touch.
VERSUS
Could You Live on Minimum Wage? (Wage): 4.4 Americans live on minimum wage. SPENT is a game designed to show the tough choices made everyday by the working poor.
Tour de France Daily Recap
The Tour de France in real life continues today with Stage 4, the team time trial! It should be the first big challenge for the contenders for overall victory.
I've really been enjoying my "all access" subscription to viewing the Tour de France on NBC Sports. It was only $29.99, and has already provided me with HOURS of entertainment! haha You can watch the Stages live as they happen, or go back and view completed Stages if you missed something!
***Photo courtesy of http://upload.wikimedia.org/wikipedia/commons/6/61/1984_Olympics_-_100k_Team_Time_Trial_(USA_team).jpg