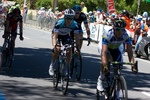 Without further ado, let's continue on with the 8th Stage (featuring posts from the "Frugal Living" and "Lifestyle" categories of articles submitted) of the 2013 Tour de Personal Finance (to follow all of the action, click on the Tour de Personal Finance category link and scroll down to read all the posts involved in this subject).
We greatly appreciate Debt Free Direct for being the title partner of the 2013 event and for all their great support. If you're interested in learning more about the help and advice Debt Free Direct offers to people in debt or their money-saving tips on how to prevent building up debt, click here.
A Quick Reminder On Prizes For The 2013 Competition
The 2013 edition of the Tour de PF will be doubly exciting because we have some very nice cash prizes to give away to the winner and also to charity to continue helping the community.
These will be as follows:
Yellow Jersey (1st Place) Winner of the 2013 Tour de Personal Finance will receive $100 cash via PayPal.
In addition, the Yellow Jersey Winner will also get to decide what charity they want me to donate $700 to in honor of their efforts/victory. 
To view the most up-to-date brackets of the competition, click the following link – 2013 Debt Free Direct Tour de PF Bracket
Going along with Tour de France cycling tradition, I've listed each competition within each stage as an "intermediate sprint" (one post versus another) along with the description provided by the blog author when the post was submitted.
Also, if applicable, I will give a brief description of the stage of the Tour de France that took place the same day as (or that has happened since the previous Stage of) the competition.
How to Vote
You can vote for the two articles (one from each intermediate sprint)  you'd like to see proceed in the Tour by commenting in the comments section below and telling which are your favorites. I've listed a keyword after each post title to make it easy to vote (as a made-up example, you can just comment: Sprint 1: Mutual; Sprint 2: 401k, etc.) 
Be sure to comment which one you like the best out of each set of two! Criteria for the best article is completely up to you, but you can use these factors as a guide: 1) post of your favorite blogger, 2) most interesting post, 3) most thought-provoking post, 4) most unique post, or 5) most actionable post. Here are today's competitions:
Voting will continue until July 6th for this Stage!
Intermediate Sprint #1
5 Ways to Save Money and Energy without Even Trying (Ways): This article is a grass-roots message reminder to all those who want to save energy AND money but who do not understand how fundamentally simple this can be. Some of these recommendations are so simple many do not realize the level of their efficacy. Key secrets to saving both energy and money include implementing the simple steps first and this is where most people fail. The importance of this article shines among many that confuse with verbose technicality. Our energy industry has made several advances that many folks simply have not had the time to catch up on.It is important when trying to relay strategies like these, not to bore at length, and give the people what they want and need, short concise actionable effective tips. We feel this article does precisely that!
VERSUS
Wine Retail Price Dispersions: A Closer Look into Wine Economics in the United States (Wine): Have you ever gone to a store to purchase wine one day and it's a certain price, then go to buy the same wine in a different store later and you notice it is a few dollars more expensive?  Why is it that wine prices are so variable from shop to shop in the United States? This post dissects recent research into what creates these differences and how price dispersion is able to persist in the US market.
Intermediate Sprint # 2
Make Life Better For Yourself: Change Your Attitude (Attitude): Your life is pretty much a reflection of your attitude to it, so if your life isn't going as well as you would like, it's possibly time to check your attitude. Attitude determines how we view the world; so a bad attitude will make you see the problems in any situation, including ones that don't exist. Have you noticed than when you feel good, the world around you seems good too? Conversely, when you feel low or in a bad mood, everything seems to go wrong with your day. This shows you how important your attitude is, in making your life better for yourself.
VERSUS
10 Simple Ways to Suck at Life (Life): Ever wanted to know exactly what you need to do to make sure you fail at everything? Ever wanted to know what do to the exact opposite of to succeed? It's all right here, in these handy, easy to follow, steps.
Tour de France Daily Recap
The Tour de France in real life continues today with Stage 5, a flat stage taking the riders 142 miles from Cagnes-sur-Mer – Marseille. I expect it to end up with a bunch sprint at the finish line. The Stage is going on right now, so I'll be sure to bring everyone an update when the last of the 1st Round posts go live later tonight. Thanks!
***Photo courtesy of http://farm9.staticflickr.com/8503/8407195687_c54d338a8d_b.jpg