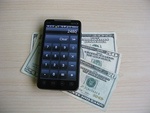 The following post is by MPFJ staff writer, Kelly Gurnett. Kelly runs the blog Cordelia Calls It Quits, where she documents her attempts to rid her life of the things that don't matter and focus more on the things that do. You can also follow her on Twitter and Facebook.
In today's world, there's little our smartphones can't do.
They help us stay on task, stay connected, and stay amused while waiting at the doctor's office. (I don't care how many times I've played Scramble With Friends; it's still addicting!)
But, are you using your phone for all it's worth? Is it saving you as much money as it's saving you time and energy?
If not, you'll want to check out these great apps that can help you cut back in all sorts of ways:
Shopping/Coupon Apps
Grocery iQ. (iPhone and Android). Turn your grocery list digital by searching for items or scanning the bar code of items currently in your pantry. Grocery iQ lets you arrange items by store layout for quicker shopping, save frequently bought items for easy addition to future lists, search for matching coupons, and synchronize lists across multiple devices. (Husband has just used the last of the milk? He can just update the list on his phone, and you'll see it even as you head down the aisles!)
Grocery Pal. (Get iPhone version here and Android version here.) If you're the sort that likes to make multi-store runs to snag whichever items are cheapest at different stores, this is the app for you. It scans local grocery stores and mass retailers for current specials. You can either shop by store or, if you already have a list prepared, see where each item on your list is the cheapest.
Apples2Oranges. (iPhone only.) One thing savvy shoppers know is that to find the best price for an item, you've gotta look at the unit price. That "value-sized" bottle of detergent may actually cost more per ounce than the smaller bottle that's on sale. If you're lucky, your store will put the unit price in the upper corner of the price card on the shelf. But if they don't, this app's got your back. (For a similar app for Android devices, try the A2A Unit Price Calculator.)
RedLaser. (iPhone and Android.) When your shopping consists not of food but of things like clothes, toys, and other goods, RedLaser helps you comparison shop much like Grocery Pal. Simply scan an item's barcode, and you'll see where you can find it at the best price (be it at a physical store or online). You'll also see if any deals are currently available for the item.
CardStar. (Get iPhone version here and Android version here.) De-bulk your wallet by importing all of your store loyalty cards right into your phone. You can scan the cards' barcodes with your camera and then have the cashier scan the bar code on your phone at checkout, instead of fumbling through stacks of rewards cards.
Dining Apps
Foursquare. (iPhone and Android.) Sure, it's fun becoming the "mayor" of somewhere, but did you also know that Foursquare can snag you some good deals? The more you check in at your favorite places, the more deals and specials you're likely to get, like a free appetizer at your local bar pub or a percent off coupon code.
KidsMealDeals. (iPhone and Android.) Let's face it; eating out with kids can be expensive, even when they order off the kids' menu. This handy app lets you check local restaurants for kids' meal specials or kids eat free days based on the day of the week.
Happy Hours. (Get iPhone version here and Android version here.) For a more adult bent, this app shows you what food and drink specials are going on in your area and also gives you extra details to help you decide which place to choose: menus, amenities, and reviews by users who can vote for their favorite hot spots.
Dining Deals. (Android only.) Check out which area restaurants are currently offering deals, set up alerts for deals from your favorite places, even share deals with friends through text or email. (For a similar app for iPhone devices, try BiteHunter.)
Miscellaneous
GoodRX. (Get iPhone version here and Android version here.) You may not have realized prescription drug costs can vary from pharmacy to pharmacy, but they can—and this app can help you find where your meds are the cheapest (even with insurance).
GasBuddy. (iPhone and Android.) Hate it when you fill up the tank only to discover the station down the road has gas for a lower price? This app helps avoid that frustration by showing you the current prices at various area pumps. (Prices are reported by users, and each time you report a price, you earn points towards prize giveaways.)
C*Mobile Craiglist Client. (Android only; iPhone version has recently been removed from iTunes.) Okay, so apps are great for retail shopping, but you're on your own for your weekend garage sailing, right? Not necessarily. With this app, you can see local Craigslist listings, get directions, and even communicate with posters.
How about you all? What other money-saving apps are on your must-have list? Do you use any of the ones listed here?
Share your experiences by commenting below! 
***Photo courtesy of www.flickr.com/photos/54450095@N05/9070772122/in/photolist-ePy5wN-v8Qw2-e9EcFQ-HBv9b-4U21qC-b75Gxn