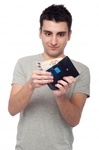 The following post is by MPFJ staff writer Travis.  Travis is a customer blogger for CareOne Debt Relief Services, and also appears weekly at Enemy of Debt.  Travis candidly shares his personal journey to pay off $109,000 of credit card debt and the tips he's learned along the way. As a father and husband he provides a unique perspective on balancing debt, finances, and family.
My wife and I are planning a surprise mini-vacation for the kids at a tourist place known for amusement parks of all types, but specializing in water rides.    Even the hotels in the area have huge indoor water parks that people flock to during the winter months.  As part of our planning, Vonnie and I were comparing prices and amenities of different hotels.  One in particular was more expensive than the rest, but had a lot more things to do, including some activities for which guests have to pay extra.
We decided to cross that one-off our list, as the hotel was out of our price range, and we felt that the activities weren't worth what they were charging.  As we prepared to continue to discuss the remaining hotels on our list, my wife made a comment that shocked me.
"Why don't we save that place for when we're out of debt and paying $45 a person for a zip line tour won't matter."
Excuse me?
The reason I don't want to stay at that hotel is because it's overpriced.  The rooms, the zipline, the go karts, the entire package is not worth what they're charging.  We can do the same activities at one of the amusement parks for less.  That kind of spending with complete disregard of value is how we go into debt in the first place. So, no thank you to that hotel whether we have credit card debt or not.  However, our conversation got me thinking.
Do my wife and I have the same spending expectations for after we are credit card debt free?
I honestly don't think things should change all that much.   The grocery budget will likely increase a little because I love food and  I'm a firm believer that having great food at home prevents us from wasting our money eating out.  Maybe we'll take a family vacation here or there.  But mainly I just think of being debt free as being convenient.  Convenient that I don't have to save up for months to host Thanksgiving dinner, or school clothes.  The money will be there, sitting in our savings account ready to be used when we need it.  The decision-making process as to what to spend out money on will remain the same. Value is value, wasting will still be wasting.
But does my wife have a different view?
I suddenly wonder if she dreams of the day when she can spend money just because it's there.  Will she impulsively buy a new pair of shoes just because they're adorable only have them sit on the closet shelf because the right opportunity to wear them never arrives?   Will she use rolls of twenty-dollar bills to start our fire pit?
Ok, I'm getting a little off track, but I think you get my point.  Even after we have completed our debt management program I want us to still be smart with our money, and get the very most we can out of it.  We had best have that discussion soon, as we are less than eight months away from eliminating our 109K mountain of credit card debt.
How about you, readers?  How will your spending habits change when you get out of debt?  Does your significant other share the same view?
Image courtesy of artur84 / FreeDigitalPhotos.net