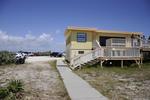 The following post is by MPFJ staff writer, Shondell of Call Me What You Want, Even Cheap. She blogs about her recent car loan and mortgage pay off and a whole bunch more. Check out her blog right here.
If you live in an area frequented by tourists and vacationers, then it may not be a bad idea to turn your house into a vacation home.
Vacation rental is a huge industry and offers you the opportunity to supplement your income during the holiday seasons. In fact, many people with a home (or homes) in tourist areas make a major portion of their annual income from renting out their homes. This allows you to attend to your other businesses while your house quietly makes money for you. However, not every house can be profitably turned into a vacation rental; therefore, you have to do some research and may have to carry out a few modifications before turning your house into one.
Here are 5 tips for turning your home into a vacation rental:
1. Determine if your home is suitable:
Your home should be in or near a tourist area for it to be suitable for a vacation rental. It should provide easy access to all the things vacationers come for, such as the beach, landmarks, theme parks and great outdoors. It should also have modern amenities such as a telephone, internet, a fully equipped kitchen, air conditioner (for hot weather) and heating system (for cold weather). A house that is not in the right place and doesn't have any comfort features will find very few takers, if at all.
2. Prepare your house:
Once you have determined that your home is suitable for a vacation rental, you should prepare it for the same. This requires some money, but you can quickly recover your investment once your house is rented. First, clean the house thoroughly. Hire a cleaning service if you are not up to the task. Repair or replace the furniture, carpets, doors, windows and electrical fittings if they are broken or worn out. Paint the walls and ceilings with attractive colors if necessary. Your home should be neat, clean and attractive before you can show it to any would-be tenants.
3. Set a suitable price:
After you have prepared your home for rent, research the market to find the right price for your home. Find out the amount charged by similar-sized homes in your area and determine whether you can set the same or a slightly different price. When setting the price, you should consider your home's location, size, accessibility, amenities and the kind of people you want to have as guests. If you are targeting affluent vacationers, then you can set the price a notch or two higher than the average price, but that should be backed by a great location and plenty of amenities.
4. Advertise:
If your home is in a busy location, then vacationers will come looking for you. Otherwise, advertising is the only way to find tenants quickly. You can advertise either in the local papers or on the internet or both. Word-of-mouth is also a good idea if you have a small budget. Whatever you decide to do, you need to create an attractive ad with beautiful photos of both the interior and exterior of your house. Also, do not forget to mention the amenities and your home's proximity to parks, malls, diners and other places of interest.
5. Screen the tenants carefully:
Although money is important, you don't want to invite trouble by renting your home to the wrong people. The worst thing you can do is harbor criminals and terrorists, which can easily land in trouble with the law. So do not hurry to rent your house out to the first people who come knocking on your door. Screen every would-be tenant carefully. Ask them where they are from, what they do for a living, why they wish to rent your place, who they will be living with and whether they will be having parties. If you are doubtful, you may also ask for a small security deposit, which is quite the norm.
Ideally, you should be able to leave everything to the tenants' care after they move in. But that is often not the case as problems relating to things like water, electricity, telephone and security often arise. The first thing you should do after handing over the keys to your home is give the tenants your telephone or cell phone number so they can contact you if any emergency occurs. You should also inform your neighbors and relatives so they will know what is happening. If your tenants have any complaints or concerns, you should attend to them immediately. Once the word spreads that you are a great landlord, you will get good tenants every holiday season.
How about you all? Would you consider renting out your home to vacationers?
Share your experiences by commenting below!
***Photo courtesy o fhttp://farm2.staticflickr.com/1230/4724901591_0400dc3e99_o.jpg