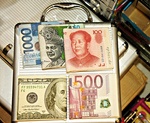 The following is a guest post. Enjoy! 
The euro and the pound were within touching distance for most of the week, the euro strengthening by about quarter of a cent. Against the US dollar, it was down by half a cent. The eventual outcome was determined partly by a new crisis in Club Med but mostly by a change of tack at the European Central Bank.
The crisis appeared quite suddenly in Lisbon, with the resignation of two government ministers, apparently because of their disillusionment with austerity. Were the coalition government to collapse, investors fear the abandonment of austerity and a possible sovereign default. The Outright Monetary Transactions (OMTs) (government bond purchases) envisaged by European Central Bank President Mario Draghi in his "whatever it takes" strategy could not be brought into play because Portugal cannot borrow money without external assistance. Even though a default by Portugal is not the most likely outcome, even the outside possibility weighed on the euro.
It was a much different burden that the ECB president placed on the euro's shoulders at his monthly press conference. Throwing aside the mantra of the last two decades which had it that the Bank "never pre-commits" to monetary policy, Sig. Draghi stunned his audience and the world's investors by doing exactly that. In his prepared speech he said; "The Governing Council expects key interest rates to remain at present or lower levels for a considerable period of time." As the reasons for this approach he cited a subdued outlook for inflation, broad weakness in the real economy and subdued monetary dynamics. Sig. Draghi refused to enlarge on how many months there might be in "a considerable period of time" but it was fairly clear he was thinking of double figures.
The ECB is not alone in providing this sort of "guidance" to future policy. That same day the new governor at the Bank of England issued a statement saying much the same thing and the US Federal Reserve has been at it for more than a year. But the ECB's pledge is a first and it looks as though the central bankers in Frankfurt are hunkering down for the long haul. This latest development might not send the euro lower but it is hard to imagine how it could send it higher.
***Photo courtesy of http://www.flickr.com/photos/epsos/8453271596/sizes/m/in/photostream/