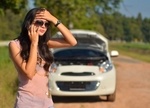 The following post is by MPFJ staff writer Travis.  Travis is a customer blogger for Care One Debt Relief Services, and also appears weekly at Enemy of Debt.  Travis candidly shares his personal journey to pay off $109,000 of credit card debt and the tips he's learned along the way. As a father and husband he provides a unique perspective on balancing debt, finances, and family.
Both hands held a suitcase, and additional bags were hanging off each arm as I walked through the parking lot.  We had stayed overnight in a hotel out-of-town and I was packing up the van to head home.  It was a struggle to click the button on the key to open the back-end, but after several attempts I finally heard the familiar beep that meant the door would be swinging upward momentarily.
With quick flick of my wrist I flung the van key which landed inside the van and then bounced a few inches forward.  I strategically placed the bags inside the van, and slammed the hatch door closed.   As soon as the door latched I knew I had made a mistake.  Checking all the doors I confirmed my fear, I had locked the keys in the van.
Insert several moments of very colorful language.
I then remembered that during a recent review of our auto insurance, I was reminded that we had emergency roadside assistance that covered just this kind of incident.  It would be slight inconvenience, but at least my mistake wouldn't cost me out anything out-of-pocket.
I dialed up the number on the back of my insurance card and explained what had happened.  They asked me for some information, and then using the GPS capability on my phone, they were able to pinpoint my location.  They stated that they would contact someone in the area to unlock my vehicle, and they would call me directly when they were on their way.  Less than 10 minutes later, a tow truck pulled into the hotel parking lot and unlocked my doors.  I thanked the man as he jumped back into his truck and pulled away without even needing a signature from me.
Being the curious guy that I am, I wanted to find out what kind of value I was getting out of my emergency roadside assistance insurance. I later called up the towing company sent to help me and found that they would have charged me $45 had it not been covered by my insurance.  Since I pay $9.40 per year for emergency roadside assistance, I just recouped about 5 years of my premium payments.  But, even more valuable than that is the peace of mind and convenience my insurance provides.
1.)    In an unfamiliar area, I don't have to worry about finding a service that is affordable or even open at the time  need it.
2.)    I do not have to pay for the expense out-of-pocket.  It turns an unexpected expense, into an expected monthly expense.
For a guy that has a habit of locking the keys in his car, these are very important points.
Additionally, my roadside assistance insurance covers:
1.)    Towing of a disabled vehicle
2.)    Roadside assistance for running out of gas
Every couple of months my wife and I scrub our monthly expenses looking for things to cut to save us money.  Emergency roadside assistance has been discussed more than once, but happily it has always made the cut.  It's not a matter of if we'll need it, it's a matter of when.
How about you readers, do you have roadside assistance insurance?  How often have you used it?
 Share your experiences by commenting below!
***Photo courtesy of anankkml / FreeDigitalPhotos.net