The following is a post by MPFJ staff writer, Kevin Mercadante, who is a professional personal finance blogger, and the owner of his own personal finance blog, OutOfYourRut.com. He has backgrounds in both accounting and the mortgage industry.
One of the very best ways to get a r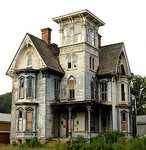 eal deal on a new home is by buying a "fixer upper". This provides the opportunity to buy a house that's in less-than-perfect condition, but also at well below the going market rate for similar properties.
But at the same time, the fixer-upper house can turn into a nightmare. Here are some of them, as well as suggestions on how to avoid them.
The biggest problems can be the ones you don't see
An ideal situation is to buy a house that is only in need of cosmetic repair. But, cosmetic repairs can hide other problems. There can be significant structural problems behind the cosmetic ones that you won't discover until you're in the property and making the repairs.
This happens because fixer-upper's typically come to the market following a period of neglect. This is easy to see when you consider the typical situations that bring a fixer-upper to the market:
A foreclosure
A distressed sale
An estate sale
In each of the above situations, it is highly likely that the sale of the property was preceded by a prolonged period – perhaps several years – where the previous owner lacked either the physical capability or the financial wherewithal to properly maintain or repair it. As a result, small problems became big problems, and big problems are often the reason why the property is being sold.
Whatever the purpose that is driving the sale, the seller typically lacks the ability or willingness to make the needed repairs, even as a requirement of sale. If you're buying a fixer upper, the burden of making necessary repairs will be squarely on your shoulders.
It can be difficult to get mortgage financing
As a result of all the above, it is often difficult to get mortgage financing on a fixer-upper property. In order to grant a mortgage on any property, lenders require that the property has no significant issues in regard to safety or livability. Unfortunately, the fixer-uppers often have problems on both fronts.
So much of your ability to get the mortgage on such property will depend upon a specific condition of the house. If the problems are primarily cosmetic, you will generally be able to get financing without issue. But if there's anything more significant, financing will be anywhere from difficult to impossible to obtain.
Borrowing money to finance repairs is close to impossible
One of the biggest problems in buying a fixer-upper is that you'll need a significant amount of cash even after you close on the house. This will be especially true if you are unable to perform many or most of the necessary repairs yourself. Borrowing money through a home equity line of credit or a second mortgage on a property that is essentially damaged goods will be more difficult than getting the purchase money first mortgage.
If you're buying a fixer-upper, you should obtain a finely detailed home inspection report – at a cost of several hundred dollars – before closing on the property. The home inspection will tell you specifically what is wrong with the property, but it can also give you a list of what it will cost to remedy them. Pay close attention to these costs – whatever you cannot fix on your own, you'll have to pay for – out of your own resources.
Even though a fixer-upper may ultimately be a better investment value, it generally will require more money up front than buying a house in better condition.
The house may not be immediately livable, rentable or salable
Once again, the specific condition of the property is most important. It is possible that the house may not even be livable, if you are planning on occupying it. But if you're planning to buy it as a rental, or to quickly flip it at a profit, your plans will go up in smoke if the house is neither rentable nor sellable. How quickly after the sale you'll be able to get the house into an acceptable condition will be part of your success or failure in the venture.
DIY repairs could turn into a full-time job
If you do plan to do most of the work on the house yourself, you need to give yourself a realistic estimate as to how long this will take. Fixing the property could turn into the equivalent of full-time job, and if you have a demanding occupation to begin with, you may not have the time that you need to do the work that needs to be done.
And on the topic of time, whatever amount you estimate you will need to fully repair the property, double it! Deferred maintenance usually means that the depth of repair work will be greater than you initially estimate. For example, when going to replace rotted drywall, you may find the studs behind are also rotted. Now you're no longer repairing a wall, but tearing it down and replacing it. The situation is not at all uncommon with fixer-upper's.
The house could become a money pit
This is the nightmare scenario that could develop as a result of buying fixer-upper. The property can turn out to be more deteriorated than your early expectations, and require both more time and money than you budgeted for the project.
Worse, you may discover issues with the property that were either undiscovered or unknowable at the time of the home inspection. For example, recently installed wood paneling in the basement could hide the fact that the basement is subject to flooding. And you may not learn until you began tearing down walls that the house has structural deficiencies that will cost many thousands of dollars to fix.
If you do plan to buy a fixer-upper, here are a few things that you'll need to make the project a success:
An extremely accurate idea of what the real value of the property is – a house is not a bargain just because it is a fixer-upper and you should be able get it for well below the prevailing market.
A very detailed home inspection, from a trusted inspector.
Any supplemental inspections that the home inspector recommends (don't cut corners here!)
A pile of cash, or access to a pile of cash, to cover at least twice the expected repair costs.
The ability to perform the repair work yourself.
The time to do the repair work yourself.
Realistic expectations as to the amount of money that it will cost, the time will take, and how long it will be before you can recover your investment.
Armed with each of the above, a fixer-upper can be an excellent investment. But, if you're missing even one or two, take your time and get them before proceeding.
How about you all? Have you ever purchased a fixer-upper house? How did it work for you? What would you recommend to someone who is planning on buying one?
Share your experiences by commenting below! 
***Photo courtesy of http://www.flickr.com/photos/29766902@N00/387371265/