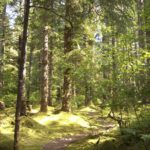 This is a post by MPFJ staff writer, Jeff. Jeff writes about Sustainable living and finances at his website, Sustainable Life Blog. Enjoy!
Summer is almost over, and for those of you still looking to get a quick and enjoyable vacation in but don't really have a lot of money in your budget for one, consider heading out to do one of my favorite frugal vacation activities: Camping.
For those of you that have never been, or have not been for an extended amount of time, camping is a great way to save quite a bit of money on one of the biggest expenses that you can generate while travelling – lodging. Some campgrounds are free, and some charge a nominal fee – I think that the most that I've paid was $18 per night while camping, and a lot of times its less than $10, or free.
What you'll need
Obviously, you can't just toss a few blankets in the car and head up to the forest or the nearest national park and toss them on the ground where you see fit and call it good. First, you could get rained on, which would make you miserable and probably never want to camp again. You also could be causing significant damage to plants and animals (or life-sustaining desert bacteria).
Below are a few things you'll need to get camping:
Sleeping bag – They sell these in different temperature ratings, I'd suggest getting one that suits your area well and the seasons you plan on camping. Don't get a -20F bag if you live in Florida.
Tent – Keeps the rain and bugs out
Flashlight – For when it gets dark
Optional – Foam pad or Thermarest for sleeping on – they help a lot.
You've probably already got a flashlight laying around the house, and if you need anything else, I'd check your local Craigslist or perhaps a second-hand sporting goods store. Typically, people get tired of the smaller tents or grow out of them, and they still work just fine. Once you get all of your gear collected, it's time to find a spot to go camping at.
Finding a Spot to Camp
I live in a state that's owned about 66% by the federal government, so there is a lot of BLM lands for camping, as well as national parks and forest service land. In addition to all those, I believe all states have state park systems that allow camping. Some areas have campgrounds where there are a lot of tents/rv's and campers in the lot, or others are "dispersed" which simply means that you find a good spot to pitch your tent and stay there for the time being.
Finding a place to camp is no easier or more difficult than finding a hotel – it will just vary depending on the area. Obviously, you're not going to find any good places to camp in downtown San Francisco if you were interested in soaking up the city, but there are plenty of places to camp out in the country where the scenery is different (and there are not a lot of hotels.
Once you are at your camp site, the real fun begins. There are usually hikes to go on or great scenery to see. If you're camping at a national park, there are ranger walks to teach you about the area, a visitors center with history of the park and a small gift shop.
If you're worried that you don't have a camping stove or anything like that, it's not really necessary. You can take sandwiches or other foods that are served cold for dinner, and prepare breakfast burritos for the morning. If you're dying for a hot meal, wrap your burritos in a few layers of foil and place them near (not in) the fire for a minute or two, and make sure to flip it around.
All in all, camping is a great way to have a frugal family vacation, and with the summer winding down many campers have headed home for the year so you could get the place all to yourselves.
How about you all? Do you enjoy camping? What is your favorite spot to camp, and what sort of activities do you normally do when camping?
Share your experiences by commenting below!