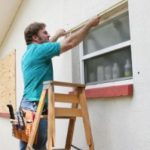 The following article is by MPFJ staff writer, Miss T from Prairie Eco-Thrifter. If you want to learn how to live your dream life in a sustainable, healthy, and money savvy way, check out her site here.
DIY, or Do It Yourself, is something I discovered a few years ago and I have to admit that I got a bit carried away and went around DIY-ing everything I could find.
Luckily, this frenzy wore itself out, but I remain committed to doing as much as I can around the house myself. The other day, it got me thinking about just how much money I save around the home with DIY instead of hiring a tradesman or buying ready-made.
There are a number of reasons why people consider DIY, but probably the most common one is to save some money. Others want to reduce chemicals and toxins in their home; some want the thrill of knowing that they did it themselves; while others want something a little different that may not be available in the stores. Whatever your reason, rest assured that you can save money by doing it yourself.
One of the biggest DIY changes we made in our family was to cook our own meals at home. This wasn't something we had ever really done before, relying on packaged, pre-prepared and frozen foods, ordering take-out or simply eating out at family-friendly restaurants. A few years ago, we were re-working our household budget and were shocked at how much we regularly spent on food; we started to investigate alternatives. We gradually changed over to home cooking and haven't looked back. We save hundreds of dollars a month, eat much more healthily, and have heaps of fun and family time in the kitchen. Everyone has a say in the menu planning and even the kids take their turn at cooking meals. It's one of the best family decisions we have ever made!
Cooking at home led to starting a vegetable garden in the back yard, yet another DIY way of saving money at home. It was actually one of the kid's ideas, and it started out as her project, but soon, we were expanding the beds and growing more. Many of our favorite dishes are based around what is in season in the garden, and it has given all of us a greater appreciation of where our food comes from. The cost of seeds and seedlings is a fraction of what we used to spend on the same fruit, vegetables and herbs, so there is quite a cash saving there. We compost scraps and grass clippings and have a worm farm to supply all the nutrients for the garden.
When we started out, there wasn't much money for expensive furniture, and we learned to make do with second-hand. Now, I seek out secondhand and used furniture and accessories because I love to create new from old with some DIY techniques I've learned along the way. Timber furniture is a passion of mine, and I love to strip off old paint and varnish, repair any damage, and refinish the piece with modern colors and stains. Secondhand furniture costs a fraction of the price of new and with a little bit of work, you can produce unique, attractive pieces for your home and have fun doing it. My latest interest is in natural stains and I have experimented with coffee, tea, vinegar and berries to give unique, non-toxic finishes.
Many people are concerned about the amount of chemicals and toxic substances they use around the home and the impacts these can have on our health. While searching for non-toxic alternatives to the chemical cleaning products we used to buy, I discovered the effectiveness and of some very simple ingredients. Instead of buying all of the one product/one job cleaners we used to spend so much money on, we now use things like vinegar, sodium bicarbonate, essential oils, and citrus peel to clean the home. There are websites with recipes for these cleaning products and you will be amazed at how well they work and the hundreds of dollars you can save every year, not to mention how much safer and healthier your home will be.
Hiring a tradesman for jobs around the house can be an expensive exercise, but it is necessary when the problem could be dangerous or has to be done by a licensed expert for legal reasons. However, there are many home maintenance tasks that can easily be done by the householder with dollar savings as a big incentive. Garden maintenance, house painting, gutter cleaning (not on a high roof maybe) and some renovations can easily be undertaken by someone with basic skills and knowledge. Safety is paramount, of course, and you need to take every precaution to prevent and avoid accidents or further damage to the house. With tradesmen charging up to $100 an hour, you can see how you will be able to save money by doing some of these jobs yourself.
These are just some of the projects my family and I have undertaken and we have seen how we can save money around the home with DIY. There is lots of information available to help you as you start these projects for the first time. For maintenance jobs, I found the staff at the stores where I purchased the necessary supplies were very willing to help me with information and advice.
How about you all? In thinking about your home, what ways could you save money by doing things DIY? What things do you do DIY already? 
How much money do you think you are/could save by doing things yourself?
Share your experiences by commenting below! 
***Photo courtesy of http://prairieecothrifter.com/wp-content/uploads/2013/08/iStock_000001831162XSmall-300×199.jpg