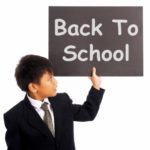 The following post is by MPFJ staff writer Travis.  Travis is a customer blogger for CareOne Debt Relief Services, and also appears weekly at Enemy of Debt.  Travis candidly shares his personal journey to pay off $109,000 of credit card debt and the tips he's learned along the way. As a father and husband he provides a unique perspective on balancing debt, finances, and family.
We thought we'd already bit the financial bullet to get ready for the new school year,  but we were WRONG.
We had all the necessary supplies for both kids purchased weeks ago.  Last weekend, we hit up a few sales and bought some new clothes and planned to stage the purchase of cooler weather clothes over the next few months.  But, there's another major expense that needs to be accounted for.  It goes by several names: Meet the Teacher Day, Orientation, or Schedule Pickup, but the result is the same.
The checkbook is going to get a workout. Listed below is what was on tap this time around:
School Pictures:  In elementary school, picture day is a few weeks into the school year.  But, for middle and high school, picture day is on schedule pickup day as the same picture is used for their student ID, which is printed and handed to the students immediately.  Cost: $25.75 for a moderately priced package.
Gym Clothes:  Shorts and Shirt adorned with the middle school logo.  $14 for the shirt/short combo.
Parent Teacher Association:  Want to have a voice in how things are done at school and help out with some of the events?  You can, in exchange for a check for $8.
Yearbook:  You won't receive the yearbook until May, but we can reserve our copy now for only $23.50!
Instrument Rental:  Students must be in Orchestra, Band, or Choir.  Our incoming middle school student chose to play the Viola.  $50 to rent one from the school for the year.
School Lunch Account:  You can put as much as you'd like into their account, but the recommended amount is a month's worth, or around $50.
For those adding in their heads, that totals up to $171.50 for just our daughter who is entering middle school.  The potential fees for our High School Freshman are similar.  As with any expenditure, Vonnie and I really scrutinized the cost and made the best decision based upon value and the funds we had available.
Let's look at each of those potential expenses again and discuss which ones we went with and which we said "no" to.
School Pictures:  I may not agree with how much they cost, but the grandparents love getting them, so we buy them.  Purchased.
Gym Clothes:  As I was about to start writing out a check, it was announced that purchasing gym clothes from the school was no longer required.  Students could wear their own athletic shorts and t-shirt.  Skipped Permanently.
Parent Teacher Association:  We've joined almost every year, and hardly ever gone to meetings.  Skipped Permanently.
Yearbook:  They really want you to pay up and reserve your copy on schedule pickup day, but you don't have to.  The due date on the form given is actually several weeks away.  Additionally, they'll send the SAME form home in the spring asking again.  No need to decide this now.  To be decided later.
Instrument Rental:  The orchestra teacher actually preferred that we send the check on the first day of school, which conveniently is after our next payday.  Deferred to Next Pay Period.
School Lunch Account:  We can add funds to the school lunch accounts online at anytime.  This is usually handled as a bi-monthly expense of $25.  We decided to add funds right before school starts, which as stated is after our next payday and in our next budget cycle.  Deferred to Next Pay Period.
Out of a potential total of $171.50 worth of expenses, we walked out of the school only spending $25.75 for school pictures.  The rest of the expenses we either skipped permanently or deferred to the next budget cycle.  There are people that hop from table to table writing out each check as if it was a necessity, then complain about how much they have to shell out on a single day.  But by asking some questions, and evaluating the importance and timing of each expense we were able to lessen our overall total, and spread out the payments to soften the blow on any single budget cycle.
Well readers, how does Schedule Pickup day (or whatever your school district calls it) work in your area?  How crazy are the expenses for you and how do you handle them?
Share your experiences by commenting below! 
Image courtesy of Stuart Miles / FreeDigitalPhotos.net