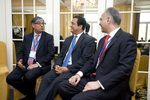 The following is a guest post. Enjoy! 
Information technology has become a fundamental fixture within nearly every possible professional environment, creating a massive demand for people with the relevant skills to fill a wide range of different IT positions.
Although some smaller companies will only have one or two IT professionals to carry out general tasks, larger businesses will often have dozens of specialist positions requiring a very specific set of skills and qualifications.
As demand for these skills continues to grow, reports from the BBC have explained that there is still a skills deficit in the industry within even large corporations like Facebook and Google struggling to find suitable candidates.
If you're looking to work in IT then it's vital you have both the technical aptitude and the soft skills – but just what are they?
Communication skills
Remember that every project an IT professional works on will be related to helping employees within the company communicate effectively and securely. Therefore, it makes perfect sense that IT professionals should be skilled communicators, being able to understand and appreciate their employees' specific IT needs. This will allow them to develop bespoke solutions to certain issues and become more responsive to problems which may arise in the future.
Training skills
IT professionals will usually be the first within every company to experience a new piece of technology and become acquainted with how it works. Therefore when the new technology is rolled out to the company at large, it will be the IT professionals tasked with preparing instructional and educational material to help other employees understand how to use it effectively.
This will also inevitably involve plenty of troubleshooting sessions with the employees as they gradually become acquainted with the new tools. This relies on a good degree of patience and willingness to appreciate the fact that non-technical people are likely to have issues.
Compromising
For every project within a company, there are likely to be many different ways that IT can provide solutions to make things more effective. It's important to regularly compromise your own initial ideas with what works best for the other employees and the wider business.
For example, although you may favour a particular operating system for certain tasks, this may cause problems with employees who don't feel comfortable using it on a regular basis. You should compromise and find a solution which everyone is happy with while still helping employees to work more effectively.
Thinking creatively
Remember that all IT Jobs involve different skills depending on the nature of the company's business and you'll often need to develop technology solutions which are specific to that particular organisation. It's important to keep an open mind about creating new processes rather than following familiar ones which you've implemented in the past elsewhere.
How about you all? What "soft skills" are important for you in your line of work?
Share your experiences by commenting below!
***Photo courtesy of http://upload.wikimedia.org/wikipedia/commons/6/6c/Rajive_Kaul,_Rana_Kapoor_and_Suni_Godhwani_(Horasis_Global_India_Business_Meeting_2010).jpg