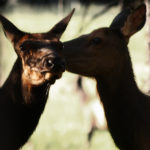 The following post is by MPFJ staff writer, Catherine Alford. Cat is a freelance personal finance writer who blogs at www.BudgetBlonde.com. 
Lately, I've been writing a lot about productivity. Because I'm working full time and trying to blog my way into a successful freelance writing business, I've become more and more pressed for time.
My big goal is to become a full time blogger/writer by January 1, 2014, and as I've gotten closer to achieving that goal, my free time has dwindled dramatically.
However, there is one big secret that I have for getting so much done in a day, one tiny thing missing from my life that I haven't missed: a TV!
A little over two years ago, I started this process by cutting out the cable. Then, when I moved to the Caribbean, we were so strapped for cash that I asked my landlord to take the TV out of my apartment since it was $30 USD per month.
Here's what I've noticed about life without a TV:
1.    I Am Not Nearly As Distracted
When I had a TV in my house, I always had it on as background noise. I'd fold clothes in front of it and get sucked into a 6 hour long HGTV marathon. Even worse, my husband and I started sitting in front of it to eat dinner. So, there went some good quality time! I think all of these bad habits came gradually, and I didn't even notice how much they affected my life. Now that I don't have the TV, I'm not nearly as distracted. Sure I can get caught in a black hole of YouTube videos from time to time, but it's not as bad as not getting out of bed because I can't tear myself away from an entire season of LOST!
2.    Transitions Work
When I first got rid of my TV, I watched Hulu like crazy. I didn't want to miss one of the shows that I followed. How would I ever know who the Bachelor picked?! However, as I got busier, I started to care less and less what was on TV. Soon, people were talking about shows I've never even heard of let alone read about or seen. I did feel left out from time to time, but no proclamations of something being the "best show ever!" has really swayed me to get back into TV watching. Occasionally, I will seek out a YouTube clip of the Big Bang Theory or Modern Family just to watch something funny, but it has been months since I watched a full episode of any show. In my opinion, there's nothing inherently wrong with others watching TV; it has just completely ceased to be a part of my daily routine.
3.    We Don't Miss It
I wasn't too worried about the transition from TV to no TV, knowing that Hulu existed, but I was concerned about my husband and his dear LSU football team! Although there have been a few times that he wishes he had a TV so he could see a game, it's not enough to make him want to go out and buy one. Right now, he just goes to our friend's house down the street, and they enjoy a guys night and cheering on the Tigers together. It seems to be a really good compromise, and even though it would be more convenient to watch football in our house, it works for us for now.
4.    The Second Time's The Charm
What I didn't really mention is that this is the second time we've tried a no TV lifestyle. While I was in grad school and while the hubs was a bachelor, neither one of us had a TV. In fact, people would go into his trendy downtown studio and look around bewildered wondering where it was! So, when we got married and joined households, we decided to "reward" ourselves with a big fancy 50" TV. We had Kentucky Derby parties and people over to watch football, and we really got a lot of use out of it. Then again, we also slipped into credit card debt, weren't as productive, and wasted a lot of time in front of it. It's a huge regret of mine, so when we moved to the Caribbean, we sold that big TV to a friend of ours and went back to the no TV lifestyle.
In just a few short months, we're moving back to the U.S. I'm planning on continuing our no TV lifestyle, and I hope it sticks! There's so much I want to learn and so much work I'd like to do to grow my business that I really have to prioritize. Plus, I think going on a walk or reading an interesting new book is a little bit more worthwhile.
I hope this post doesn't come across as me being a "no TV snob" because the truth is that I really, really love TV shows, especially completely ridiculous ones like The Bachelor and the Real Housewives of Wherever! I just have learned that I have absolutely no self-control when it comes to watching it, and it's best for my business and my day-to-day happiness to keep the TV out of the house!
How about you all? How much TV do you watch every day? Have you ever gone without one?
Share your experiences by commenting below! 
***Photo courtesy of http://www.flickr.com/photos/tomsaint/4936520119/sizes