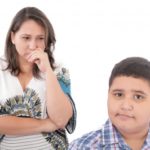 The following post is by MPFJ staff writer Travis.  Travis is a customer blogger for Care One Debt Relief Services, and also appears weekly at Enemy of Debt.  Travis candidly shares his personal journey to pay off $109,000 of credit card debt and the tips he's learned along the way. As a father and husband he provides a unique perspective on balancing debt, finances, and family.
"Daddy, did I mess up your budget?"
It wasn't a question I had expected from my eleven year old daughter, and it took me by surprise.
I was on furlough from my job the first week in September, and would only be paid a portion of my salary.  When I was informed of the furlough a few weeks ago,  my wife and I immediately reworked the budget to prepare for the reduction of income which would affect us the second half of the month.  We then held a family meeting telling our two children what was about to happen, but assured them that through careful planing, and watching our spending we would be OK.
The weekend before school started we took the kids shopping for some new clothes.  We told them because of the furlough we wouldn't be able to buy them all the new clothes that day that we had originally planned.  We had an amount we could spend on each of them now, and we'd stage in additional items over the next few weeks.
We visited several stores in the mall, and played several games of "which one do you like the best?" in order to stay within the allotted amount.  We felt really good about what we had been able to get for each of our kids until we remembered on the car ride home that we were supposed to get new shoes for our daughter.  I took an exit off the highway, and soon after we walked out of a nearby Target with a new pair of shoes.
Suddenly her question made a lot of sense.
I had noticed that my daughter had acted a little strange as she was trying on shoes.  We had made a big deal at the mall that we had spent exactly the amount we had allocated for school shopping, so she knew that purchasing the new shoes would result in us overspending.  She has seen my wife and I discuss and even argue about money in the past and can see the stress it puts on her parents' relationship.  She was aware of the financial challenge of my furlough and was worried the impact her new shoes would have on her family.
That's quite a burden for an eleven year old.
My wife and I are using our journey out of debt as a tool to teach our children about finances every chance we get.  I suspect that we share more about our finances with our children than most parents.  We try to balance telling them as much as we can, without crossing the line and giving them specific numbers.  We also try to balance exposing them to the challenges we have in life (like my furlough) with ensuring they see us performing our bi-weekly budget discussions and concluding them with a smile on our face.  We want them to see that handling the family finances can be hard, but necessary and can be done successfully without arguing.
What I don't want is for our increased exposure of our finances to cause them to worry, so it was important for me assure her that everything was OK.  I told her we had some extra money set aside in case unforeseen things popped up.  We had wanted her to have some new shoes for school as her current ones were looking pretty shabby and her feet had likely grown.  She hadn't seen it, but her mother and I had a quick discussion while she was trying on shoes that we would use some of those funds for her new kicks.
Readers, what do you think?  Are we exposing too much of our finances to our kids causing them to worry unnecessarily?  How much of the family finances would you expose to your kids?
Share your experiences by commenting below!