This is a post by MPFJ staff writer, Jeff. Jeff writes about Sustainable living and finances at his website, Sustainable Life Blog. Jeff really enjoys traveling with his wife as much as he can, to wherever he can.
I've been a Verizon customer for almost 15 years.
For the first 4 years, my parents paid the bill. Since then, I've been on my own and paying it myself. I always had a low number of voice minutes and unlimited texting up until I got a smart phone in early 2010. Before I got a smart phone, my bill was around $55 per month, with a 18% employee discount. When I got a smart phone, my then girlfriend (now wife) and I decided that we would get on the same plan, and we both got smart phones. Our bill raised up to $150/mo, of which my share was $75. We still had the 18% discount, even though I no longer worked for that employer.
We currently have unlimited data (because we still have the same phone that we got in Jan 2010) and the lowest number of voice minutes per month, as well as unlimited texts. Neither of us have had any problems with our phone, so we've ignore the occasionally gentle (and sometimes firm) nudges from Verizon to get a new phone. We didn't really see the reason because nothing is wrong with our current phones (except they are getting slow and the operating system is very old), and I wasn't that excited to lose unlimited data.
Recently though, we've finally decided that it's time to get rid of these phones. We are running a version of Android 2.3 that I hacked our phones to for an upgrade, and now many apps will not download because our operating system is so out of date. We don't have 4G or any of those bells and whistles, and after almost 4 years, it's about time.
Since we are in the market for a new phone and I keep hearing people paying way less per month than us, I decided to do some investigating about our various options outside of the biggest 4 cell phone companies – AT&T, Verizon, T-Mobile, and Sprint.
What Are The Choices Aside From The "Big 4" Cell Phone Companies?
There are some competitors to the "big 4" cell phone companies, and they do things way different. They still provide cell service, but some are prepaid, some charge you based on what resources you use at the end of the month, and some route all your calls/texts/data over a wireless network whenever possible. After looking into it a lot, I realized that this is probably the way to go for my wife and I. Here are just a few of the options available, and the ones that I looked closest at.
Republic Wireless
Right now, Republic Wireless only has one phone out, the Motorola Defy XT. It's a very old phone (but newer than mine) and still runs android version 2.X. With Republic, there are 2 pricing options. For the first, you pay full price for the Defy ($199) and then you pay $19 per line, per month for unlimited everything (though I believe they don't do MMS). If you're balking about the high up front cost of the phone, you can choose to pay $79 for the phone, then $29 per month. Pretty simple and easy to understand.
They can make this so cheap because Republic assumes (correctly for me, and most people I'd guess) that whereever you are, you're near a wireless network that you can use. Your house, the coffee shop, a hotel or whatever and they run your call over the wireless network. When you're not near a wireless network or not logged on to one, you place calls on Sprint's network (and when you're out of Sprint's network, you roam on the tower of another provider – in my case it would be Verizon most of the time).
Unfortunately though, Republic's phone is very old. They have been saying since April that they are coming out with new phone in "summer 2013" but I'm not too sure when that will be.
Check the website here to learn more about Republic Wireless.
Ting
Ting is another carrier that's very simple to understand. You can bring any Sprint eligible phone to Ting (though not iPhones, yet) and use their service. You will be operating off of Sprint's mobile network when you're in range, and you can text, voice call, etc. However, when you leave Sprint's network and roam on another carrier, they block your data access – but you still can make calls and send text messages.
For rates, Ting is easy to understand. At the beginning of the month, you start out with 0 minutes used, 0 texts, 0 data, and at the end of the month, they total all your usage then drop you into one of the categories. If you want to add an extra line, that's an extra $6 dollars. You can see the categories in the picture below, as well as the costs.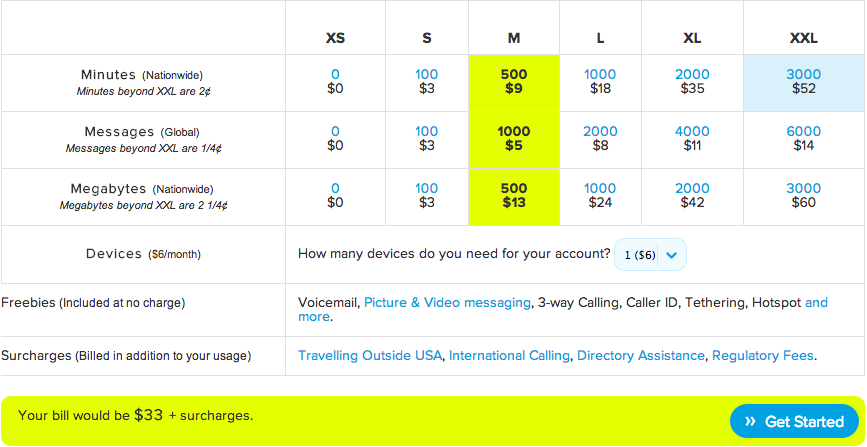 I looked over some of my wife and I's older bills, and it looks like we would fall into the Medium bucket for voice, and the large buckets for both data and text, bringing us to a total bill of around 56 dollars before tax. This is currently less than half of what we are paying Verizon, but unfortunately more expensive than Republic.
You can, however, use any phone you like – which is a big plus for me.
Check the website here to learn more about Ting.
Straight Talk
Straight Talk is a prepaid carrier, and offers $45 per month for unlimited everything like Republic Wireless. They use the same towers that the Big 4 use, and offer a very different price. You can set yourself up for auto refill, which will ensure that there's no coverage dropped when your prepaid time runs out. Essentially it's like having a phone contract, but without the restrictive contract, and for 1/2 of the cost of one of the big 4. With the unlimited plan, you can keep your current phone number as well.
The billing is simple and easy to understand, and you can purchase prepaid cards if you are not interested in using the auto refill option.
Check out their website here for all the details
My wife and I have not decided on much, except that it is highly unlikely that we stay with Verizon. At this point, we are biding our time until Republic releases their new phones, and then will make a decision from there.
How about you all? Do you have any of these services? If so, what do you think about them? Would you ever try one of them?
How much does your current wireless plan cost per month?
Share your experiences by commenting below!