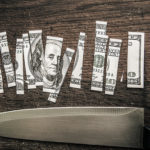 The following post is by MPFJ staff writer, Kelly Gurnett. Kelly runs the blog Cordelia Calls It Quits, where she documents her attempts to rid her life of the things that don't matter and focus more on the things that do. You can also follow her on Twitter and Facebook.
I always used to read those posts by crazy PF bloggers about how they lived on one spouse's income while paying down debt, or how stay-at-home moms made their husband's single salary feed a family of seven. And I always admired them, in a "we could never do that" way.
Until we had to do it.
Cutting Our Budget in Half in One Week
In April of this year, my husband stopped working due to his Fibromyalgia. (We're currently in the process of applying for disability benefits, but that could take anywhere from 2-3 years to go through.) He didn't realize how quickly he would hit his wall and not be able to work anymore, so for us, it was pretty much dual income one day, single income the next.
The normal reaction in a situation like this is to panic—which I did, quite thoroughly. But after a while, I begin to realize that this was our reality now, and it was either sink or swim. We'd find a way to make it work because, well, what was the alternative?
So, over the course of one surreal week, we sat down with our budget and began to triage—a bit here, a bit there. I'm a freelance writer, and we got our health insurance through my husband's employer, so his job loss meant we'd be relying solely on my unsteady income stream and paying out-of-pocket for the insurance we previously hadn't figured into the budget at all.
That week of budget-slashing—and the lifestyle we've been living as a result of it—was an eye opener. If you think you know what your minimum requirements are budget-wise, imagine what you'd pitch if you had to slash your budget in half. Then live that way for a while. You'll never look at money the same way again.
How We Nixed Half our Stuff
Of course, the first things to go were all the little luxuries we'd come to take for granted. We weren't living the high life by any means, but we'd definitely given into lifestyle inflation over the years. So away went my husband's Sirius radio subscription, our weekly date nights, my salon haircuts (I trim my own hair now—yes, even my bangs!).
Then it was time for the stuff that seemed a little less luxurious. Here are some of the biggies:
We sold my car. Even though it had been paid off for a while, there was no sense keeping it when I work from home and my husband wasn't working at all anymore. So we sold it and used the money to pay off my credit card debt and my husband's remaining car payments. No more car payments, zero credit card payments—and no more second-car expenses like extra gas, insurance, repairs, etc.
We took a machete to our grocery budget. We're not quite as disciplined as the school teachers who embarked on a mission to eat for $1 a day, but we did thoroughly slash our usual food budget. No more frozen convenience lunches for me; it's fresh salads with a week's worth of veggies that cost cents per serving (better for my health, anyway). No more steak dinners from the local butcher—it's diner staples like grilled cheese and hot dogs. And no more massive monthly grocery trips where we always wound up buying way more than was on our list because goodies just looked too good on the shelves.
Now, we shop a lot more like Europeans—every few days, my husband runs up to the corner grocery store to get whatever we need to hold us over for the next couple days. We'll stock up on sales on as they come and buy some items from a wholesale club because they're fantastic deals (and our membership hasn't run out yet). But it's a lot easier to stick to the bare necessities when you're just making a quick run for the immediate future.
I started to become my parents. My father used to drive me crazy by turning off my bedroom light every time I went to the kitchen for a drink of water. I'd be gone for two minutes and come back to find my room dark. Well, I have now become that person.
Any room we won't be in for more than a couple minutes means the TV and lights get turned off. Laptop inactive for a bit? Off it goes. Over the summer, I ran my fan until I literally could not stand it anymore and had to give into the A/C. Laundry is run only when I have a full (plus) load, on the coldest water setting with the minimum amount of detergent needed. I use toothpaste tubes and shampoo bottles and bars of soap until they physically cannot be used up any further.
Yes, they're all little things, but the little things do add up—and, more importantly, by getting into this new thrifty-as-can-be mentality, it's easier for me to let go of the bigger things we used to enjoy because I'm fully aware of how much our situation has changed. So much of living above your means (or from paycheck to paycheck) stems from simply not having an urgent reason not to. When we could afford massages and weekly trips to Target, we did them, even though we could have been putting that money towards an emergency fund that would have seriously helped us out right about now. When you're constricted by the sudden loss of an income, you begin to realize just how little you really "need" (more on that in a moment).
We've gone bare bones on entertainment. We do allow ourselves tiny indulges, largely because I work 50-60 hour weeks and my husband gets stir crazy, so it helps us keep our sanity. We go to the movies occasionally at the local $2 cheap theater, and we sneak in bottled drinks and snacks to avoid concessions. We signed up for Redbox promo code text alerts and regularly get free movie rentals. Our "meals out" don't go above the price of a buy-one-get-one Subway deal or a Burger King value menu spree. But let me tell you, those $2 movies and value menu meals are fantastic! I never thought I would be so grateful for a fast food cheeseburger, but your perspective changes in situations like this.
The Surprising Thing I Learned
In addition to being amazed that we managed to cut our budget in half in a week, I've also been amazed by what that means: We didn't need nearly as much stuff as we thought we did.
There are still plenty of times when I'd love, at the end of a long week, to have one of our old date nights out, complete with cocktails, dinner, and a movie in a theater with seats that recline. But for the most part? I really don't notice a huge difference in our day-to-day lifestyle.
Yes, the threat of sudden big expenses like one of our dogs getting sick could put us into a tailspin now, and that's never far from my mind. But in terms of how much we enjoy our life together on a daily basis, nothing has shifted all that much. If anything, we enjoy things more now because we don't take them for granted the way we did before.
Would I be thrilled to have our second income back? Absolutely. But do I feel like we're deprived without it? Amazingly, no. I wish me of several years ago could have learned that lesson.
How about you all? Could you live on half your income? What would you slash?
Share your experiences by commenting below!
image:  http://www.flickr.com/photos/76657755@N04/7408472762/