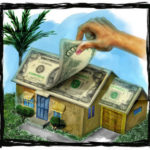 The following is a post by MPFJ staff writer, Kevin Mercadante, who is a professional personal finance blogger, and the owner of his own personal finance blog, OutOfYourRut.com. He has backgrounds in both accounting and the mortgage industry.
You've undoubtedly seen the ads on TV for reverse mortgages – former Tennessee State Sen. Fred Thompson is doing one of the more common commercials right now. It seems like a made to order situation for a senior citizen who is struggling with finances but doesn't want to sell their home.
Reverse mortgages have their advocates – and no small number of critics too. But all of the hype aside, what is a reverse mortgage, and how can it help you or a loved one?
How does a reverse mortgage work?
Reverse mortgages are available from several different sources, but by far the most common is the US Department of Housing and Urban Development's (HUD) mortgage arm, the Federal Housing Administration (FHA). They offer federally insured reverse mortgages in the form of Home Equity Conversion Mortgages (HECM).
Reverse mortgages work in opposite fashion from traditional mortgages. Instead of you paying the lender for the loan on a monthly basis, the lender makes monthly payments to you, as the borrower. As it does, the amount of your mortgage increases. And unlike a traditional mortgage, you do not have to repay the loan until you die, sell the house or move from it as your primary residence.
You have to be 62 years old or older, and use the money as an extra source of income, to make home improvements, or to pay for medical expenses. In order to do this, you have to either own the home free and clear, or have a very small remaining mortgage balance left.
The proceeds of the loan are tax-free, and there are no income restrictions for qualification purposes. The amount of the mortgage you can borrow is determined by the value of your home, your age (the older you are the more you can borrow), and of course the rate of interest. HUD has a reverse mortgage calculator that will help you to determine the amount you can borrow under the program.
According to the US Department of Housing and Urban Development, you can select from five payment plans:
Tenure – equal monthly payments as long as at least one borrower lives and continues to occupy the property as a principal residence.
Term – equal monthly payments for a fixed period of months selected.
Line of Credit – unscheduled payments or in installments, at times and in an amount of your choosing until the line of credit is exhausted.
Modified Tenure – combination of line of credit and scheduled monthly payments for as long as you remain in the home.
Modified Term – combination of line of credit plus monthly payments for a fixed period of months selected by the borrower.
Should you or a loved one take a reverse mortgage? Let's take a look at both sides of that question…
The case for a reverse mortgage
Given the right combination of circumstances, a reverse mortgage can be worth considering. Some of the many advantages include:
It gives you access to the equity in your home to pay for living expenses.
It can allow you to stay in your home if you don't have enough money otherwise.
The proceeds can be used to repair the home or cover medical expenses
You are not required to verify income.
No monthly payments are required – the program pays you based on the payment plan you select (see the list of five payment plans above).
In the HECM program, a borrower can live in a nursing home or other medical facility for up to 12 consecutive months before the loan must be repaid.
A reverse mortgage may work best if the purpose is to pay for home improvements, or to satisfy medical expenses, and in the smallest loan amount possible. This will avoid the complete stripping out of equity that a large loan amount will result in, or the ultimate destruction of equity that could result from the need for a steady income for many years.
The case against a reverse mortgage
Unfortunately, there are at least as many reasons to avoid reverse mortgages. Some of the more significant negatives include:
You will have to pay mortgage insurance on the loan.
The loan will ultimately cause you to lose equity in your home.
If you change residences (other than the above mentioned move to a nursing home for up to 12 months) you will have to repay the loan.
The amount you can borrow against the house will be less than what you will get on an outright sale of the property.
You will have to pay origination fees in order to obtain the loan.
If the equity is drained and you still can't afford the house, you will have to sell, but with less equity coming out of the sale
The loan will leave less money in your estate for your heirs.
There are lenders who prey on the elderly and are less than reputable; the Federal Trade Commission offers some warnings and guidelines on this issue.
As a general consideration, if a senior citizen is in a position of not being able to afford to keep his or her home, it may be best to sell the property and avoid the reverse mortgage altogether. The sale of the home will result in a greater amount of proceeds, as well as avoiding the restrictions that come with a reverse mortgage.
How about you all? Have you taken a reverse mortgage, or do you know of anyone who has? Do you believe that it is an option worth taking – or disaster in the making?
Share your experiences by commenting below!  
***Photo courtesy of http://www.flickr.com/photos/cooljerk/259381229/sizes/n/in/photolist-oVp1a-3B8NUt-5kwves-5v