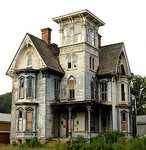 The following article is by MPFJ staff writer, Miss T, from Prairie Eco-Thrifter. If you want to learn how to live your dream life in a sustainable, healthy, and money savvy way, check out her site here.
Buying a house is possibly the biggest expenditure that a person will make in their lifetime; I know is has been for me.
The purchase price is just the beginning; there are numerous other fees, taxes, insurances and costs that have to be paid as well. However, there are some ways to save money when buying a house and leave money in your pocket for other things:
Do Your Homework!
Remember homework at school? How I hated homework! The first question my mother asked me every afternoon when I got home from school was "Have you any homework today?" and then she continued to ask "Have you done your homework" until it was time for bed. So you can imagine my lack of enthusiasm when the first piece of advice I was given when I started looking at buying property was "do your homework!" However, it turned out to be the best piece of advice I have ever been given on the subject
There are several areas in which you need to do some homework before you start looking at properties, but the most important one concerns money. You need to know how much you can spend on a property, and this is determined by how much you can afford to repay each month. Go to the bank and ask how much they will lend you and find out the repayments and what other charges they are going to hit you with. Then go to another bank as well as some non-bank lenders to find the best deal; this could be the lowest interest rate, the best discharge policy, the lowest fees and charges etc. If this seems too hard or time-consuming, find a reliable mortgage broker or financial expert who will do the homework for you
Keep in mind that some lending institutions will encourage you to borrow the maximum available to someone with your income and credit rating; this is not always in your best interests. When you've found a deal that suits you, sit down with your household budget (you do have one of these, don't you?) and re-work it to include the proposed mortgage repayments. If you can't afford it, work out what you can afford or find areas where you can cut back. This can be dangerous though; beware of cutting back too drastically and telling yourself that it'll be OK and you will just manage. You need to factor in changes to your circumstances in the future (like starting a family or early retirement plans), possible future interest rate raises or the increased rate after any introductory low-rate period has expired, if you have been offered one of these deals. Only borrow what you have determined you can comfortably afford to repay or it will end up costing you much more. Getting pre-approval speeds up the buying process once you have found the property you want
Location Is Everything
The next step in saving money when buying a house is to research where you want to live. Take into account such factors as proximity to work, schools, shops etc. Commuting can be time-consuming and costly and buying something that will need a long commute could be expensive and counter-productive over time. Once you have an ideal area picked out, drive around and find the best street in that area. I remember my old grandpa telling me when I was younger "buy the worst house in the best street". His rationale was that you can always change the house but you can't change the location; this is good advice as you could find a cheaper house to buy but you need to have the funds to renovate if necessary
Having found where you want to live, do some more homework to find out how much it will cost to live there. Investigate garbage, sewer, water and local ordnance costs, any home owner association fees, heating and cooling costs in the local micro-climate etc. Some places are simply more expensive to live in than others and this needs to be taken into account when calculating what you can afford
List Out What You Want in a Home
You're nearly ready to start inspecting potential homes but not quite! Take the time to make a list of the things you want in a home; if you have a partner, this should be done separately first and then your lists can be compared. Divide your lists into three sections – things you MUST have, things that would be nice to have and things that you know you could really do without or that can be added later on. When you go to look at properties, take this list with you and tick the items off. Do not be tempted by any property that doesn't meet your 'must-have' criteria; it's going to cost you in heartache and cash
During an inspection, be very thorough; it's too late after you have signed a contract to decide that you really can't live with those bright pink tiles in the bathroom! Home maintenance represents one of the biggest expenses of home ownership so you need to know what you are going to be up for in advance. Hiring qualified tradesmen or inspectors to do thorough checks is usually worth the expense and it could save you heaps in the long term. Knowing the short-falls of a property is also useful when it comes to negotiating the price
Look at several properties, even if you think the first one you inspect is "the one". You need to see more houses for comparison and you never know what else there is out there until you go and look. Keep an open mind; it's the best way to find the right house at the best price.
The Power of Negotiating
OK, you've found the house you want to buy, you have finance pre-approved and you are all set to sign on the dotted line. Stop! Don't forget the best way to save considerable dollars is to negotiate the price. Because of all the homework you've done, you will have a good idea of what similar properties have been selling for; you will also have formed a good idea of how much your vendor could be prepared to drop his price. Offer a reasonable but low price and be prepared to enter into negotiation; most negotiated prices fall between the buyers' first offer and the list price. You can potentially save thousands of dollars through negotiation
So if you are looking for a new home, consider these factors and save money when buying a house. You will be able to save some cash but many buyers have been able to save big amounts by using these strategies. Good luck!
How about you all? What strategies did you find most effective in saving money the last time you bought a house? 
Share your experiences by commenting below!