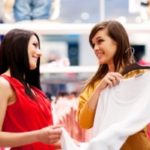 The following article is by MPFJ staff writer, Miss T from Prairie Eco-Thrifter. If you want to learn how to live your dream life in a sustainable, healthy, and money savvy way, check out her site here.
Whether you keep a basic wardrobe of clothes or are an avid follower of fashion, your clothing budget probably takes a fair chunk out of your income.
Clothes and shoes wear out, you need a special outfit for a one-off event or you just love to have the latest fashions; all these factors mean that you frequently need to go shopping. Here are some clever strategies that you can employ to help you save money on clothes and fashion.
Shop With Cash – Avoid Store Credit Cards
I used to do all my fashion shopping using my credit card; I mean, it's the easy way to get exactly what you want, right? I ended up with multiple store and credit cards that I struggled to make the minimum payment on each month. This meant that my must-have shoes ended up costing me several times more than they were worth, along with nearly everything else I purchased. Now I only ever go clothes shopping with cash; the few cards I still have stay at home. This way, I can only buy what I have the cash for; I stay within my budget and still manage to have enough clothes to wear!
Take Note of What You Do and Do Not Already Have
The biggest way to save money is to be aware of what you already have in the closet. This might seem a strange tip, but how many times have you bought an item that you already had or was very similar? You also need to know what is in your closet so that you purchase items that can mix and match with what you already have. In fact, some fashion experts recommend that you only buy an item if you already have at least three things it will go with! This gives you several choices on how to wear each piece.
So, before you hit the shops, check out your closet and take note of any gaps in your wardrobe. Notice that you really don't need any more tops to go with those gorgeous red jeans you bought last summer but that you have nothing that goes with the bright blue ones, for example. Even a sale item is not a bargain if you are not going to get any wear out of it, no matter how beautiful or funky it is.
Take Advantage of In-Store Sales
Contrary to popular belief, sale opportunities are far more likely in a store than online. Stores have limited space and so can only stock a few of each garment. Online stores have huge warehouses to carry large quantities and so are unlikely to need to mark-down small ends of lines. When a store sells most of a particular line, they generally put the remainder out on a sale rack to make room for the next range. This is why it pays to check out your favorite bricks and mortar stores often, to catch the bargains and save money.
Using Coupons and Promotions
Using coupons and store promotions to save money is a tried and true method and is as applicable today as it ever was. Take the time to check what coupons you have and keep an eye on promotions in your favorite stores. Signing up for store email newsletters is a great way of learning about sales before the general public and many stores have specials just for their email customers. Also check out the coupon websites regularly so you don't miss a great deal. Don't be too shy to ask in-store about any current promos that could be running; you might score yourself a good deal that you were unaware of.
Know the Retail Cycle and Spot Opportunities
Follow the fashion retail cycle to know when are the best and cheapest times to shop. Fashion has two main seasons but there are several smaller seasonal changes as well. Watch for new merchandise coming in and you can be sure that current stock will be marked down to make space. The main changeovers are after New Years and at the end of June and these are the times when the biggest markdowns occur. Also, the longer an item remains on sale, the lower the price can go, if you are game to risk waiting! Many savvy clothes shoppers save up their fashion budget to do most, if not all, of their buying at these times. While it is true that you are buying at the end of the season, if you are careful with what you select, you will get plenty of wear next year.
Compare Prices Between Different Stores
If you find something you love, check out the price of the same item at other stores. There is often a variation in price between different retailers so it pays to shop around to get the best deal. Don't be afraid to ask for a discount in any store; you might get the manager in a generous mood or having a slow day and needing the sale. Remember the discount chains and the outlet stores; many of these have clothes and shoes at greatly reduced prices and brands that are barely discernible from the expensive labels.
A fashion consultant in one of my favorite stores once told me to keep to just two or three color palettes to save money. I have basic black and cream which I can then team with different colors. I can add fashion highlights and splashes of color with scarves, bags, shoes and jewelry.
Take Care of the Clothes You Already Have
As well as using these tips for saving money when buying clothes and fashion, remember to care for the clothes, shoes and bags that you have. Launder carefully, dry clean as appropriate, keep shoes clean and dry and hang clothes in your closet when they are not being worn. Learn to do minor repairs like replacing buttons and doing hems instead of just replacing the garment and enjoy the savings.
How about you all? What strategies do you employ to keep from spending too much on clothes and other fashion accessories?
Share your experiences by commenting below! 
 ***Photo courtesy of http://prairieecothrifter.com/wp-content/uploads/2013/08/iStock_000019937676XSmall-300×199.jpg