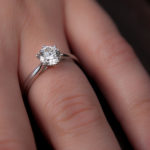 The following article was written by Alex Sebuliba. Enjoy!
Any engagement ring you buy for your loved one is a symbol of commitment, love and appreciation. Obviously, you want the engagement ring to be as perfect for your partner as is possible, ideally one which is both elegant, tasteful and – being honest- expensive! Unfortunately, however, bank balances seldom allow for such tokens of appreciation to be easily purchased. Luckily, there are a few ways in which savvy shoppers can buy a high quality engagement ring without breaking the bank. This article will discuss various options open to those looking to buy the perfect engagement at the perfect price.
Ebay
Ebay is undoubtedly one of the best resources for those seeking high quality, low cost jeweler. A quick search for engagement rings uncovers a vast array of beautiful items in every precious metal available. As many sellers are simply looking to earn a little extra cash for their pocket, it is common to find beautiful engagement rings which would, at one time, have cost double the price for which they are now available. Although many sellers put a reserve price on their listings, the easy bidding system makes the likelihood of snapping up a gorgeous engagement ring at a bargain price much more likely. Shoppers will need to be very quick, however because if you are watching an item, you can pretty much guarantee several others are also waiting to put in a last minute bid.
Antique Shops

Antique jewelry is growing in popularity, primarily because of the bespoke qualities attached to older items. Engagement rings are no exception and shoppers can usually find a selection of beautiful, handmade engagement rings at a fraction of the price of newly made jeweler. In fact, buying an antique engagement ring can prove a worthwhile investment as most antique jewelry will ultimately appreciate in value, meaning a ring bought for the purpose of a marriage proposal might just end up as a valuable family heirloom.
Bespoke Jewelers
If you want a Tiffany's style ring at an affordable price, why not find a design you love and ask a local jewelers specializing in handmade jeweler to create your perfect engagement ring? This could be the answer if your partner has Cartier tastes but you have only high street funds.
It is evident that buying a high quality engagement ring without spending high quality money is easily achievable if you are patient, savvy and keen to research the various avenues towards buying the ideal ring.
How about you all? How did you / would you recommend saving money on buying an engagement ring?
Share your experiences by commenting below! 
***Photo courtesy of  http://www.flickr.com/photos/wwarby/4859185569/sizes/m/in\