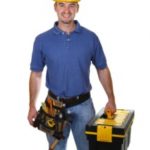 The following article is by MPFJ staff writer, Miss T from Prairie Eco-Thrifter. If you want to learn how to live your dream life in a sustainable, healthy, and money savvy way, check out her site here.
I don't know about you, but I find there are times when something breaks down around the house that is beyond my "handyperson" skills.
I mean, I think I'm pretty handy around the house when it comes to simple repairs and maintenance, but even I know when something is out of my league. An expert is needed when the job is difficult, needs tools I don't have, or when the job is covered by law like electrical work. This is when you need to think about hiring a tradesman.
Tradesmen have, rightly or wrongly, earned a reputation for charging through the nose for just turning up. I remember several years ago when I hired a plumber for the first time, discovering that he charged more than my doctor! Anyway, whatever the reason people believe that tradesmen are expensive, when you need one, you don't have a lot of choice. There are, however, several ways you can save money when hiring a tradesman and this is what we'll look at here in this article.
First, Know When Hiring Someone is Required
Make sure you understand when a job demands more than your skills allow; it is going to cost you a whole lot more cash to fix your mistakes than it would have to have just hired the expert in the first place. Be realistic; know your limitations and hire the tradesman when necessary. Playing around with something you don't fully understand like electricity, can be dangerous as well as expensive. Some renovation and repair work needs to be completed and signed off by a qualified person by law. You can save yourself time and money by hiring the professional to do the work.
Check Their Certifications
When looking for a tradesman, it's really important to check their credentials. That friend of a mate's neighbor might do electrical or plumbing work on the cheap but is he properly trained, qualified, insured and licensed? Never employ anyone who cannot show you their license. Always ask about the level of insurance they carry as well as what warranties and guarantees they offer. It can be really expensive having to fix up the bad workmanship of an unqualified tradesman. Always get any certificates of compliance that are needed for the work you have done, so that you are able to prove the work was carried out according to legal requirements.
Before you make the phone call to any tradesman, make sure you really do need one. Any licensed electrician can tell you of numerous occasions when they had been called to a home to fix something that wasn't broken in the first place; and of course, they still want to be paid for the call-out. This is simply wasted money, so don't get caught out like this.
Some of the most common unnecessary call-outs occur when a power socket was reported to have failed but it was actually the appliance plugged into it that was faulty; always check with a different appliance. If a light doesn't turn on, check the bulb before calling an electrician. If all your power goes off, check the fuse box as it might just be a switch that needs flicking back on, or again, it might be a faulty appliance. If a toilet won't flush, check that the faucet hasn't been turned off. If you find a leak during a rain storm, check that the gutters aren't blocked.
Get Written Quotes From Several Different Sources
The best way to save money when hiring a professional is to get quotes from different tradespeople. This ensures that you know exactly how much the job will cost you before work is started but also allows you to select the best person for the job, based on price. Common advice is to never go with the cheapest or the most expensive but to choose a quote from the middle of the range. This is why it's a good idea to get at least three or four quotes for comparison.
Any quotes you get need to be in writing to be reliable and for you to be able to hold the tradesman to the quoted price. You also need to have an understanding of exactly what is covered by the quote to avoid any nasty little surprises at the end. Asking lots of questions will not only help to understand what is involved in the quote but can often also give you a better impression of how the tradesman works.
Hiring a tradesman can be fraught with problems and I'm sure you know of people who have horror stories to tell about their own experiences. By following these few tips on how to save money when you need to have a professional do some repair or maintenance work for you, you can be confident that you will get a good job while keeping cash in your pocket.
How about you all? Have you ever hired anyone to do work around your house? How did you make sure they were both reliable and affordable?
Share your experiences by commenting below!